The Order War: A Novel in the Saga of Recluce (Mass Market)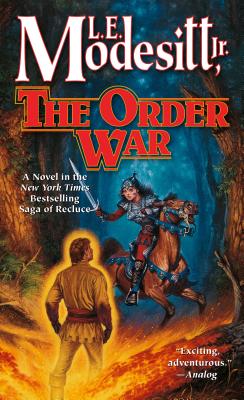 $9.99
Email or call for price.
Other Books in Series
This is book number 4 in the Saga of Recluce series.
Description
---
L.E. Modesitt, Jr.'s The Order War continues his bestselling fantasy series the Saga of Recluce, which is one of the most popular in contemporary epic fantasy.

The deadly White Wizards of Fairhaven, wielding the forces of chaos, threaten the ancient matriarchy of Sarronnyn, the last bastion of order in Candar.

When Sarronnyn falls despite the assistance of the Black Order mages, Justen, a young Black Engineer, must escape the city and master forbidden technology that harness chaos itself. Even so, it may not be enough to halt conquest of the White Wizards.

"An intriguing fantasy in a fascinating world." —Robert Jordan, New York Times bestselling author of The Wheel of Time® series


Saga of Recluce

#1 The Magic of Recluce / #2 The Towers of Sunset / #3 The Magic Engineer / #4 The Order War / #5 The Death of Chaos / #6 Fall of Angels / #7 The Chaos Balance / #8 The White Order / #9 Colors of Chaos / #10 Magi'i of Cyador / #11 Scion of Cyador / #12 Wellspring of Chaos / #13 Ordermaster / #14 Natural Order Mage / #15 Mage-Guard of Hamor / #16 Arms-Commander / #17 Cyador's Heirs / #18 Heritage of Cyador /#19 The Mongrel Mage / #20 Outcasts of Order / #21 The Mage-Fire War (forthcoming)

Story Collection: Recluce Tales

Other Series by L.E. Modesitt, Jr.
The Imager Portfolio
The Corean Chronicles
The Spellsong Cycle
The Ghost Books
The Ecolitan Matter
About the Author
---
L. E. Modesitt, Jr., is the bestselling author of the fantasy series The Saga of Recluce, Corean Chronicles, and the Imager Portfolio. His science fiction includes Adiamante, the Ecolitan novels, the Forever Hero Trilogy, and Archform: Beauty. Besides a writer, Modesitt has been a U.S. Navy pilot, a director of research for a political campaign, legislative assistant and staff director for a U.S. Congressman, Director of Legislation and Congressional Relations for the U.S. Environmental Protection Agency, a consultant on environmental, regulatory, and communications issues, and a college lecturer. He lives in Cedar City, Utah.
Praise For…
---
"A thinking person's fantasy novel, with world-building of the first order." —Robert J. Sawyer, author of End of an Era

"Exciting, adventurous, gland-tweaking yarn he is spinning on the surface." —Analog

"Modesitt's elaborate and intelligent working out of a system of magic and a system of technology parallel to it is becoming more the life-blood of the Recluce books with every new volume." —Booklist

"The author's ability to concentrate on the personal lives of the characters as well as their involvement in world-shaking decisions gives depth and believability to a unique fantasy environment. A strong choice for most fantasy collections." —Library Journal

"In this fourth tale set in Modesitt's universe, where good and evil, chaos and order, are in perpetual conflict, a young wizard finds that his destiny is to strike a balance, but at considerable personal cost. Modesitt creates a deeper and more intricate world with each volume." —Publishers Weekly