The Expectant Father: The Ultimate Guide for Dads-to-Be (The New Father #18) (Paperback)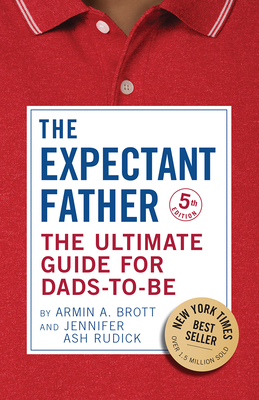 $15.95

Usually Ships in 1-5 Days
Description
---
The Expectant Father is the best-selling pregnancy guide for men, trusted by millions of dads-to-be and their partners. 
This reassuring month-by-month overview gives you the facts and advice you need to understand your baby's development, support your partner, and prepare for the joys and challenges of fatherhood. It concludes with two special sections: one on labor and delivery, and the other covering the first few months after your baby's arrival.  
The fifth edition of this New York Times best seller is updated from cover to cover with the latest information about fertility, prenatal care, and delivery; work-life balance (including the lessons learned from COVID-19); financial planning; and much more. It incorporates the expertise of leading OB-GYNs and researchers, and the real-life experiences of hundreds of dads and moms.  
Illustrated throughout with stress-relieving cartoons, The Expectant Father is a friendly, readable, and inclusive companion for all dads-to-be. (Moms will love it, too!)
About the Author
---
Armin A. Brott is a nationally recognized parenting expert and the author of ten critically acclaimed books for fathers, including The New Father: A Dad's Guide to the First Year and The New Father: A Dad's Guide to the Toddler Years, 12–36 Months. He also writes a syndicated newspaper column, Ask Mr. Dad, and hosts a weekly radio show, Positive Parenting. To learn more, visit his website, mrdad.com.

Jennifer Ash Rudick is the author of several books on interior design, the design editor at large for Galerie magazine, and a producer of documentary films, including the award-winning Iris (with Maysles Films) and Scandalous.
Praise For…
---
For fathers soon expecting the ultimate gift—a new member of the family—The Expectant Father is their best friend.

— CNN.com

This constantly updated . . . classic reveals the myriad ways an impending pregnancy influences dad: emotional and physical effects, societal expectations, financial implications, the impact on your social and sex lives, and whether you're really ready.
— Fatherly

This is probably the best book geared exclusively towards expectant fathers. No lame jokes. Just straight up useful information. The Expectant Father covers the pregnancy process and how dads can help in it, as well as provides tons of useful info for dads on raising a kid. They also cover why dads are so important in the development of a child and how children influence fathers.

— The Art of Manliness

From fertility issues to epidurals, this modern classic covers it all in an easily digestible but authoritative tone. . . . Brott and Ash have produced a no-nonsense, month-by-month guide to becoming a parent by offering a comprehensive view of physical, emotional, financial, and medical matters faced by fathers-to-be.
— Brit+Co

Brott and Ash's measured, experienced tone offers assurance and guidance for those new to the stresses and worries of impending fatherhood, making this a must-have for anyone expecting.
— Publishers Weekly

One would be hard put to find a question about having a baby that's not dealt with here, all from the father's perspective.
— Library Journal

Stood out immediately . . . because of its perceptive insights.
— San Francisco Chronicle

Extraordinarily helpful . . . packed with specific advice.
— The Oregonian

The book does a great job in covering what most other books don't: the father's perspective during pregnancy, and the questions that might pop up there. Throughout the pages, the author inserts some levity with cartoons that sum up the situation.
— Fathercraft

Once the sperm has done the deed, men often get neglected in the birth process. But becoming a parent is as life-altering for men as it is for women, and dads deserve to know what to expect. When my friend told me she was pregnant, the first thing I did was buy The Expectant Father for her hubby. And when I diagnose a pregnancy in one of my patients, I put this book on the must-read list.
— Lissa Rankin, MD, New York Times best-selling author

Don't get pregnant without it! A first-rate guide for all dads-to-be.
— Vicki Lansky, author of Feed Me, I'm Yours

Finally. A pregnancy book for fathers, and a very good one. It not only recognizes the deep emotions of expectant fathers, but it guides them through their emotional roller coaster with wisdom and understanding.
— Marguerite Kelly, author of The Mother's Almanac