Things I Wish I'd Known Before We Became Parents (Paperback)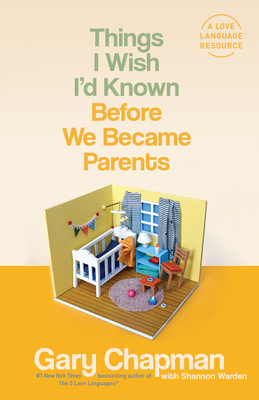 $14.99

Usually Ships in 1-5 Days
Description
---
Dr. Gary Chapman has helped millions prepare for marriage.
Now he helps you prepare for kids.
Things I Wish I'd Known Before We Became Parents has one goal: prepare you to raise young children.
Dr. Gary Chapman—longtime relationship expert and author of the #1 New York Times bestseller The 5 Love Languages—teams up with Dr. Shannon Warden—professor of counseling, wife, and mother of three—to give young parents a book that is practical, informed, and enjoyable.
Together they share what they wished they had known before having kids. For example: children affect your time, your money, and your marriage—and that's just the beginning. With warmth and humor they offer practical advice on everything from potty training to scheduling, apologizing to your child, and keeping your marriage strong… all the while celebrating the great joy that children bring.
From the Preface: "Our desire is to share our own experiences, as well as what we have learned through the years, as we have counseled hundreds of parents. We encourage you to read this book before the baby comes, and then refer to its chapters again as you experience the joys and challenges of rearing children." — Dr. Gary Chapman
About the Author
---
GARY CHAPMAN--author, speaker, counselor--has a passion for people and for helping them form lasting relationships. He is the #1 bestselling author of The 5 Love Languages series and director of Marriage and Family Life Consultants, Inc. Gary travels the world presenting seminars, and his radio programs air on more than 400 stations. For more information visit his website at www.5lovelanguages.com.

DR. SHANNON WARDEN is an associate professor of counseling for Liberty University. She also is a licensed counselor, who for more than 20 years, has specialized in counseling families, couples, and women. She has been interviewed on numerous radio programs and podcasts and is a popular conference speaker. Among other writing projects, Shannon has co-authored two books with her friend and mentor, Dr. Gary Chapman. She and her husband, Stephen, have three children and reside in North Carolina.