Trinity: A Graphic History of the First Atomic Bomb (Paperback)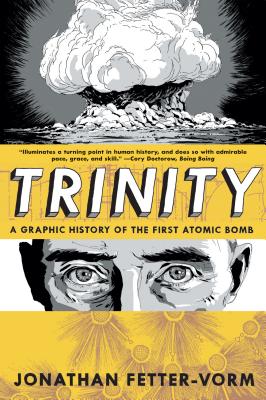 $19.00

Usually Ships in 1-5 Days
Description
---
Trinity, the debut graphic book by Jonathan Fetter-Vorm, depicts the dramatic history of the race to build and the decision to drop the first atomic bomb in World War Two—with a focus on the brilliant, enigmatic scientist J. Robert Oppenheimer.

"Succeeds as both a graphic primer and a philosophical meditation." —Kirkus Reviews (starred review)

This sweeping historical narrative traces the spark of invention from the laboratories of nineteenth-century Europe to the massive industrial and scientific efforts of the Manhattan Project, and even transports the reader into a nuclear reaction—into the splitting atoms themselves.

The power of the atom was harnessed in a top-secret government compound in Los Alamos, New Mexico, by a group of brilliant scientists led by the enigmatic wunderkind J. Robert Oppenheimer. Focused from the start on the monumentally difficult task of building an atomic weapon, these men and women soon began to wrestle with the moral implications of actually succeeding. When they detonated the first bomb at a test site code-named Trinity, they recognized that they had irreversibly thrust the world into a new and terrifying age.

With powerful renderings of WWII's catastrophic events at Hiroshima and Nagasaki, Fetter-Vorm unflinchingly chronicles the far-reaching political, environmental, and psychological effects of this new invention. Informative and thought-provoking, Trinity is the ideal introduction to one of the most significant events in history.
About the Author
---
Jonathan Fetter-Vorm is an author and illustrator. His Trinity: A Graphic History of the First Atomic Bomb was selected by the American Library Association as a Best Graphic Novel for Teens in 2013. He lives in Brooklyn, New York.
Praise For…
---
"Trinity illuminates a turning-point in human history, and does so with admirable pace, grace, and skill." —Cory Doctorow, Boing Boing

"Succeeds as both a graphic primer and a philosophical meditation." —Kirkus (starred review)

"Fetter-Vorm's work . . . is altogether exemplary. And the writing's as good as the art, making this a strong primer on the A-bomb's development." —Booklist

"The story behind the weapon that ended World War II and changed the nature of international conflicts forever, Trinity covers both the scientific, technical side of building the bomb and the very human side of realizing what its existence would mean for mankind." —Mashable

"A succinct, compelling, and dramatically illustrated history of the making of the atomic bomb, Trinity is an excellent primer for students and younger readers." —Cynthia C. Kelly, founder and president of the Atomic Heritage Foundation and editor of The Manhattan Project

"The story of J. Robert Oppenheimer and the creation of the first atomic bomb lies deep in our collective imagination. Jonathan Fetter-Vorm's graphic novel honors the physics, the politics, and the human drama of this contemporary morality tale in a manner that is as informative as it is entertaining." —John Adams, Pulitzer Prize winner and composer of Doctor Atomic

"The story of the Manhattan Project has rarely been told with this much clarity and alertness to moral nuance." —Joseph Kanon, author of Los Alamos

"A hugely important story told with virtuosity and heart, Jonathan Fetter-Vorm's Trinity is a standard-bearer for great comics." —Nick Bertozzi, Harvey Award–winning author of The Salon and the Rubber Necker series