Marriage and Morals (Paperback)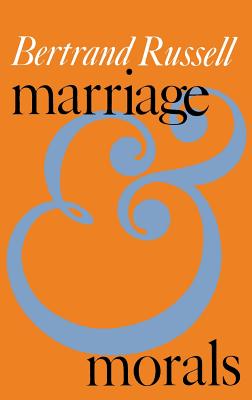 $23.95

Usually Ships in 1-5 Days
Description
---
The fireworks fly when the great Bertrand Russell writes about a subject as provocative as marriage and morals. But they are a rational and devastatingly logical kind of fireworks . . . for that was the nature of the man.
Russell's approach to sex and love is based on the realities of need and desire, rather than on ancient tribal and religious taboos.
Marriage and Morals
is a clear, unbiased look at morality, a morality that is simply one aspect of Russell's lifelong opposition to restrictive dogma and an affirmation of his unshakeable faith in the adequacy of man and the power of human intellect.
"Sufficient dynamite to blast a carload of ordinary sex popularizers from the face of the earth . . . deals most competently and completely with practically every ramification of sex and sex life and occurs in modern sociology and psychology." —
New York Post
"Fundamental and clear, unbiased and persuasive. Russell writes as a humanist, defending the happiness of man against many moral prejudices, advocates his changes lucidly and wittily." —Time
About the Author
---
Bertrand Russell (1872-1970) was born in England and educated at Trinity College, Cambridge. His long career established him as one of the most influential philosophers, mathematicians, and social reformers of the twentieth century.