Explorer's Guide 50 Hikes in Eastern Pennsylvania: From the Mason-Dixon Line to the Poconos and North Mountain (Explorer's 50 Hikes) (Paperback)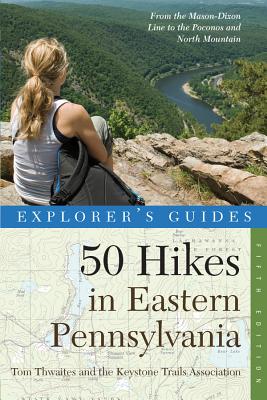 $25.95

Usually Ships in 1-5 Days
Description
---
A revised 5th edition of a classic hiking guide to one of the most-visited regions of Pennsylvania.
Eastern Penssylvania offers a wealth of hiking opportunities: North Mountain is still wild and remote; the popular Poconos offer miles of litttle-traveled trails; and the Appalachian Trail follows South and Blue mountains on its journey across the state. This thoroughly revised and updated fourth edition includes hikes ranging from 4 to 22 miles in length. Each hike description includes step-by-step directions, a topo map, information on hiking time, distance and rise, and knowledgeable commentary on the human and natural history you'll encounter.
About the Author
---
Tom Thwaites is a preeminent authority on hiking the trails of Pennsylvania. An ardent trail builder and maintainer, he is a past president of the Mid-State Trail Association and an active member of the Keystone Trails Association, the Appalachian Trail Conference, the Sierra Club, and the American Hiking Society. He is the author of Explorer's Guide 50 Hikes in Western Pennsylvania, Explorer's Guide 50 Hikes in Central Pennsylvania, and Explorer's Guide 50 Hikes in Eastern Pennsylvania. He lives in State College, Pennsylvania.