In the Palm of Your Hand, Second Edition: A Poet's Portable Workshop (Paperback)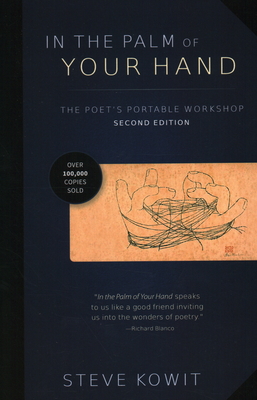 $19.95

Usually Ships in 1-5 Days
Description
---
*Over 90,000 copies sold*
Long an anchor text for college and junior college writing classes, this illuminating and invaluable guide has become a favorite for beginning poets and an ever-valuable reference for more advanced students who want to sharpen their craft, expand their technical skills, and engage their deepest memories and concerns.This edition adds Steve Kowit's famous essay on poetics "The Mystique of the Difficult Poem," in which he argues stirringly and forcefully that a poem need not be obscure to be great.
Ideal for teachers who have been searching for a way to inspire students with a love for writing--and reading--contemporary poetry.
It is a book about shaping your memories and passions, your pleasures, obsessions, dreams, secrets, and sorrows into the poems you have always wanted to write.  If you long to create poetry that is magical and moving, this is the book you've been looking for.
Here are chapters on the language and music of poetry, the art of revision, traditional and experimental techniques, and how to get your poetry started, perfected, and published.  Not the least of the book's pleasures are model poems by many of the best contemporary poets, illuminating craft discussions, and the author's detailed suggestions for writing dozens of poems about your deepest and most passionate concerns.

About the Author
---
Born in New York in the 1930s, Steve Kowit was part of the Lower East Side poetry-reading scene in the early 1960s; later, attracted by the intellectual freedom of the Beat poets, he moved to San Francisco's Haight Ashbury. Celebrated for his electrifying readings, he taught at San Diego State, San Diego City College, UC San Diego, and the College of Southern Idaho. He edited the anthology The Maverick Poets, translated a volume of Pablo Neruda's political poetry, wrote two collections inspired by the love poetry of India, and published eight other volumes of poetry. His work appeared in numerous anthologies and magazines. Steve described himself as a "poet, essayist, teacher, workshop facilitator, and all-around no good troublemaker." Recently retired from Southwestern College in Chula Vista but still holding poetry workshops in San Diego, he died in his sleep in 2015 at home with his wife, Mary, in Potrero, CA, just days before his latest volume of poetry was published by Tampa University Press.
Praise For…
---
Kowit really delivers what his title promises, so that reading the book
is like taking a workshop with a generous poet willing to share
everything he has learned about the creative process and the craft of
poetry. Conversational in tone, it reads rather like an informal
lecture. Kowit covers a lot of technical material on metrical variations
and line breaks and sound, and he balances it by attending to the
sources of poetry in dream and emotion, in longing and loss. Although
likely to find its largest audience among aspiring poets, Kowit's effort
is substantial enough to be of use to more practiced poets and to
poetry readers, too.
— Patricia Monaghan - Booklist

My absolute favorite book for teaching poetry—wonderful exercises, great writing prompts, and a generous selection of relevant contemporary poems—all held together by Kowit's conversational tone that speaks to us like a good friend inviting us into the wonders of poetry.
— Riochard Blanco

This book will excite your imagination.
— Writers Ink

It will help you unlock your heart and transform what's inside into memorable poetry.
— Writer's Digest Book Club