Ringside Seat to a Revolution: An Underground Cultural History of El Paso and Juarez, 1893-1923 (Paperback)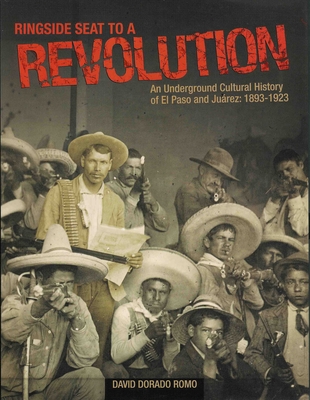 $26.95

Usually Ships in 1-5 Days
Description
---
Visionary essays and images from the crucible of the Mexican Revolution.
El Paso/Ju rez served as the tinderbox of the Mexican Revolution and the tumultuous years to follow. In essays and archival photographs, David Romo tells the surreal stories at the roots of the greatest Latin American revolution: The sainted beauty queen Teresita inspires revolutionary fervor and is rumored to have blessed the first rifles of the revolutionaries; anarchists publish newspapers and hatch plots against the hated Porfirio Diaz regime; Mexican outlaw Pancho Villa eats ice cream cones and rides his Indian motorcycle happily through downtown; El Paso's gringo mayor wears silk underwear because he is afraid of Mexican lice; John Reed contributes a never-before-published essay; young Mexican maids refuse to be deloused so they shut down the border and back down Pershing's men in the process; vegetarian and spiritualist Francisco Madero institutes the Mexican revolutionary junta in El Paso before crossing into Ju rez to his ill-fated presidency and assassination; and bands play Verdi while firing squads go about their deadly business. Romo's work does what Mike Davis' City of Quartz did for Los Angeles--it presents a subversive and contrary vision of the sister cities during this crucial time for both countries.
About the Author
---
David Romo, the son of Mexican immigrants, is an essayist, historian, musician and cultural activist. The Mayor's Silk Underwear is the result of his three-year exploration of archives detailing the cultural and political roots of the Mexican revolution along la Frontera. Romo received a degree in Judaic Studies at Stanford University, and he has studied in Israel and Italy.
Praise For…
---
"David Romo's Ringside Seat to a Revolution is a fascinating glimpse into unknown scenes of the Mexican Revolution of 1911. He takes us into El Paso and Juárezfacing one another across the Rio Grandein the years just before and just after the exciting events of the revolution itself. It is close up and personal history-through the eyes of an extraordinary cast of characters. It is 'people's history' at its best." Howard Zinn, author of A People's History of the United States

"David Romo's micro-history is brilliant. Here you'll find what official history seems to ignore: the salt of the earth, the surprising anecdote, rumors, the absurd. The odd relationship between El Paso and Mexico makes this book all the more fascinating." Paco Ignacio Taibo II, author of Guevara Also Known As Che and The Uncomfortable Dead

"More than 200 archival black-and-white photographs enhance Romo's lively text. They show spectators watching the Battle of Juarez from trains, women drinking from huge glasses at a Juarez bar, a bull killing a matador, a jazz band at an El Paso cafe, and executions. The book sheds new light on a fascinating era." Booklist

"In a city whose popular history has been portrayedas one inhabited only by gunfighters and conquistadores, it is a breath of fresh air to read about the profound cultural and social influence of the Mexican Revolution and Mexican-origin people." El Paso Times quote from Yolanda Leyva, a University of Texas at El Paso history professor

"David Dorado Romo's Ringside Seat to a Revolution isn't really about Villa. It's a different kind of book, perhaps uniqueThis is an extraordinary book. For those who love the tangled history of Texas and Mexico and their tragic border, it's a treasure." Dallas Morning News

"Romo could not get away from his hometown, and we should be grateful. He has collected a fine, fat book with more than 200 photographs and dozens of tidbits from El Paso-Juárez history." RALPH: The Review of Arts, Literature, Philosophy, and the Humanities

"A project inspired by the anarchic avant-garde 'mappings' of the Situationist International, Ringside Seat to a Revolution is a cultural and historical exploration of two geographical sites: cities on either side of the Rio Grande and either side of the Mexico-U.S. border. Beautifully written and illustrated, this alternative history is a treat for readers." Southern California Quarterly

"Most people know that to really uncover a city, one must find the places where the locals hang out and dig up the legends and tales that make each city what it is. David Dorado Romo has done just that with the West Texas city of El Paso.Romo's book reads like its own shooting star for all those interested in this fascinating time period." The Monitor

"Ringside Seat to a Revolution is a must-read not just for those interested in the history of a war, but for those interested in the history of two nations and the Mexican American culture." San Antonio Express-News

"Every chapter is illustrated with wonderful photographs and is permeated with Romo's finely-honed sense of the absurd.He is research fanatic, and he spent five years plowing through archives scattered from the Getty Research Institute in Los Angeles to the Smithsonian in Washington to write Ringside Seat to a Revolution." Big Bend Sentinel

"Overall, Romo seems to have touched the revolution locally in all its various and relevant aspectsThis is as fine a local primer on the early Mexican Revolution as we will likely ever read." El Paso Times, Leon Metz

"Ringside Seat to a Revolution is a treat, a history book that is funny, beautifully illustrated, well-written and deadly serious. It's a highly dangerous book--the kind you might read and actually learn something from." Tucson Weekly

"Romo's book is fascinating reading for any denizen of the El Paso/Juarez region. His riveting narrative will keep you glued to your seats." El Paso Inside & Out Magazine

"Drawing on contemporary eye witness accounts and archival records, David Dorado Romo, the son of Mexican immigrants, documents this pivotal period of Mexican-American history with a fresh prospective. Romo, who is both an essayist and historian, is to be commended for this excellent work. It is highly recommended." Tucson Citizen

"Romo weaves together biographical, historical, and at-first-glance inconsequential facts, from the comical to the tragic, to convey a heady cultural and political intensity among the Mexican population along the border at the timeand shatters stereotypes along the way. The big, soft-cover book also has a jazzy graphic design and brims with compelling photographs." Taos Daily Horse Fly

"Books, articles and columns about the Mexican Revolution have floated around for decades. But this is one is different from anything we've ever read!" El Paso Inc.