Street Art Las Vegas (Hardcover)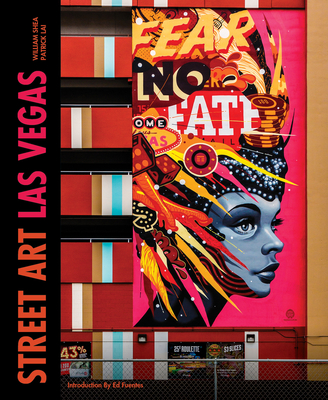 $24.99
Email or call for price.
Description
---
Photographers William Shea and Patrick Lai release a photo-documentary of the Las Vegas graffiti scene with the intention of creating awareness about the unseen talent and hidden benefits that graffiti contributes to the art community. The 8 x 10 book is made up of 200 pages and consists of 252 high-quality full-color images. The project time frame covers several years, with photos from all parts of the valley and the Life is Beautiful Festival, with additional photographic contributions provided by James Stanford, Jesse Hudson, and Laura Henkel. Street Art Las Vegas is an evolution of their inaugural book, Fade to Gray.
About the Author
---
William Shea is a professional photographer, writer, and artist living in the city of Las Vegas. Originally from the Boston area, Shea moved to Las Vegas in 2005. In 2011, he began working on new projects that focused on improving the awareness of art and culture in Las Vegas. As of November 2016, Shea works as a graphic and editorial designer while serving as the treasurer of the Las Vegas Arts District. He is an enthusiast interested in capturing the evolution of street art within Las Vegas.

Patrick Lai is a professional landscape and street art photographer who immigrated to the United States from Guangzhou, China. He is an enthusiast interested in capturing the evolution of street art within Las Vegas.

Ed Fuentes was an artist, curator, and cultural journalist known for his online arts journal Paint This Desert, where he covered everything from personalities in the graffiti and street art world to the role of public art and murals in Las Vegas. He worked for Los Angeles's KCET from 2010-2019, covering the Inland Empire, the High Desert, and downtown Los Angeles. In 2018, Fuentes attained his master's degree in Fine Arts from the University of Nevada Las Vegas. Ed Fuentes died on February 7, 2019.
Praise For…
---
"Driving in from Interstate 15, freeway exits vie with Magic Mike Live and Celine Dion in all their billboard bodacious-ness. The Pyramids reside a stroll from the Eiffel Tower, while at night, neon signs face off with a light parade of fountains. You may ask, is that all there is? Reputation dies hard, but you suspect there is more, and that may lead to the sidewalks and alleys crisscrossing the City, as described in Street Art Las Vegas. Roughly the size of a Thomas Guide, but way cooler and just as informative, the book covers a lot of ground, with an overview of the street art that sinews through pathways and fronts massive buildings. Las Vegas may be the Oasis, but Shea and Lai point to some fascinating art spots beyond. The big expanse of Henderson offers a huge canvas with less oversight. At Three Kids Mine, an old mill site from 1916 to 1962, the street artists Aware created a Wheel of Misfortune, so beware of landing on "lose job" or "lose home." In the Mojave Desert near Searchlight, the art collective Indecline transformed a former gold-processing plant into a clarion for public awareness art known as Death Metals. A ghost miner, pneumatic chisel and acetylene cutting torches boldly state that there's more to street art than murals." —Juxtapoz

"Visual Disruption Street Art Las Vegas captures creativity in photographic images. Graffiti has transformed from vandalism to an art genre, including street art, and Las Vegas has become a canvas, sometimes for a fleeting moment. The underground movement morphed into the public eye with styles including abstraction and imagery. Street Art Las Vegas, captures the spirit of the artists through photography. Murals embrace surfaces on Fremont Street calling out to locals and tourists to explore this style. In the 18b district, artworks explode on walls and in alleyways. The small voices that are not heard communicate with expressions of art in the tunnels running underneath the city. Photographers William Shea and Patrick Lai have compiled the photo essay in a beautiful book documenting art that could be lost to the elements or time. The artwork is recorded using 252 high-quality photos from all around the valley and the Life is Beautiful festival. "Originally, I was working on urban photography," explains Shea. "The photos came out so beautifully, and I realized that nobody has ever written a book about street art in Las Vegas." Artists bloom in Southern Nevada and reach out through colors, styles, and bold statements. This art will live on even if the buildings are torn down or walls are painted over." —Debbie Hall, Sensi Magazine

"William Shea and Patrick Lai's project Street Art Las Vegas outlines the intricacies of the city's evolving street art scene. This new compilation stands out for its vibrant photography, which illustrates a city housing uniquely energetic public art." —Vittoria Venzine, Street Art United States