The Guest List (Compact Disc)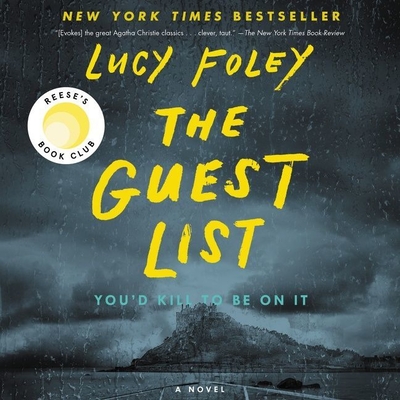 $39.99
Email or call for price.
Staff Reviews
---
A murder mystery page turner where everyone has a secret!  The perfect posh wedding is planned for a celebrity couple on an island off the coast of Ireland.  But things go awry when a storm hits and someone is murdered.  Told from the point of view of well drawn and in some cases very unlikeable, characters. There are multiple suspects and secrets revealed along the way.
— Beth
Description
---
A REESE'S BOOK CLUB PICK
"I loved this book. It gave me the same waves of happiness I get from curling up with a classic Christie...The alternating points of view keep you guessing, and guessing wrong." -- Alex Michaelides, #1 New York Times bestselling author of The Silent Patient
Evok es] the great Agatha Christie classics...Pay close attention to seemingly throwaway details about the characters' pasts. They are all clues." -- New York Times Book Review
A wedding celebration turns dark and deadly in this deliciously wicked and atmospheric thriller reminiscent of Agatha Christie from the New York Times bestselling author of The Hunting Party. The bride - The plus one - The best man - The wedding planner - The bridesmaid - The body
On an island off the coast of Ireland, guests gather to celebrate two people joining their lives together as one. The groom: handsome and charming, a rising television star. The bride: smart and ambitious, a magazine publisher. It's a wedding for a magazine, or for a celebrity: the designer dress, the remote location, the luxe party favors, the boutique whiskey. The cell phone service may be spotty and the waves may be rough, but every detail has been expertly planned and will be expertly executed.
But perfection is for plans, and people are all too human. As the champagne is popped and the festivities begin, resentments and petty jealousies begin to mingle with the reminiscences and well wishes. The groomsmen begin the drinking game from their school days. The bridesmaid not-so-accidentally ruins her dress. The bride's oldest (male) friend gives an uncomfortably caring toast.
And then someone turns up dead. Who didn't wish the happy couple well? And perhaps more important, why?