LILIES Women's Romance Magazine Issue Seven: "Lily Bulb" (Paperback)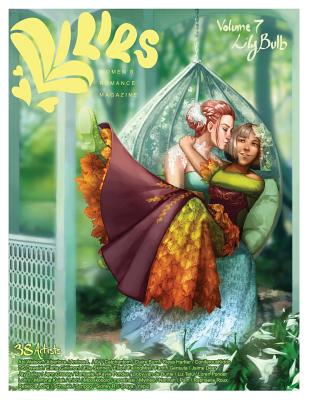 $45.00
Email or call for price.
Description
---
Lilies is an anthology of optimistic lesbian romance comics and illustrations compiled by LBTQ+ editors. Each volume is stand-alone and can be read independent of the other volumes of the series. The 7th volume, Lily Bulb, has a "nature" theme in honor of Earth Day. Come celebrate with us and enjoy daring stories of love, nature, discovery and adventure Find hope in even the most dystopian of futures Join a mermaid under the sea, a young witch-in-training, a brawny woodswoman, and more "Lily Bulb" plants seeds of optimism, hope, and inclusivism. Meet our exciting cast of colorful characters and skilled up-and-coming artists, illustrators, and writers. Lilies Vol. 7: Lily Bulb features over 200 pages of art and comics by 38 creators: Abi Watson, Alberloze, Andrea L, AV, Catphantom, Claire Burn, Cleya Hartter, ConiferousKiddo, DS Oswald, Elena Girilimoni, Elle Skinner, Elliot, FallingMist, Fanfi, Gensuta, Jaime Dear, Jay Bailey, Jenn Gracey, Kamaete, Kaylie Ponder, Libby van de Bunte, Liz Tetu, Loren Ponder, Lorini, Martyna Kulak, michi, Mooskobold, mossinasi, Mythee, Nannah, Pam, Raphaelle Roux, Rebecca Long, Schnekk, Schpog, Sidney R., Sreya, Y piz. Volume 7 was edited by special guest editors FallingMist and Mythee, with assistance from longtime Lilies editors Schnekk and AppleAtti. Lilies Anthology is open submission and welcomes new, original art and comics. Follow us at liliesanthology.tumblr.com and twitter.com/liliesanthology for updates about future volumes of Lilies Anthology Contact us at Liliesanthology@gmail.com with any questions you may have. Thank you for reading and supporting our editors and creators.