The Importance of Being Wilde at Heart (Hardcover)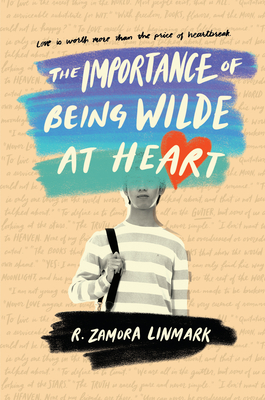 $17.99
Email or call for price.
Description
---
Readers of Adam Silvera (They Both Die at the End) and Elizabeth Acevedo (The Poet X) will pull out the tissues for this tender, quirky story of one seventeen-year-old boy's journey through first love and first heartbreak, guided by his personal hero, Oscar Wilde.

Words have always been more than enough for Ken Z, but when he meets Ran at the mall food court, everything changes. Beautiful, mysterious Ran opens the door to a number of firsts for Ken: first kiss, first love. But as quickly as he enters Ken's life, Ran disappears, and Ken Z is left wondering: Why love at all, if this is where it leads?

Letting it end there would be tragic. So, with the help of his best friends, the comfort of his haikus and lists, and even strange, surreal appearances by his hero, Oscar Wilde, Ken will find that love is worth more than the price of heartbreak.

"An unabashed love letter to Oscar Wilde, Cole Porter, and the arts' ability to give voice to human emotion." --Kirkus

"Linmark's novel is definitely offbeat and wild(e)ly imaginative...and a rich reading experience that would make the ineffable Oscar proud." --Booklist

"A big-hearted book that...always keeps love in its heart." --Abdi Nazemian author of Like a Love Story and The Authentics

"As surreal as it is real, as beautiful as it is painful, as playful as it is wise. --Randy Ribay, author of Patron Saints of Nothing
About the Author
---
Poet, novelist, and playwright R. Zamora Linmark was born in Manila and educated in Honolulu. He is the author of four poetry collections and the novels Leche (Coffee House Press) and Rolling the R's (Kaya Press), which he adapted for the stage. He lives in Honolulu and Manila. The Importance of Being Wilde at Heart is his debut YA novel.
Praise For…
---
"A sweet love story that celebrates diversity of its characters and culture...everything, from Ran's compulsory military service to the banning of books, feels authentic and heightens the stakes of the burgeoning gay romance...[and] the boys' romance builds in a way that feels natural. An unabashed love letter to Oscar Wilde, Cole Porter, and the arts' ability to give voice to human emotion." —Kirkus

Linmark's novel is definitely offbeat and wild(e)ly imaginative, inviting long thoughts about the uncertainty of love, with its wonderment and hummingbird heartbeats. Beautifully written, sad as a Wilde fairy tale, and home to highly empathic characters, the novel is a rich reading experience that would make the ineffable Oscar proud. —Booklist

"The Importance of Being Wilde at Heart is a big-hearted book that uses a beautiful mixture of prose, poetry, and haikus to tell a story that—to paraphrase the words of the book's patron saint Oscar Wilde—always keeps love in its heart." —Abdi Nazemian author of Like a Love Story and The Authentics
 
"A lyrical meditation on finding oneself in friendship, literature, love, and heartbreak. As surreal as it is real, as beautiful as it is painful, as playful as it is wise." —Randy Ribay, author of Patron Saints of Nothing