Thrones, Dominations: A Lord Peter Wimsey / Harriet Vane Mystery (Lord Peter Wimsey/Harriet Vane #1) (Paperback)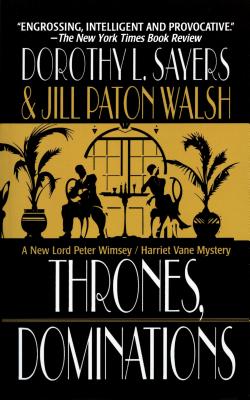 $22.99

Usually Ships in 1-5 Days
Description
---
In 1936, Dorothy L. Sayers —considered one of the best mystery writers of the Golden Age—abandoned the last Lord Peter Wimsey detective story. Sixty years later, a copy of the unfinished manuscript was discovered in her agent's safe in London, and award-winning novelist Jill Paton Walsh was commissioned to complete it. The result was the international bestseller Thrones, Dominations.
Now, this irresistible story is back in paperback. Picking up where Sayers left off, Jill Paton Walsh brings Lord Peter and Harriet Vane brilliantly to life in Sayers' unmistakable voice. Thrones, Dominations satisfies the vast readership hungry to know what happened after their honeymoon. Fan and critics rejoice at Jill Paton Walsh's resurrection of this beloved series.
About the Author
---
Dorothy L. Sayers, the greatest of the golden age detective novelists, was born in Oxford in 1893. Her aristocratic detective, Lord Peter Wimsey, became one of the most popular fictional heroes of the twentieth century. She devoted the last 20 years of her life to playwriting, Christian scholarship, and a new translation of Dante. She died in 1957.

Jill Paton Walsh (1937-2020) was an award-winning author of many books for children, young adults, and adults including The Green Book, A Parcel of Patterns, the Booker Prize shortlisted Knowledge of Angels, and the Whitbread Prize winner The Emperor's Winding Sheet. She completed Dorothy L. Sayers' unfinished Lord Peter Wimsey and Harriet Vane mystery manuscript, the international bestseller Thrones, Dominations, and continued Sayers' series with A Presumption of Death, The Attenbury Emeralds, and The Late Scholar. In 1996, Walsh was awarded a CBE (Commander of the Order of the British Empire) for services to literature.