How to Raise an Adult: Break Free of the Overparenting Trap and Prepare Your Kid for Success (Paperback)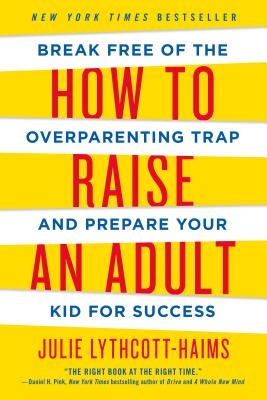 $17.99
Usually Ships in 1-5 Days
Description
---
New York Times Bestseller
"Julie Lythcott-Haims is a national treasure. . . . A must-read for every parent who senses that there is a healthier and saner way to raise our children." -Madeline Levine, author of the New York Times bestsellers The Price of Privilege and Teach Your Children Well
"For parents who want to foster hearty self-reliance instead of hollow self-esteem, How to Raise an Adult is the right book at the right time." -Daniel H. Pink, author of the New York Times bestsellers Drive and A Whole New Mind

A provocative manifesto that exposes the harms of helicopter parenting and sets forth an alternate philosophy for raising preteens and teens to self-sufficient young adulthood
In How to Raise an Adult, Julie Lythcott-Haims draws on research, on conversations with admissions officers, educators, and employers, and on her own insights as a mother and as a student dean to highlight the ways in which overparenting harms children, their stressed-out parents, and society at large. While empathizing with the parental hopes and, especially, fears that lead to overhelping, Lythcott-Haims offers practical alternative strategies that underline the importance of allowing children to make their own mistakes and develop the resilience, resourcefulness, and inner determination necessary for success.
Relevant to parents of toddlers as well as of twentysomethings--and of special value to parents of teens--this book is a rallying cry for those who wish to ensure that the next generation can take charge of their own lives with competence and confidence.
About the Author
---
Julie Lythcott-Haims is the New York Times bestselling author of How to Raise an Adult. She holds a BA from Stanford, a JD from Harvard Law School, and an MFA in writing from California College of the Arts. She is a member of the San Francisco Writers Grotto, and resides in the Bay Area with her husband, their two teenagers, and her mother.
Praise For…
---
This is the stuff of the best parenting advice . . . . A worthwhile read for every parent . . . . Our children are engaged in the serious work of becoming an adult. With this book, Lythcott-Haims provides the missing user manual. The Chicago Tribune
Lythcott-Haims offers anecdotes of parents touring graduate schools, serving as mouthpieces for heir shy, passive children, and submitting rsums to potential employers, sometimes without their children's knowledge. These behaviors do more than mold kids into dependent beings, she argues; they corral and constrict their possibilities and their imaginations. . . . When parents laugh and enjoy the moment but also teach the satisfaction of hard work, when they listen closely but also give their children space to become who they are, they wind up with kids who know how to work hard, solve problems and savor the moment, too. In other words, get a life, and your child just might do the same someday. The New York Times Book Review
In her easy-to-read prose . . . . the author does a superb job of laying out the facts . . . . Her advice is sound and obviously much needed . . . if parents want to raise productive adults. Kirkus Reviews
Lythcott-Haims presents a convincing vision of overprotected, overparented, overscheduled kids . . . . After presenting the problem in detail (through interviews with college admissions officers, educators, parents, and others), she offers a number of viable solutions . . . . This vigorous text will give parents the backup needed to make essential changes. Publishers Weekly
Julie Lythcott-Haims is a national treasure. She is a psychologist, sociologist, and anthropologist rolled into one, recording the attitudes and rituals of 21st-century smart kids who can't tie their shoelaces--and of their anxious, hovering parents. Reminding us that we are charged with transforming children into adults capable of meeting the challenges of life head-on, Lythcott-Haims dispenses compassion and a good kick in the pants in equal and appropriate measure. Witty, wise, and dead-on, Lythcott-Haims is a tonic for what ails this generation of kids and parents. A must-read for every parent who senses that there is a healthier and saner way to raise our children. MADELINE LEVINE, author of the New York Times bestsellers The Price of Privilege and Teach Your Children Well
Have the good intentions of American parents gone awry? In this timely and bracing work, Julie Lythcott-Haims chronicles the many dangers of overparenting--from thwarting children's growth to hurting their job prospects to damaging parents' own well-being. Then she charts a smart, compassionate alternative approach that treats kids as wildflowers to be nourished rather than bonsai trees to be cultivated. For parents who want to foster hearty self-reliance instead of hollow self-esteem, How to Raise an Adult is the right book at the right time. DANIEL H. PINK, author of the New York Times bestsellers Drive and A Whole New Mind
I've loved this book from the moment I saw the title. Julie Lythcott-Haims understands that the goal of parenting should be to raise autonomous adults, not have name-brand college admissions to brag about. Her double perspective--as a mother of teenagers and a former longtime freshman dean at Stanford--makes her uniquely equipped to show parents how to do exactly that. Wise, honest, compassionate, and deeply informed, How to Raise an Adult ought to be at the top of everybody's stack of parenting books. WILLIAM DERESIEWICZ, author of the New York Times bestseller Excellent Sheep: The Miseducation of the American Elite and the Way to a Meaningful Life