The Standard Grand: A Novel (Hardcover)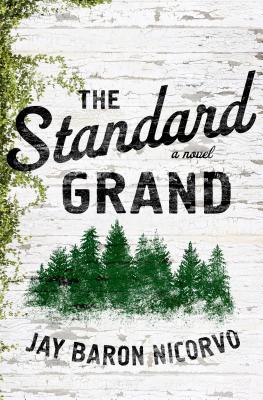 $34.99

Usually Ships in 1-5 Days
May 2017 Indie Next List
---
"Jay Baron Nicorvo's novel envelops you in a world most civilians never know, where homeless veterans gather to work on regaining their hearts and minds. The reader is a listener, learning about these characters through each of their voices, accents, idioms, and military jargon - sometimes mean and ugly, sometimes only vaguely understood. Even in their hidden Catskills retreat, there is a realization that they are not beyond the reach of a sinister corporate world waging another, more personal war for oil. The Standard Grand is sculpture, a work of art with every word, every detail, perfect."
— Diane Marie Steggerda, The Bookman, Grand Haven, MI
Description
---
**One of the Brooklyn Rail's Best Books of 2017**

"Nicorvo is a bracingly original writer and a joy to read." —Dennis Lehane

"A desperate masterpiece of a debut" that tells a huge-hearted American saga—of love, violence, war, conspiracy and the aftermath of them all." —Bonnie Jo Campbell

"Nicorvo's muscular and energetic prose will stun readers with its poignancy, while providing a punch to the solar plexus." —Booklist (Starred Review)

"A dash of Coetzee, a dram of Delillo, but mostly just the complicated compassion of Jay Nicorvo. The Standard Grand is a brutally beautiful novel." —Pam Houston, author of Contents May Have Shifted

"It seems possible that Nicorvo has ingested all the darkness of this life and now breathes fire." Nick Flynn, author of Another Bullshit Night in Suck City

When an Army trucker goes AWOL before her third deployment, she ends up sleeping in Central Park. There, she meets a Vietnam vet and widower who inherited a tumbledown Borscht Belt resort. Converted into a halfway house for homeless veterans, the Standard—and its two thousand acres over the Marcellus Shale Formation—is coveted by a Houston-based multinational company. Toward what end, only a corporate executive knows.

With three violent acts at its center—a mauling, a shooting, a mysterious death decades in the past—and set largely in the Catskills, The Standard Grand spans an epic year in the lives of its diverse cast: a female veteran protagonist, a Mesoamerican lesbian landman, a mercenary security contractor keeping secrets and seeking answers, a conspiratorial gang of combat vets fighting to get peaceably by, and a cougar—along with appearances by Sammy Davis, Jr. and Senator Al Franken. All of the characters—soldiers, civilians—struggle to discover that what matters most is not that they've caused no harm, but how they make amends for the harm they've caused.

Jay Baron Nicorvo's The Standard Grand confronts a glaring cultural omission: the absence of women in our war stories. Like the best of its characters—who aspire more to goodness than greatness—this American novel hopes to darn a hole or two in the frayed national fabric.
About the Author
---
JAY BARON NICORVO lives on an old farm outside Battle Creek, MI, with his wife, Thisbe Nissen, their son and a couple dozen vulnerable chickens. His writing has appeared in Salon, Poets & Writers, and The Believer, and has been featured on NPR and PBS NewsHour. He's published a poetry collection, Deadbeat, and served as an editor at Ploughshares and at PEN America, the literary magazine of the PEN American Center. He was membership director for the Community of Literary Magazines and Presses [clmp], and he's a sometimes teacher at Western Michigan University, where he helps advise the journal Third Coast.
Praise For…
---
"Nicorvo has a masterful and playful use of language that keeps the story fresh, alive and immediate...a satisfying and complex layering of emotions and desires." —The Rumpus

"[A] promising debut..its vibrant style and twisting plot — at one point a character is mauled by a cougar — make for an appropriately complex snapshot of America's relationship with the men and women who defend it." —Publishers Weekly

"In capturing the story of one deserter's search for love and redemption in an increasingly corporatized America, Nicorvo carves out something truly original." —Library Journal

"...a seamless blend of road-trip saga, love story, and critique of military contractors...the novel is thematically a straightforward tale about finding a home…but Nicorvo smartly renders the legal, corporate, and military forces that can stand in the way of so simple a goal. An ambitious novel that effectively braids corporate greed, outdoorsy grit, and human connection." —Kirkus Reviews

"Magnificent storytelling. A stunning debut novel, The Standard Grand definitely marks Jay Baron Nicorvo as an author to watch." —LitStack

"An outstanding novel — funny, heartbreaking and important...should be required reading for understanding veterans." —The Gazette

"Jay Baron Nicorvo is a bracingly original writer and a joy to read." —Dennis Lehane

"With sentences that flow like water down a mountain, Nicorvo's muscular and energetic prose will stun readers with its poignancy, while providing a punch to the solar plexus. Whipsmart dialogue and keen emotional insight bring a ragtag, damaged, but lovable cast of characters to life...[An] exceptional first novel...The Standard Grand is an important and deeply human contribution to the national conversation." —Booklist (Starred Review)

"I find few things more hopeful, in these darkening times, than a writer who can stare, unblinking, into the gut-wrenching destruction humans are wreaking upon each other and the earth, and still find shards of humor and humanity. A dash of Coetzee, a dram of DeLillo, but mostly just the complicated compassion of Jay Nicorvo. The Standard Grand is a brutally beautiful novel." —Pam Houston, author of Contents May Have Shifted

"With profound compassion for his outrageously wonderful characters, Nicorvo brings readers to a defunct and decaying Catskills resort where a ghost platoon of vets are surviving among dangers both natural and human-made. Insanely funny, by turns tragic and, ultimately, redemptive, The Standard Grand is a desperate masterpiece of a debut: honest, epic, constantly surprising, and relentlessly entertaining." —Bonnie Jo Campbell, finalist for the National Book Award and the National Book Critics Circle Award, and author of American Salvage and Once Upon A River

"The Standard Grand defies categorization, as a novel; its pleasures are those of both the family saga and the government-covert-secrets sort. The reader engages politically, emotionally, and morally, with a page-turning obsession to see what, exactly, could (despite what should) possibly happen next." —Antonya Nelson, author of Bound and Funny Once

"A rollicking howl into the void of American empire and excess, The Standard Grand raises hell with both style and charm." —Matt Gallagher, author of Youngblood

"Like O'Brien and Stone before him, Nicorvo's language lays bare the sinewy lusts, rattling hopes, and incommunicable fears that are our human machine." —T. Geronimo Johnson, author of Hold It 'Til It Hurts and the national bestseller Welcome to Braggsville

"Nicorvo's canvas is large, multicultural, contemporary, and magnificent. He is a gifted writer and The Standard Grand is one great gift of a book." —Frederick Reiken, author of The Lost Legends Of New Jersey

" Nicorvo's The Standard Grand is, from its eye-catching title to the prophetic peal of its last word, a stunning debut performance by a young novelist of extravagant talent. This novel gives readers everything--a gob-smacking plot, language that sings like the angels, and characters as compelling as our best and worst friends and lovers." —Sterling Watson, author of Suitcase City

"This novel pops and sears. It picks you up and doesn't let you go until it's finished with its rollicking, fiery story. Nicorvo has produced a masterwork." —Don Lee, author of The Collective

"It seems possible that Nicorvo has ingested all the darkness of this life and now breathes fire." —Nick Flynn, author of Another Bullshit Night in Suck City

"Nicorvo hits the sweet spot in The Standard Grand, a novel that delivers the tough and tender, twisting and turning pleasures of classic noir, while paying all due respect to what Terry Southern called Qual Lit…Kaleidoscopic in its vision, encompassing in its humanity, here is a novel I wish I could send to Robert Stone." —Scott Spencer, bestselling author of Man in the Woods