The Dry: A Novel (CD-Audio)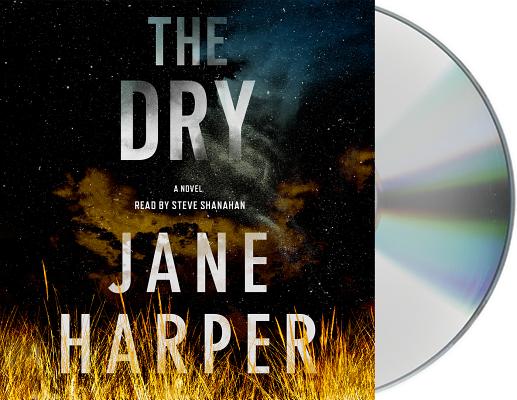 $44.99
Email or call for price.
Staff Reviews
---
Set in the Australian outback, THE DRY is both a great detective murder whodunit and a coming-home narrative. Harper is a master of descriptive narrative and character building. It will keep you guessing until the last page.
— Suzie
January 2017 Indie Next List
---
"This story of a small town and the secrets it has been protecting for decades is fast-paced and never predictable. In a remote section of rural Australia during an extended drought, devastating weather conditions collide with an unexpected turn of events that ultimately results in the murder of a young family. Bearing the scars of the town's past, Aaron Falk returns home for the funeral and is forced to make a choice between saving himself and facing a secret he has been hiding from for 20 years. This is an amazing debut that I could not put down!"
— Dana Gillespie (W), East City Bookshop, Washington, DC
Summer 2018 Reading Group Indie Next List
---
"A family of three is murdered, supposedly by the father, who shoots himself afterward. No one is overly surprised since farmers are barely scraping by due to a very long dry spell. Into this situation walks a cop who left the town 20 years earlier while under suspicion for another death. Stakes get higher, and you can taste the dry wind."
— Olga Onal, Bookmiser, Roswell, GA
Description
---
NOW A MAJOR MOTION PICTURE FROM IFC FILMS STARRING ERIC BANA

*INSTANT NEW YORK TIMES BESTSELLER*

*Winner of the CWA's Gold Dagger Award**Winner of an AudioFile Earphones Award*

"A breathless page-turner, driven by the many revelations Ms. Harper dreams up…You'll love [her] sleight of hand…A secret on every page." —The New York Times

"One of the most stunning debuts I've ever read… Every word is near perfect." —David Baldacci

A small town hides big secrets in The Dry, an atmospheric debut mystery by award-winning author Jane Harper.

After getting a note demanding his presence, Federal Agent Aaron Falk arrives in his hometown for the first time in decades to attend the funeral of his best friend, Luke. Twenty years ago when Falk was accused of murder, Luke was his alibi. Falk and his father fled under a cloud of suspicion, saved from prosecution only because of Luke's steadfast claim that the boys had been together at the time of the crime. But now more than one person knows they didn't tell the truth back then, and Luke is dead.

Amid the worst drought in a century, Falk and the local detective question what really happened to Luke. As Falk reluctantly investigates to see if there's more to Luke's death than there seems to be, long-buried mysteries resurface, as do the lies that have haunted them. And Falk will find that small towns have always hidden big secrets.
About the Author
---
Jane Harper is the New York Times bestselling author of The Dry, Force of Nature, and The Lost Man. Jane previously worked as a print journalist in Australia and the UK and lives in Melbourne with her husband, daughter, and son.
Praise For…
---
"Debut author Jane Harper's fine prose and narrator Steven Shanahan's expert delivery combine for a transcendent Australian noir experience."
-AudioFile Magazine

"The setting is so extraordinarily vivid that the overwhelming heat and dusty dryness are almost palpable. This, along with the skillful turns of the plot, make the novel outstanding... the choice of a distinctly Australian reader to tell the story adds to its reality. His semi-voiced, crisp. deliberate speech reflects the mood and authenticity of this audio experience." -SoundCommentary.com

"...narrator Stephan Shanahan's Australian accent is making me consider jumping ship to audio for the rest of the books!" -BookRiot

"Harper's devastating debut…spins a suspenseful tale of sound and fury as riveting as it is horrific."
—Publishers Weekly, starred and boxed review

"One of the most stunning debuts I've ever read. I could feel the searing heat of the Australia setting. Every word is near perfect. The story builds like a wave seeking the purchase of earth before it crashes down and wipes out everything you might have thought about this enthralling tale. Read it!"
—David Baldacci, #1 New York Times bestselling author of The Guilty

"A stunner…It's a small-town, big-secrets page-turner with a shocker of an ending…Recommend this one to fans of James Lee Burke and Robert Crais, who mix elements of "bromance" into their hard-boiled tales."
—Booklist, starred review

"With The Dry, Jane Harper immediately takes her place among the elites in the mystery world. If this book doesn't garner an Edgar (Best First Novel) or two (Best Novel), there is no justice. Terrific characters, unique and evocative setting, knockout plot construction. This book has it all."
—John Lescroart, New York Times bestselling author of The Fall

"It's extremely rare and exciting to read a debut that enthralls from the very first page and then absolutely sticks the landing. Told with heart and guts and an authentic sense of place that simply cannot be faked, The Dry is the debut of the year."
—C.J. Box, #1 New York Times bestselling author of Off The Grid

"Every so often a debut novel arrives that is so tightly woven and compelling it seems the work of a novelist in her prime. That's what Jane Harper has given us with The Dry, a story so true to setting and tone it seemed I fell asleep in Virginia only to wake in Australian heat. It's rare, that sense of transportation, and I loved every minute of it. Thank you, Jane Harper."
—John Hart, New York Times bestselling author of Redemption Road

"From the first paragraph onward, Jane Harper creates a menacing landscape out of which long-held secrets emerge.The Dry is a marvelous novel that once begun is hard to put down, once finished even harder to forget."
—Ron Rash, New York Times bestselling author of Serena

"You will feel the heat, taste the dust and blink into the glare. The Dry is a wonderful crime novel that shines a light into the darkest corner of a sunburnt country."
—Michael Robotham, New York Times bestselling author of Life or Death

"Every now and then an Australian crime novel comes along to stop your breath and haunt your dreams…There is about The Dry something mythic and valiant. This a story about heroism, the sins of the past, and the struggle to atone."
—Sydney Morning Herald

"A razor-sharp crime yarn dripping in the sights, sounds and smells of the Australian bush…The storytelling is accomplished, with a bald sparseness to the writing that draws you in and characterization that rings resoundingly true…as the action twists and turns, the pace build[s] to a fantastic finale that will leave you breathless."
—Australian Women's Weekly

"A tightly plotted page-turner that kept me reading well into the night…Harper shines a light on the highs and lows of rural life – the loyalty born of collective endurance in adversity, as well as the loneliness and isolation, and the havoc wrought by small-town gossip. She also explores the nature of guilt and regret, and the impact of the past on the present. In this cracker of a book Harper maintains the suspense, with the momentum picking up as it draws to its nerve-wracking conclusion."
—Australian Financial Review

"The Dry is a page-turner written with a maturity of style rarely seen in a first-time novelist and it's here the writer excels. Harper's exploration of the pressures of a small town where people are not able to escape the past is thoughtful and mature. Her plot twists and layering are intricate and subtle and keep you guessing to the end while the townspeople grow on you despite their dirty secrets."
—The West Australian