Trial by Fire: A Devastating Tragedy, 100 Lives Lost, and a 15-Year Search for Truth (Hardcover)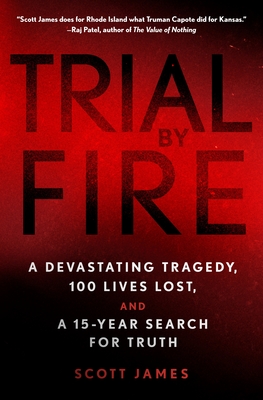 $29.99
Email or call for price.
Description
---
As featured on the CBS News program "48 Hours"

**2021 New England Society Book Award Winner for Contemporary Nonfiction

In only 90 seconds, a fire in the Station nightclub killed 100 people and injured hundreds more. It would take nearly 20 years to find out why—and who was really at fault.

All it took for a hundred people to die during a show by the hair metal band Great White was a sudden burst from four giant sparklers that ignited the acoustical foam lining the Station nightclub. But who was at fault? And who would pay? This being Rhode Island, the two questions wouldn't necessarily have the same answer.

Within 24 hours the governor of Rhode Island and the local police chief were calling for criminal charges, although the investigation had barely begun, key evidence still needed to be gathered, and many of the victims hadn't been identified. Though many parties could be held responsible, fingers pointed quickly at the two brothers who owned the club. But were they really to blame? Bestselling author and three-time Emmy Award-winning journalist Scott James investigates all the central figures, including the band's manager and lead singer, the fire inspector, the maker of the acoustical foam, as well as the brothers. Drawing on firsthand accounts, interviews with many involved, and court documents, James explores the rush to judgment about what happened that left the victims and their families, whose stories he also tells, desperate for justice.

Trial By Fire is the heart-wrenching story of the fire's aftermath because while the fire, one of America's deadliest, lasted minutes, the search for the truth would take years.
About the Author
---
SCOTT JAMES is the bestselling author of the novels The Sower and Soma, finalist for the national Lambda Literary Award for debut fiction, under the pen name Kemble Scott. With his weekly eponymous San Francisco column for The New York Times, James found stories that drew coverage from other national and international media, including The New Yorker, The London Times, The Guardian, and many more. He's been honored with three Emmy Awards for his work in television news. He lives in San Francisco, and is co-founder of The Castro Writers' Cooperative, known as The Coop, a co-working space for Bay Area writers.
Praise For…
---
"Scott James examines the harrowing incident by talking to those who were there and directly impacted—augmented with previously unseen documentation that really puts the tragedy into perspective 15 years later."—David Chiu, Forbes

"Everything you thought you knew about the [Station nightclub] fire is probably wrong….Trial By Fire details the many misconceptions about the blaze….This is not a book simply about uncovering truths. This is about the people whose lives were changed forever by the blaze."—Mike Kirby, The Sun Chronicle (Attleboro, MA)

"The author's account is minutely detailed, its technical discussions punctuated by human-interest-story portraits of the victims...An unsettling history of horrific events whose memory is still fresh." —Kirkus Reviews

"James draws on his knowledge of the state's politics and interviews with the principal players to present a complete, affecting picture of the tragedy's terrible human cost. This is essential reading for true crime fans." —Publisher's Weekly

"Well-researched and well written... it is well worth reading for true crime fans who are tired of serial killers." —Booklist

"Another example of how investigative reporting can upend official truths."—Berkeleyside (CA)


"When Scott James tells the tragedy of The Station nightclub fire, he does for Rhode Island what Truman Capote did for Kansas. With new evidence and interviews, he traces the horror that left 100 dead and hundreds more scarred for life, and in James' new investigation, none are spared. From the judicial system to the media to the club owners and vendors, each is subjected to a reporter's skepticism, and an insider's unflinching compassion. This is journalism as it is meant to be." —Raj Patel, New York Times bestselling author of The Value of Nothing


"Trial by Fire sucks you in faster than flames racing across an oil-based ceiling before pulling you into the wrangling and untangling of the aftermath. Scott James' investigative journalism reads like an Agatha Christie whodunit." —Pulitzer Prize winning journalist Alex Storozynski, author of The Peasant Prince

"Trial by Fire is an incredible work of investigative writing and storytelling that thankfully never loses sight of the people at the heart of this awful tragedy. This is a story of community, of those that existed prior to the horrific events at The Station Nightclub and those that were born out of it. James brings the proper amount of compassion, skepticism and nuance to construct a narrative that is as engaging as it is, at times, alarming." —Academy Award winning filmmaker Daniel Lindsay, for best documentary "Undefeated."