The High Places: Stories (Paperback)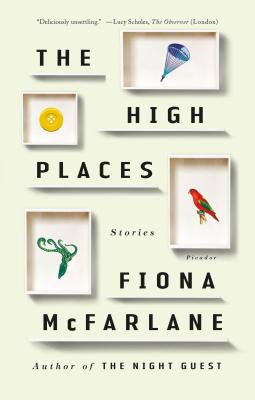 $18.00

Usually Ships in 1-5 Days
Description
---
Winner of the International Dylan Thomas Prize

"THERE IS IN THESE TALES A RECURRENT 'FEELING OF QUEASY ANTICIPATION,' AS ONE OF MCFARLANE'S CHARACTERS OBSERVES, 'AS IF SOME TERRIBLE THING MIGHT HAPPEN AT ANY MOMENT.' . . . IT'S A MOOD YOU ASSOCIATE WITH FLANNERY O'CONNOR, EVIDENTLY ONE OF MCFARLANE'S INFLUENCES, AS WELL AS PATRICIA HIGHSMITH."—THE NEW YORK TIMES BOOK REVIEW (EDITORS' CHOICE)

Ranging from Australia to Greece, England to a Pacific island, the stories in Fiona McFarlane's story collection The High Places journey across continents, eras, and genres, charting the pivotal moments of people's lives. In "Mycenae," a middle-aged couple embarks on a disastrous vacation in the company of old friends. In "Good News for Modern Man," a scientist conducts research on a small, remote island, where he is haunted by a colossal squid and the ghost of Charles Darwin. And in the title story, an Australian farmer turns to Old Testament methods to relieve a fatal drought. All are confronted with events that make them see themselves and their lives from a fresh perspective—and what they do as a result is as unpredictable as life itself.
About the Author
---
Fiona McFarlane was born in 1978 in Sydney, Australia, and holds a PhD from Cambridge University and an MFA from the University of Texas at Austin, where she was a Michener Fellow. Her work has been published in Zoetrope: All-Story, The Missouri Review, and The Best Australian Stories, and she has received fellowships from the Fine Arts Work Center in Provincetown, Phillips Exeter Academy, and the Australia Council for the Arts. Her debut novel, The Night Guest, was the winner of the inaugural Voss Literary Prize and the 2014 Barbara Jefferis Award.
Praise For…
---
"McFarlane writes with a deceptively plain hand, and her style gives shape to the unanswered questions of how well we can ever know each other or ourselves...The writing is clever and skillful in spades."—Kirkus Reviews

"Having triumphantly debuted with The Night Guest, which won the inaugural Voss Literary Prize and the Barbara Jefferis Award and was short-listed for a stack of others, McFarlane returns with a collection of short stories. She unsettled us then, and she unsettles us now, offering narratives that explore characters at the emotional borders."—Barbara Hoffert, Library Journal

"Her debut novel, The Night Guest, earned McFarlane a reputation as a wise-beyond-years storyteller. [The High Places] reinforces it...It's a joy to dwell in McFarlane's rich new world."—Booklist

"McFarlane has a gift for cutting into a story at precisely the right angle. . . . Her writing is skilled; her point of view is unique."—The Times (London)

"In her distinct and unusual voice—the disconcerting tone and dry humor are reminiscent of Margaret Atwood or Valerie Martin—McFarlane examines relationships with uncomfortable clarity and insight, observing the subtext of human behavior while acknowledging a mysterious power behind the reality we think we know."—Daily Mail (London)

"The High Places is superb. . . . Every one of the thirteen stories is a winner."—The Saturday Paper (Melbourne)