A World of Curiosities: A Novel (Chief Inspector Gamache Novel #18) (Hardcover)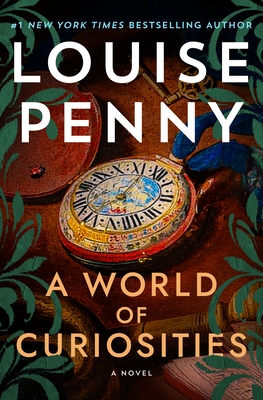 $29.99

Usually Ships in 1-5 Days
Other Books in Series
This is book number 18 in the Chief Inspector Gamache Novel series.
Staff Reviews
---
As I read the first page of the first Inspector Gamache book by Louise Penny, I knew I was going to love this writer and her Three Pines mysteries. The 18th installment, World of Curiosities, does not disappoint. This story is dark and complex, layered with history and meaning. The sense of a race against unspeakable evil kept me reading late into the night. And of course, all of the characters who live in Three Pines are on hand, especially Ruth Zardo, who provides comic relief but also poignant insight and weary knowledge of the human condition. Penny doesn't spare the complications—there's a lot to keep up with and clues and red herrings everywhere. She keeps her readers on their toes!
— Genevieve
Description
---
INSTANT #1 NEW YORK TIMES BESTSELLER
Agatha Award Winner for Best Contemporary Novel

Chief Inspector Armand Gamache returns in the eighteenth book in #1 New York Times bestseller Louise Penny's beloved series.

It's spring and Three Pines is reemerging after the harsh winter. But not everything buried should come alive again. Not everything lying dormant should reemerge.

But something has.

As the villagers prepare for a special celebration, Armand Gamache and Jean-Guy Beauvoir find themselves increasingly worried. A young man and woman have reappeared in the Sûreté du Québec investigators' lives after many years. The two were young children when their troubled mother was murdered, leaving them damaged, shattered. Now they've arrived in the village of Three Pines.

But to what end?

Gamache and Beauvoir's memories of that tragic case, the one that first brought them together, come rushing back. Did their mother's murder hurt them beyond repair? Have those terrible wounds, buried for decades, festered and are now about to erupt?

As Chief Inspector Gamache works to uncover answers, his alarm grows when a letter written by a long dead stone mason is discovered. In it the man describes his terror when bricking up an attic room somewhere in the village. Every word of the 160-year-old letter is filled with dread. When the room is found, the villagers decide to open it up.

As the bricks are removed, Gamache, Beauvoir and the villagers discover a world of curiosities. But the head of homicide soon realizes there's more in that room than meets the eye. There are puzzles within puzzles, and hidden messages warning of mayhem and revenge.

In unsealing that room, an old enemy is released into their world. Into their lives. And into the very heart of Armand Gamache's home.
About the Author
---
LOUISE PENNY is the author of the #1 New York Times, USA Today, and Globe and Mail bestselling series of Chief Inspector Armand Gamache novels, and coauthor with Hillary Rodham Clinton of the #1 New York Times bestselling thriller State of Terror. She has won numerous awards, including a CWA Dagger and the Agatha Award (nine times), and was a finalist for the Edgar Award for Best Novel. In 2017, she received the Order of Canada for her contributions to Canadian culture. Louise lives in a small village south of Montréal.
Praise For…
---
Outstanding Praise for A World of Curiosities

ONE OF WASHINGTON POST'S BEST MYSTERIES AND THRILLERS OF 2022
ONE OF PEOPLE MAGAZINE'S BEST FALL BOOKS
ONE OF AARP'S BEST FALL BOOKS
ONE OF CRIMEREADS' MOST ANTICIPATED FALL BOOKS
ONE OF BARNES & NOBLE'S BEST BOOKS OF 2022
ONE OF BUSTLE'S MOST ANTICIPATED NOVEMBER 2022 BOOKS

"Simply outstanding… Penny's gift for intelligent and transcendent storytelling delivers light, bringing themes of forgiveness and redemption to society's darker moments." —Christian Science Monitor

"Penny delves into the nature of evil, sensitively exploring the impact of the dreadful events she describes while bringing a warmth and humanity to her disparate cast of characters that, unusually for a crime novel, leaves you feeling better about the world once you've finished."—The Guardian

"Another superb achievement… Penny weaves together all these narratives—the
series of modern-day killings, the decade-old bludgeoning murder and the haunting artwork that has remained shrouded in mystery across the centuries—with a master's deft hand." —BookPage (starred review)

"For Penny, the novel is a narrative tour de force, drawing brilliantly on some dark moments in Québec history and leading Gamache and the residents of Three Pines to a hard-won, thoroughly unsentimental recognition that forgiveness is our most powerful magic." —Booklist (starred review)

"Virtuoso… blends nuanced characterization with nail-biting suspense…This tale of forgiveness and redemption will resonate with many." —Publishers Weekly (starred review)

"Penny's 18th Gamache novel is intense as the detective digs deep into his own fears. The darkness in this intricately plotted story forces readers to search for contrasting moments of hope." —Library Journal (starred review, and Pick of the Month)