Outcasts of Order (Saga of Recluce #20) (Mass Market)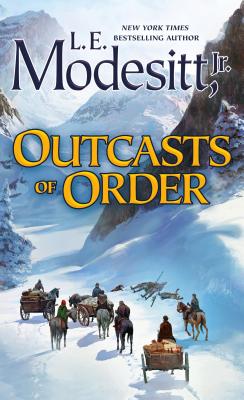 $9.99

Usually Ships in 1-5 Days
Other Books in Series
This is book number 20 in the Saga of Recluce series.
Description
---
Modesitt continues his bestselling Saga of Recluce with his 20th book in the long-running series. Beltur began his journey in The Mongrel Mage and continues with Outcasts of Order, the next book of his story arc in the Saga of Recluce.

USA Today Bestseller List
io9—Most Anticipated Sci Fi and Fantasy Books for June 2018
Unbound Worlds—The Best Sci Fi and Fantasy Books of June 2018

Beltur, an Order mage, discovers he possesses frightening powers not seen for hundreds of years. With his new abilities, he survives the war in Elparta and saves the lives of all. However, victory comes with a price. His fellow mages now see him as a threat to be destroyed, and the local merchants want to exploit his power.

There's only one way he can remain free and survive—he's going to have to run.

Saga of Recluce

#1 The Magic of Recluce / #2 The Towers of Sunset / #3 The Order War / #4 The Magic Engineer / #5 The Death of Chaos / #6 Fall of Angels / #7 The Chaos Balance / #8 The White Order / #9 Colors of Chaos / #10 Magi'i of Cyador / #11 Scion of Cyador / #12 Wellspring of Chaos / #13 Ordermaster / #14 Natural Order Mage / #15 Mage-Guard of Hamor / #16 Arms-Commander / #17 Cyador's Heirs / #18 Heritage of Cyador /#19 The Mongrel Mage / #20 Outcasts of Order / #21 The Mage-Fire War

Story Collection: Recluce Tales

Other Series by L.E. Modesitt, Jr.
The Imager Portfolio
The Corean Chronicles
The Spellsong Cycle
The Ghost Books
The Ecolitan Matter
About the Author
---
L. E. Modesitt, Jr., is the bestselling author of the fantasy series The Saga of Recluce, Corean Chronicles, and the Imager Portfolio. His science fiction includes Adiamante, the Ecolitan novels, the Forever Hero Trilogy, and Archform: Beauty. Besides a writer, Modesitt has been a U.S. Navy pilot, a director of research for a political campaign, legislative assistant and staff director for a U.S. Congressman, Director of Legislation and Congressional Relations for the U.S. Environmental Protection Agency, a consultant on environmental, regulatory, and communications issues, and a college lecturer. He lives in Cedar City, Utah.
Praise For…
---
Praise for Outcasts of Order

"Readers will delight in following [Beltur and Jessyla's] story, from the magical to the mundane, even as they slowly realize that city can never truly be home, either."—Seattle Book Review

"Through [Beltur's] travels you feel . . . the complexity of relationships, good and bad, that make up a life."—Booklist

"You can sink slowly into [Outcasts of Order] and for a week or so spend your spare hours vicariously living the life of a fine, admirable young hero."—SF Crowsnest

"One of the things that makes Recluce special is that mages have to earn a living. . . . It is this relevance and relatability which makes the Recluce series one of the best being published today. It is also why I will nominate it for the Best Series Hugo again this year."—SF Revu

"One of my favorite books in the Saga of Recluce."—The Arched Doorway

"In crafting this convincing portrait of a genuinely humble man guided by his clear-cut, innate sense of right and wrong, Modesitt shows how apparent weaknesses can become sources of great strength. And while most of his stories explore complex philosophical issues without pedantry or prejudice, this trilogy is doing so with particular thoroughness. Always a pleasure to abide in Modesitt's universe, if only for a few hours or days."—Kirkus

Praise for the Saga of Recluce

"Modesitt has established himself with his Recluce series as one of the best 90s writers of fantasy. The fantasies are characterized by a highly developed and consistent system of magic." —Vector

"L.E. Modesitt Jr., never fails to deserve praise." —Analog

"My favorite thing about L. E. Modesitt's books is that . . . I enjoy rereading them as much as I enjoy them the first time." —SF Revu on The Saga of Recluce