The Mage-Fire War (Saga of Recluce #21) (Hardcover)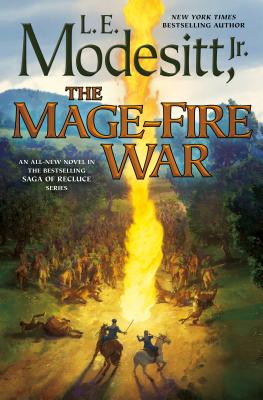 $29.99
Email or call for price.
Other Books in Series
This is book number 21 in the Saga of Recluce series.
Description
---
L. E. Modesitt, Jr., continues his bestselling Saga of Recluce with The Mage-Fire War, the third book in a story arc which began with The Mongrel Mage and Outcasts of Order.

A USA Today Bestseller!

Once again, prejudices against the use of chaos magic force Beltur and his companions to flee their refuge in Axalt. The rulers of nearby Montgren have offered them sanctuary and the opportunity to become the Councilors of the run-down and disintegrating town of Haven.

Montegren lacks any mages—white or black—making this seem like the perfect opportunity to start again.

However, Beltur and the others must reinstitute law and order, rebuild parts of the town, deal with brigands—and thwart an invading army.

Saga of Recluce

#1 The Magic of Recluce / #2 The Towers of the Sunset / #3 The Order War / #4 The Magic Engineer / #5 The Death of Chaos / #6 Fall of Angels / #7 The Chaos Balance / #8 The White Order / #9 Colors of Chaos / #10 Magi'i of Cyador / #11 Scion of Cyador / #12 Wellspring of Chaos / #13 Ordermaster / #14 Natural Order Mage / #15 Mage-Guard of Hamor / #16 Arms-Commander / #17 Cyador's Heirs / #18 Heritage of Cyador / #19 The Mongrel Mage / #20 Outcasts of Order / #21 The Mage-Fire War / #22 Fairhaven Rising (forthcoming)


Story Collection: Recluce Tales

Other Series by L.E. Modesitt, Jr.
The Imager Portfolio
The Corean Chronicles
The Spellsong Cycle
The Ghost Books
The Ecolitan Matter
About the Author
---
L. E. Modesitt, Jr., is the bestselling author of the fantasy series The Saga of Recluce, Corean Chronicles, and the Imager Portfolio. His science fiction includes Adiamante, the Ecolitan novels, the Forever Hero Trilogy, and Archform: Beauty. Besides a writer, Modesitt has been a U.S. Navy pilot, a director of research for a political campaign, legislative assistant and staff director for a U.S. Congressman, Director of Legislation and Congressional Relations for the U.S. Environmental Protection Agency, a consultant on environmental, regulatory, and communications issues, and a college lecturer. He lives in Cedar City, Utah.
Praise For…
---
Praise for The Mage-Fire War

"Readers with a fondness for family sagas will appreciate the focus on day-to-day life"—Publishers Weekly

"Modesitt writes a great story."—Azure Dwarf

"I don't think I've disliked a single one of Modesitt's Recluce books but I was still a bit surprised . . . how quickly [The Mage-Fire War] has become one of my favorite books in the series."—The Arched Doorway

Praise for The Mongrel Mage

USA Today Bestseller

"No writer does it better."—Kirkus

"Smart, thoughtful, and entertaining."—Pat's Fantasy Hotlist

Praise for Outcasts of Order

"Through [Beltur's] travels you feel . . . the complexity of relationships, good and bad, that make up a life."—Booklist

"And while most of his stories explore complex philosophical issues without pedantry or prejudice, this trilogy is doing so with particular thoroughness. Always a pleasure to abide in Modesitt's universe, if only for a few hours or days."—Kirkus

Praise for the Saga of Recluce series

"Modesitt has established himself with his Recluce series as one of the best 90s writers of fantasy. The fantasies are characterized by a highly developed and consistent system of magic." —Vector

"L.E. Modesitt Jr., never fails to deserve praise." —Analog