The Last Book Party (Hardcover)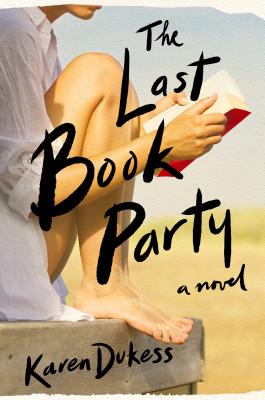 $27.00
Email or call for price.
Staff Reviews
---
If you can't get to Cape Cod this summer, this book will take you there. A love story on many levels: physical and literary. A pleasure to read!
— Samantha
July 2019 Indie Next List
---
"Oh, to have the wisdom and perspective of age when one is young. In 1987, Eve Rosen joins an elite seaside community as the summer assistant for a prestigious author. As their relationship turns from professional to personal, Eve gains more insight into the publishing world than she ever thought possible. Full of wistful yearning for a time long ago, The Last Book Party is a tribute to youth and its folly, all wrapped up in a gorgeous novel."
— Pamela Klinger-Horn, Excelsior Bay Books, Excelsior, MN
Description
---
*A July 2019 Indie Next List Great Read*
*One of Parade's Most Anticipated Books of Summer 2019*
*An O Magazine Best Beach Read of 2019*
*A New York Post Best Beach Read of 2019*

"The Last Book Party is a delight. Reading this story of a young woman trying to find herself while surrounded by the bohemian literary scene during a summer on the Cape in the late '80s, I found myself nodding along in so many moments and dreading the last page. Karen Dukess has rendered a wonderful world to spend time in."
—Taylor Jenkins Reid, New York Times bestselling author of Daisy Jones & The Six

A propulsive tale of ambition and romance, set in the publishing world of 1980's New York and the timeless beaches of Cape Cod.

In the summer of 1987, 25-year-old Eve Rosen is an aspiring writer languishing in a low-level assistant job, unable to shake the shadow of growing up with her brilliant brother. With her professional ambitions floundering, Eve jumps at the chance to attend an early summer gathering at the Cape Cod home of famed New Yorker writer Henry Grey and his poet wife, Tillie.

Dazzled by the guests and her burgeoning crush on the hosts' artistic son, Eve lands a new job as Henry Grey's research assistant and an invitation to Henry and Tillie's exclusive and famed "Book Party"— where attendees dress as literary characters. But by the night of the party, Eve discovers uncomfortable truths about her summer entanglements and understands that the literary world she so desperately wanted to be a part of is not at all what it seems.

A page-turning, coming-of-age story, written with a lyrical sense of place and a profound appreciation for the sustaining power of books, Karen Dukess's The Last Book Party shows what happens when youth and experience collide and what it takes to find your own voice.
About the Author
---
With a background in newspaper and magazine journalism, Karen Dukess spent eight years as a speechwriter on gender equality at the United Nations Development Programme. She is a graduate of Brown University and the Columbia University Graduate School of Journalism and lives in Pelham, New York.
Praise For…
---
"Karen Dukess plants a bright flag on the dunes with her debut....Dukess delivers a spare, bittersweet page-turner that culminates in the Greys' much-anticipated end-of-summer party....Dukess's unmistakable love of words, stories and 'book people' is what keeps you bobbing briskly along with the waves."
—The New York Times Book Review, Beach Reads Roundup

"This coming-of-age novel offers up a healthy dose of late '80s nostalgia, and it's a breezy read for book enthusiasts."
—O Magazine

"A book that will make you nostalgic about both 1980s NYC and book publishing."
—The New York Post

". . . .Ideal for a trip to the beach or a weekend getaway. . . .the lovingly created mood, particularly in Truro and its surroundings, makes it easy to keep turning the pages."
—AM New York

"The Last Book Party is at once delightfully gossipy and intellectually serious, an ode to literature and a warning against hero-worship."
—Electric Literature

"[The Last Book Party is a] charming debut novel with a Gatsbyesque feel. . . .With her pitch-perfect style, Dukess evokes the bygone gentility of the publishing world. . . .More than an entertaining novel of the era, The Last Book Party captures the dawning self-knowledge of an aspiring young writer who is held back by a mix of her insecurities, naivete, and expectations of the day who realizes that she has been intoxicated by illusions of brilliance but one day may be able to fulfill her own ambitions."
—National Book Review

"Part coming of age, part gossipy peek into the enclave of writers, editors, poets, and artists who annually escaped the heat of Boston and New York to talk, drink, and work on Cape Cod, this semi-nostalgic debut is the ideal summer read for book people."
—Library Journal, starred review

"The Last Book Party is a delight. A story of a young woman trying to find herself while surrounded by the bohemian literary scene during a summer on the Cape in the late 80s, I found myself nodding along in so many moments and dreading the last page. Karen Dukess has rendered a wonderful world to spend time in."
—Taylor Jenkins Reid, New York Times bestselling author of Daisy Jones & The Six

"The Last Book Party captures a world tantalizingly close to the surface of memory, in which things now lost to time mattered a great deal, and the Internet era was slouching toward us to be born. This Orphic book goes down to retrieve a beloved New York, and the pleasant ache at its heart is that it can't bring it back forever. Charming, lovely, and written with a light touch, this book captures the longing and unease of summer romance amid the complexity of post-graduate life. Shades of Goodbye, Columbus, The Mysteries of Pittsburgh, and Bright Lights, Big City haunt its pages."
—Matthew Thomas, New York Times-bestselling author of We Are Not Ourselves

"Laced with the light of its Cape Cod setting, The Last Book Party details a 1980s summer among the literary set that has far-flung consequences for all its characters. As much as the book focuses on love affairs between people, readers will leave inspired by the real love affair here: between Karen Dukess and the world of reading and writing that she illuminates."
—Stephanie Clifford, New York Times bestselling author of Everybody Rise

"Karen Dukess has written a modern yet timeless coming-of-age story about friendship, romance, and one young woman's complicated relationship with a wickedly charming family of literary superstars. Emotional and evocative, The Last Book Party left me aching for the hard lessons of youth, trembling with hope—and utterly transfixed until the final page."
—Ann Mah, bestselling author of The Lost Vintage

"This bittersweet summer romance had me turning pages right up to the end. If you love books about books—and if you've ever dressed up as your favorite literary character—this is a party you won't want to miss."
—Jason Rekulak, author of The Impossible Fortress

"The Last Book Party made me incredibly nostalgic for an iconic literary world of New York that is no more, one that smells of cigarettes, whiskey on the rocks, promiscuity, and miraculous bursts of luck. Karen Dukess' coming of age tale is a magnifying lens from the past that shows us a glimpse of who we are (and can be) today. A story from 1987 that is surprisingly in dialogue with a contemporary conversation about what it means to be a woman, a writer, and an artist struggling to find a place, The Last Book Party is a novel about a young woman in search for a voice written by a writer who has clearly found hers."
—Chiara Barzini author of Things That Happened Before The Earthquake

"The writing is as breezy as the air in this Cape-Cod-meets-Fifth-Avenue publishing world bildungsroman."
—Lucinda Rosenfeld, author of Class

"Read this book. Read it alone—you'll laugh out loud. And read it slowly, because you won't want it to end. Through heart-wrenching twists and hilarious turns, The Last Book Party tells the ultimately uplifting universal tale of the breakthrough that comes of a young woman's shattered illusions."
—Suzy Becker, bestselling author-illustrator of All I Need to Know I Learned from My Cat and I Had Brain Surgery, What's Your Excuse?

"Readers aching for the sun-dappled intrigue of André Aciman's Call Me By Your Name or the wit of Francine Prose's Blue Angel will find a kindred reading experience here...Mixing ambivalence, nostalgia and the power of innocence in an idyllic setting, this journey of self-discovery is an ideal summer read for those who might shun more typical 'beach-read' offerings."
—Booklist

"Written with fresh confidence and verve, this first novel is a bibliophile's delight, with plenty of title-dropping and humorous digs at the publishing scene of the 1980s. The lyrical evocations of the Cape Cod landscape will also enchant readers seeking that perfect summer read."
—Kirkus

"Aspiring writer Eve Rosen finds herself unhappy in her job as an assistant. When she gets invited to attend a party thrown by a writer she admires, she jumps at the opportunity. Getting tangled up in this new world, she quickly learns that the literary world holds dark secrets she never saw coming."
—Parade