The Soulmate: A Novel (Hardcover)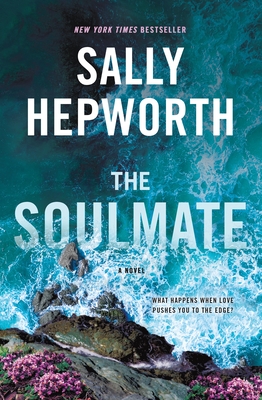 $28.99

Usually Ships in 1-5 Days
Staff Reviews
---
Gabe and Pippa seem to be leading the perfect life in Sally Hepworth's The Soulmate, a gripping domestic suspense tale. They have their dream home on the coast, 2 beautiful daughters, and Gabe is a local hero for talking the would-be suicides that come to the cliffside from jumping. But then someone does jump, and secrets and betrayals come to light. Told in alternating voices of Pippa as she tries to make sense of events and Amanda, the supposed suicide, and shifting in time from past to present as lies unfold, the story revolves around marriage and loyalty. The twists keep coming up to the end. What are the limits you'd go to for your soulmate?
— Genevieve
April 2023 Indie Next List
---
"Sally Hepworth doesn't disappoint with this latest domestic thriller. She hooked me from the first few pages and shows how any of us can question what we think we see and believe about our spouses."
— Jennifer O'Neal-Rojas, Walls of Books Oviedo, Oviedo, FL
Description
---
"The book is many things: a crime story, a psychological study, a blueprint for how and when to mete out information in a thriller. But most of all it is an inquiry into the mysteries of marriage and commitment, and into what we owe our spouses and one another." --The New York Times Book Review

Prepare yourself for a thrilling, addictive novel about marriage, betrayal, and the secrets that push us to the edge in this latest book from the bestselling author of The Good Sister and The Younger Wife.

Picture a lovely cottage on a cliff, with sloping lawns, walking paths, and beautiful flowers. It's Gabe and Pippa Gerard's dream home in a sleepy coastal town. But their perfect house hides something sinister. The tall cliffs have become a popular spot for people to end their lives. Over the past several months, Gabe comes to their rescue, literally talking them off the ledge.

Until one day, he doesn't. When Pippa discovers Gabe knew the victim, the questions spiral. . . .Did the victim jump? Was she pushed? And would Gabe, the love of Pippa's life, her soulmate . . . lie? As the perfect façade of their marriage begins to crack, the deepest and darkest secrets begin to unravel. Because sometimes, the most convincing lies are the ones we tell ourselves.
About the Author
---
Sally Hepworth has lived around the world, spending extended periods in Singapore, the United Kingdom and Canada. She is the author of The Secrets of Midwives, The Things We Keep, The Mother's Promise, The Family Next Door and The Mother-in-Law. Sally now lives in Melbourne with her husband, three children, and one adorable dog.
Praise For…
---
One of Good Morning America's "most anticipated thrillers of 2023" and a GMA Buzz pick!

A Book of the Month Club Pick for March 2023

One of Buzzfeed's 20 Most Anticipated Thrillers of 2023

"The book is many things: a crime story, a psychological study, a blueprint for how and when to mete out information in a thriller. But most of all it is an inquiry into the mysteries of marriage and commitment, and into what we owe our spouses and one another." --The New York Times Book Review

"The Soulmate is the perfect thriller. Twisty, fun, and compelling in that I know I should go to bed, but this new twist means I'm up until at least 3 AM way. But it also cuts into the murky heart of a marriage, asking questions about trust, fidelity, the secrets we keep, and the things we'll do for love." --Rachel Hawkins, New York Times Bestselling Author

"The latest twisty pageturner from the brilliant Sally Hepworth. Masterfully designed to keep readers on the edge of their seats and wanting more, The Soulmate examines love and loyalty, and how far we're willing to go for the sake of family. I devoured this book!" -Mary Kubica, New York Times bestselling author of Local Woman Missing

"[A] twisty psychological thriller... Fans of domestic suspense will be satisfied." -Publishers Weekly

"Sympathetic characters combined with powerful themes of guilt, love, and loyalty will lead readers to consider the power of self-delusion. Recommended for fans of Liane Moriarty and Fiona Barton." --Booklist

"Gabe and Pippa live in a cottage at the top of a cliff where people often come to jump to their deaths. Gabe talks them down, until one night he lets the person jump. Who is this mysterious person, and why didn't Gabe stop her? Hepworth's follow-up to The Mother-In-Law and The Younger Wife will have you up past your bedtime." --Country Living

"Hepworth is a master of suspense...From its inciting incident to its final shocking twist, The Soulmate will keep readers in its thrall, making them wonder how well someone can really know their partner." --BookPage

"Did she jump or was she pushed? That is the compelling question at the heart of this unputdownable tale of marriage and betrayal from the author of The Good Sister." --E! Online

"What would you do if you lived in a home with a fabulous view including a cliff… but the cliff is where many people take their own lives? In this novel by bestselling author Sally Hepworth, Pippa and Gabe, the couple in the cottage, must deal with a particular jumper who, it turns out, the husband knew personally. But was the victim even a victim!? Was she pushed or did she jump? Could Pippa's soulmate be lying to her? Find out in this fast-paced thrilling read which will surely make a massive splash." -- Zibby Owens, Good Morning America

:Hepworth ("The Younger Wife") does it again with a pulse-pounding, propulsive domestic thriller that will keep you turning page after page until its final shocking twist. Part suspense thriller and part an anatomy of lives rife with personal ambition, infidelities and psychological illness." --Patriot Ledger

"Emotional and touching...Hepworth is the master of misdirection as she cleverly causes us to believe one thing only to unveil the truth later. But she saves the biggest surprises, and the most touching ones, to the very end. How much will a woman put up with in the name of love? That is a question with enough depth to keep any book club talking well past the first bottle of wine." --Bookreporter

"Bestselling author Sally Hepworth is known for her heart-racing page-turners, and The Soulmate is another eerie thriller." --Woman's World

"The New York Times bestselling author Sally Hepworth has done it again with this gripping and addictive novel about complex relationships, family, infidelity, mental illness and deceitfulness that nudges us to the breaking point. Gabe and Pippa live in a beautiful cottage in a quiet coastal town set on a dangerous cliff—a spot where
people attempt to end their lives (and often succeed). Unless Gabe intervenes. Remarkably, he's managed to, quite literally, talk several jumpers off the edge. Until one day when his valiant plan fails and a woman falls to her death...leaving a number of unanswered questions. As Pippa begins to unravel the truth, the perfect facade of her marriage becomes fractured and she's forced to ask herself if Gabe is really her soulmate after all." --Westport Magazine

"Hepworth, who consistently plumbs the darkness of domesticity and the dangers of devotion, achieves scary and seductive new heights in this moving novel that's at once tragic and redemptive." --Fredericksburg Free Lance-Star