Natural Ordermage (Saga of Recluce #14) (Paperback)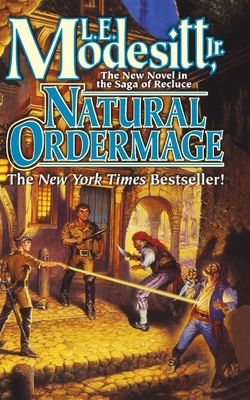 $22.99

Usually Ships in 1-5 Days
Other Books in Series
This is book number 14 in the Saga of Recluce series.
Description
---
"An intriguing fantasy in a fascinating world, with characters who catch you up." —Robert Jordan, New York Times Bestselling author of The Wheel of Time® series

Rahl, a young apprentice scrivener on the island of Recluce, likes life to work out in his favor. And he has a bad attitude, too. To make sure things go his way, he uses a small amount of order magic in opportunistic moments--but his abilities are starting to get the attention of the Council magisters. So the Council sends him to the mages training school for testing, and through misuse of his powers, which are getting stronger all the time, he gets himself banished to the continent and empire of Hamor.

As an exile in Hamor, working in the Ordermage Council's import and export business, Rahl's powers increase more—and so does the amount of trouble he can get into.

L.E. Modesitt, Jr.'s bestselling fantasy novels set in the magical world of Recluce are among the most popular in contemporary fantasy. Each novel tells an independent story that nevertheless reverberates though all the other books in the series, to deepen and enhance the reading experience. Rich in detail, the Saga of Recluce is a feast of wondrous marvels.

Saga of Recluce
#1 The Magic of Recluce
#2 The Towers of Sunset
#3 The Order War
#4 The Magic Engineer
#5 The Death of Chaos
#6 Fall of Angels
#7 The Chaos Balance
#8 The White Order
#9 Colors of Chaos
#10 Magi'i of Cyador
#11 Scion of Cyador
#12 Wellspring of Chaos
#13 Ordermaster
#14 Natural Order Mage
#15 Mage-Guard of Hamor
#16 Arms-Commander
#17 Cyador's Heirs
#18 Heritage of Cyador
#19 The Mongrel Mage (forthcoming)
Story Collection: Recluce Tales

Other Series by L.E. Modesitt, Jr.
The Imager Portfolio
The Corean Chronicles
The Spellsong Cycle
The Ghost BooksThe Ecolitan Matter
About the Author
---
L. E. Modesitt, Jr., is the bestselling author of the fantasy series The Saga of Recluce, Corean Chronicles, and the Imager Portfolio. His science fiction includes Adiamante, the Ecolitan novels, the Forever Hero Trilogy, and Archform: Beauty. Besides a writer, Modesitt has been a U.S. Navy pilot, a director of research for a political campaign, legislative assistant and staff director for a U.S. Congressman, Director of Legislation and Congressional Relations for the U.S. Environmental Protection Agency, a consultant on environmental, regulatory, and communications issues, and a college lecturer. He lives in Cedar City, Utah.
Praise For…
---
"[Ordermaster] is one of the better ones in this sequence, a nice mix of intrigue and overt actions. . .I was entertained throughout, and that is all I really was looking for." —Chronicle

"Spiked with the author's customary pop psychology and propelled by rapid-fire plot spurts, this tale of a humble artisan's rise to mageship will likely leave YA fantasy readers hungry for more." —Publishers Weekly on Ordermaster

"Strong supporting characters, vivid settings and creative approach to mythos and magic enhance this richly detailed story. New readers should feel comfortable in Modesitt's world, where chaos and order reign in delicate balance, while series fans will welcome this return to familiar ground. As usual, Modesitt handles his world-building and characterization with ease. The Saga of Recluce is a gift for fans and new readers alike." —Romantic Times (a "Top Pick") on Wellspring of Chaos

"The author displays a rare talent for portraying the day-to-day affairs of a vividly detailed world in which chaos and order form a dynamic duality." —Library Journal