City of Time and Magic: Book Four in the Found Things Series (Hardcover)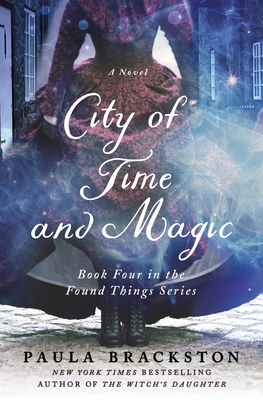 $27.99
Email or call for price.
Other Books in Series
This is book number 4 in the Found Things series.
Description
---
Xanthe meets Brackston's most famous heroine, Elizabeth Hawksmith from The Witch's Daughter, in this crossover story with all the "historical detail, village charm, and twisty plotting" of the Found Things series (Publishers Weekly).

City of Time and Magic sees Xanthe face her greatest challenges yet. She must choose from three treasures that sing to her; a beautiful writing slope, a mourning brooch of heartbreaking detail, and a gorgeous gem-set hat pin. All call her, but the wrong one could take her on a mission other than that which she must address first, and the stakes could not be higher. While her earlier mission to Regency England had been a success, the journey home resulted in Liam being taken from her, spirited away to another time and place. Xanthe must follow the treasure that will take her to him if he is not to be lost forever.

Xanthe is certain that Mistress Flyte has Liam and determined to find them both. But when she discovers Lydia Flyte has been tracking the actions of the Visionary Society, a group of ruthless and unscrupulous Spinners who have been selling their talents to a club of wealthy clients, Xanthe realizes her work as a Spinner must come before her personal wishes. The Visionary Society is highly dangerous and directly opposed to the creed of the Spinners. Their actions could have disastrous consequences as they alter the authentic order of things and change the future. Xanthe knows she must take on the Society. It will require the skills of all her friends, old and new, to attempt such a thing, and not all of them will survive the confrontation that follows.
About the Author
---
PAULA BRACKSTON is the New York Times bestselling author of The Witch's Daughter and The Little Shop of Found Things, among others. Paula lives with her family in the historical border city of Hereford in the beautiful Wye valley. When not at her desk in her writing room, she enjoys long walks with the dog in a sublime landscape filled with the imprints of past lives and ancient times.
Praise For…
---
Praise for City of Time and Magic:

"[A] delightful addition to the series." —Booklist

"[An] expansive installment...fast-paced throughout, and features a new, unexpected twist. Series fans will enjoy." —Publishers Weekly

"Perfect for fans of mysteries and time travel." —Woman's World

Praise for The Garden of Promises and Lies:

"Those who enjoy Brackston's unique blend of historical detail, village charm, and twisty plotting will be delighted by this rip-roaring installment." —Publishers Weekly

"Keeping readers engaged..." —Booklist

Praise for Secrets of the Chocolate House:

"Brackston's vibrant story is on firm historical ground, with period details woven in nicely....Time-swapping romance will please fans of Alice Hoffman." —Publishers Weekly

Praise for The Little Shop of Found Things:

"Enchanting." —People

"Brackston wonderfully blends history with the time-travel elements and a touch of romance. This series debut is a page-turner that will no doubt leave readers eager for future series installments." —Publishers Weekly