The He-Man Effect: How American Toymakers Sold You Your Childhood (Hardcover)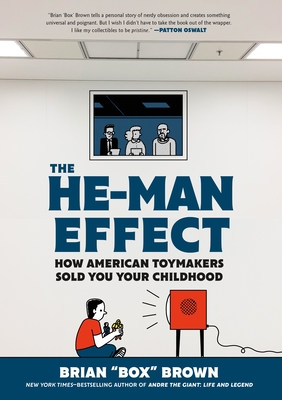 $26.99

Usually Ships in 1-5 Days
Description
---
Brian "Box" Brown brings history and culture to life through his comics. In his new graphic novel, he unravels how marketing that targeted children in the 1980s has shaped adults in the present.

Powered by the advent of television and super-charged by the deregulation era of the 1980s, media companies and toy manufacturers joined forces to dominate the psyches of American children. But what are the consequences when a developing brain is saturated with the same kind of marketing bombardment found in Red Scare propaganda?


Brian "Box" Brown's The He-Man Effect shows how corporate manipulation brought muscular, accessory-stuffed action figures to dizzying heights in the 1980s and beyond. Bringing beloved brands like He-Man, Transformers, My Little Pony, and even Mickey Mouse himself into the spotlight, this graphic history exposes a world with no rules and no concern for results beyond profit.
About the Author
---
Brian "Box" Brown is an Eisner Award–winning author whose comics have appeared in the New York Times, Playboy, and New York magazine. His books include the New York Times–bestselling Andre the Giant: Life and Legend, Tetris: The Games People Play, Is This Guy for Real?: The Unbelievable Andy Kaufman, Cannabis: The Illegalization of Weed in America, Child Star, and Accidental Czar (with writer Andrew S. Weiss). boxbrown.com
Praise For…
---
"Brown's trademark crisp, simplified cartooning style is a great fit, and he masterfully balances the joy readers may find in nostalgia with the discomfort of the psychology of marketing."—Booklist, starred review

"Brown returns with another clever, sharp, and well-researched graphic novel that explores a pop culture non-fiction topic in close detail."—Bulletin of the Center for Children's Books, starred review

"[Brown's] book will...fascinate readers wanting to understand the curious pull that a small, plastic, blond, outer-space barbarian still has on their emotions."—The Star Tribune

"No matter the focus[…]Brown can be counted on to unspool eye-opening, entertaining books that often feel like documentary films."—The Philadelphia Inquirer

"This accessible examination of the wars waged on after-school television and in the toy aisle should interest any reader attuned to the cultural critiques of Naomi Klein and Adam Curtis, as well as those who catch themselves humming the ThunderCats theme."—Publishers Weekly

"Brian 'Box' Brown tells a personal story of nerdy obsession and creates something universal and poignant. But, I wish I didn't have to take the book out of the wrapper. I like my collectibles to be pristine." —Patton Oswalt

"In The He-Man Effect, Brian "Box" Brown elegantly and empathetically demolishes nearly all of a modern reader's illusions about their own childhood. It's a stunning work of graphic nonfiction—never didactic but endlessly informative. The artwork is, as per usual for Brown, compelling in its uniqueness and simplicity. A must-read mythbuster."
—Abraham Josephine Riesman, author of True Believer: The Rise and Fall of Stan Lee and Ringmaster: Vince McMahon and the Unmaking of America


"Here is an expert unafraid critically to face the social impacts of the industry he knows from the inside. This graphic novel is brilliantly suited to expose and analyze how mass media products—children's toys, films, TV shows, social media events, etc.—serve the profit drives of capitalists and the efforts of governments to support those drives."
—Prof. Richard D. Wolff, Founder of Democracy at Work and author of Understanding Marxism and Understanding Socialism

"Nonfiction comics at its finest. Well-researched, perfectly paced, clean lines, and fun drawings. A+." —Austin Kleon, bestselling author of Steal Like An Artist

"Excellently presented. A wonderfully clear and concise timeline." —Dan Larson, Secret Galaxy TV