Adelaide: A Novel (Hardcover)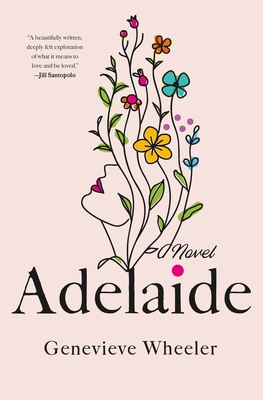 $27.99

Usually Ships in 1-5 Days
Staff Reviews
---
Sometimes I just need to read a book about romance, heartbreak, and friendship. Genevieve Wheeler's debut novel Adelaide completely suits that need. Title character Adelaide is a lovable hot mess, a charming yet vulnerable American graduate student living in London. She falls hard for the too-perfect-to-be-true Rory. To be young and in love is wonderful, until Adelaide realizes that Rory's feelings don't quite match hers. It's a poignant and relatable story of loving the wrong person, learning to put yourself first, and healing from heartbreak and its effects on mental health with the help of friends. I'm looking forward to what Wheeler has in store for us next!
— Genevieve
Description
---
Named Most Anticipated by: Bustle ・ Popsugar ・ Goodreads ・ Zibby Magazine​・SheReads ・ Book Riot

"A beautifully-written, deeply-felt exploration of what it means to love and be loved."–– Jill Santopolo, New York Times bestselling author of The Light We Lost

In love . . .

For twenty-six-year-old Adelaide Williams, an American living in dreamy London, meeting Rory Hughes was like a lightning bolt out of the blue: this charming Englishman was The One she wasn't even looking for.

Is it enough?

Does he respond to texts? Honor his commitments? Make advance plans? Sometimes, rarely, and no, not at all. But when he shines his light on her, the world makes sense, and Adelaide is convinced that, in his heart, he's fallen just as deeply as she has. Then, when Rory is rocked by an unexpected tragedy, Adelaide does everything in her power to hold him together—even if it means losing herself in the process.

When love asks too much of us, how do we find the strength to put ourselves first?

With unflinching honesty and heart, this relatable debut from a fresh new voice explores grief and mental health while capturing the timeless nature of what it's like to be young and in love—with your friends, with your city, and with a person who cannot, will not, love you back.
About the Author
---
Genevieve Wheeler is an American writer and communications manager. Her bylines have appeared in publications like VICE, Vogue Business, Teen Vogue, Elite Daily, and POPSUGAR, with her work and words cited in The New York Times, Vox, the BBC World Service, Cheddar News, Jezebel, and beyond. She holds an MA in marketing communications from the University of Westminster in London and a BS in Advertising from Boston University. She's currently based in London. Adelaide is her debut novel.
Praise For…
---
"Wheeler's debut is searingly raw...Her whole soul is poured out onto the pages, and you'll find it hard not to feel your own heart crack and stomach turn as Adelaide tries without avail to win the love of someone who simply can't give it. Wheeler deftly relates Adelaide's journey of unbending friendship, grief, and passion, and for many readers, her tale will strike a resonant chord. Vulnerable, tender, and impossible to put down."
–– Kirkus (starred)

"Heartfelt...This is a portrait of a woman struggling with her empathic desire to be all things to all people and realizing that she is allowed to put herself first...Fans of The Midnight Library will identify with Adelaide's journey."
–– Booklist

"Wheeler perfectly captures her protagonist's depression, anxiety, and negative self-talk—not to mention her keen agony of unrequited love—and a solid supporting cast provides Adelaide with ample emotional support. The complex heroine animates every page."
–– Publishers Weekly

"Poignant."
–– Popsugar

"Adelaide is a beautifully-written, deeply-felt exploration of what it means to love and be loved. In it, Genevieve Wheeler perfectly captures the exquisite pain of being head-over-heels in love with someone whose feelings don't match yours and poignantly celebrates the people on our journeys who make life worth living. A remarkable debut."
–– Jill Santopolo, New York Times bestselling author of The Light We Lost

"Emotional and poignant, Genevieve Wheeler has made a remarkable debut with her fresh, modern voice. I was charmed. Adelaide exposes the raw edges of early adulthood and unrequited love, ultimately showing us that the true magic of life is that it's always worth living."
–– Sarah Addison Allen, New York Times bestselling author

"Impossible to put down. I saw myself and all of my past mistakes reflected back at me on every page. Genevieve Wheeler writes with brilliant clarity and specificity. I feel like I'm longtime friends with every one of her characters. I've been recommending this book to every one of my female friends who knows what it is to love too quickly and too deeply, with the wrong person. Adelaide is achingly beautiful, and heartbreakingly relatable."
–– Dana Schwartz, New York Times bestselling author of Anatomy, a Love Story

"Adelaide is a fearless portrayal of unrequited love—the kind that thwarts us, flattens us, and ultimately has something to teach us. Wheeler's debut is engrossing and poignant, full of grit and vulnerability. I devoured it."
–– Carola Lovering, author of Can't Look Away

"Sharp-eyed and big-hearted, Adelaide dives headfirst into the tidal pulls of love, friendship, grief, and mental health. Wheeler captures the lively adventures of an American 20-something trying her best in London with dazzling humor and dizzying aplomb. This is a can't-miss, can't-put-down debut."
–– Beck Dorey-Stein, New York Times bestselling author of From the Corner of the Oval and Rock the Boat

"Adelaide puts the heartbreak of loving the wrong person and the healing powers of friendship on magnificent display. With whimsical prose and a charming London backdrop, this deeply relatable novel infuses even the most painful moments with hope. I savored every single page of this beautiful book."
–– Hannah Orenstein, author of Meant to be Mine

"I fell head-over-heels in love with Adelaide. Featuring an unforgettable main character, this debut bursts with warmth, while offering an unflinching look at heartbreak and mental health. Genevieve Wheeler's writing had me cackling, crying, and nodding in recognition so vehemently that I almost gave myself whiplash."
–– Laura Hankin, author of A Special Place for Women