Secret Coders: The Complete Boxed Set: (Secret Coders, Paths & Portals, Secrets & Sequences, Robots & Repeats, Potions & Parameters, Monsters & Modules) (Multiple copy pack)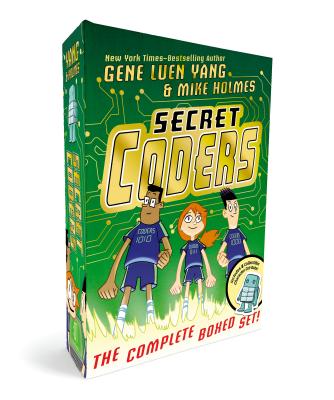 $65.94

Usually Ships in 1-5 Days
Description
---
Read the complete Secret Coders saga from start to finish! This deluxe boxed set collects all six volumes of the action-packed graphic novel series by New York Times–bestselling author Gene Luen Yang

Plus includes a set of six collectable character cut-outs of your favorite Secret Coders characters!

Secret Coders
Welcome to Stately Academy, a school which is just crawling with mysteries to be solved! The founder of the school left many clues and puzzles to challenge his enterprising students.

Secret Coders: Paths & Portals
In the last volume, Hopper and Eni discovered a robot in the supply closet and programmed him to do mischief. Now they're trapped in an underground lair, and they must use their new programming skills to escape.

Secret Coders: Secrets & Sequences
Hopper, Eni, and Josh won't rest until they've learned the whole story of the Stately Academy, but they aren't the only ones interested in the school's past...

Secret Coders: Robots & Repeats
Dr. One-Zero has added a new class to Stately Academy's curriculum. But in "Advanced Chemistry," they only teach one lesson: how to make Green Pop!

Secret Coders: Potions & Parameters
At long last, the Coders have found Hopper's missing father—but he's not the same. He drank Professor One-Zero's poisonous concoction, Green Pop. Now he's in a blissful stupor and all he cares about is the color green.

Secret Coders: Monsters & Modules
The Coders always knew their programming skills would take them far, but they never guessed it would take them to another dimension! To save humanity, they must travel to the two-dimensional world of Flatland. But to open the gateway, they must first write their most difficult code yet!
About the Author
---
Gene Luen Yang writes, and sometimes draws, comic books and graphic novels. He was named a National Ambassador for Young People's Literature by the Library of Congress in 2016, and advocates for the importance of reading, especially reading diversely. His graphic novel American Born Chinese, a National Book Award finalist and Printz Award winner, has been adapted into an original series on Disney+. His two-volume graphic novel Boxers & Saints won the LA Times Book Prize and was a National Book Award Finalist. His nonfiction graphic novel, Dragon Hoops, received an Eisner award and a Printz honor. His other comics work includes Secret Coders (with Mike Holmes), The Shadow Hero (with Sonny Liew), and Superman Smashes the Klan and the Avatar: The Last Airbender series (both with Gurihiru). In 2016, he was named a MacArthur Foundation Fellow.

Mike Holmes has drawn for the comics series Secret Coders, Bravest Warriors, Adventure Time, and the viral art project Mikenesses. His books include the True Story collection (2011), This American Drive (2009), and Shenanigans. He lives with a cat named Ella, who is his best buddy.
Praise For…
---
"Gene Luen Yang's talent is prodigious, his enthusiasm contagious . . . Even this confirmed technophobe was ready to learn coding." —Katherine Applegate, author of Crenshaw and The One and Only Ivan

"Secret Coders not only uses Logo but also touches on computer fundamentals like binary code and the three major ways that code is organized . . . Readers will learn them all, right alongside Hopper and Eni, not as something dry or rote, but something transformative." —Wired