The Traitor's Ruin (Traitor's Trilogy #2) (Paperback)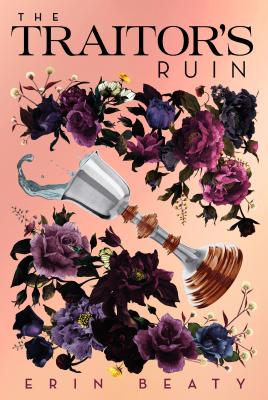 $14.99

Usually Ships in 1-5 Days
Description
---
In The Traitor's Ruin, Book 2 of the thrilling young adult Traitor's Trilogy by Erin Beaty, war breaks out between nations and Sage Fowler must infiltrate enemy territory to reconnect with her first love, Captain Alex Quinn.

A captain with a secret.
A spy with a mission.
A kingdom on the verge of ruin.

After proving her worth as a deft spy and strategic matchmaker, Sage Fowler is now comfortably positioned in high society as the royal tutor. When she learns of a secret mission, she jumps at the chance to serve her kingdom once more—and to be reunited with her fiancé, Captain Alex Quinn.

However, Sage's headstrong insistence clashes with Alex's gruff military exterior. And after a skirmish with a bordering kingdom, they're separated when tragedy strikes. Now in enemy territory, Sage desperately scrambles to complete Alex's reconnaissance mission. Can she save her kingdom once more?

An Imprint Book

Praise for The Traitor's Ruin:

". . .resembles a more YA-friendly Game of Thrones and recalls classic novels such as Tamora Pierce's Alanna series and Robin McKinley's Blue Sword. Plentiful action scenes, unflinching but never gratuitous violence, and a smoldering yet still-chaste romance should keep readers' appetites whetted for the third installment." —Kirkus Reviews

Praise for The Traitor's Kiss:

"An action-packed, expertly plotted story, drenched in double crosses and intrigue, with an irresistible heroine and a sweet and sexy romance." —Publishers Weekly, starred review
About the Author
---
Erin Beaty was born and raised in Indianapolis, Indiana, which means she can't drive a tractor, but she won't eat veggies that come from a can. She graduated from the US Naval Academy with a degree in rocket science and somehow always ended up writing her study group's lab reports. After serving in the fleet as a weapons officer and a leadership instructor, it still amazes her when other people want to hear the stories that come out of her head.

She and her husband have five children, two cats, and a vegetable garden and live wherever the navy tells them to go.

The Traitor's Kiss is her debut novel.
Praise For…
---
Praise for The Traitor's Kiss:

"One of the most hotly anticipated young adult fantasy reads of 2017" —Bustle

"An action-packed, expertly plotted story, drenched in double crosses and intrigue, with an irresistible heroine and a sweet and sexy romance." —Publishers Weekly, starred review

"Complex characterization, deftly layered adventure story, and [a] balanced blend of political maneuvering, romantic interludes, and action scenes." —Kirkus Reviews

"Beaty balances a taut web of deceit. . .readers will be carried away by the mystery." —The Bulletin