The Sea Elephants: A Novel (Hardcover)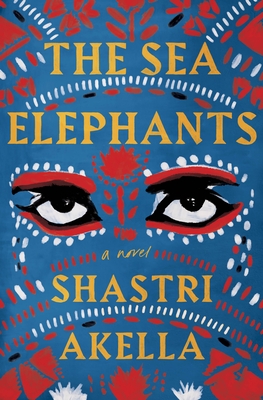 $28.99

Usually Ships in 1-5 Days
Description
---
For fans of Shuggie Bain and A Burning, a queer coming-of-age novel set in 1990s India, about a young man who joins a traveling street theater troupe, seeking to outrun the dark secrets of his past

"An exquisite novel destined to be a classic." ―Eric Nguyen, author of Things We Lost to the Water

Shagun knows he will never be the kind of son his father demands. After the sudden deaths of his beloved twin sisters, Shagun flees his own guilt, his mother's grief, and his father's violent disapproval by enrolling at an all-boys boarding school. But he doesn't find true belonging until he encounters a traveling theater troupe performing the Hindu myths of his childhood.

Welcomed by the other storytellers, Shagun thrives, easily embodying mortals and gods, men and women, and living on the road, where his father can't catch him. When Shagun meets Marc, a charming photographer, he seems to have found the love he always longed for, too. But not even Marc can save him from his lingering shame, nor his father's ever-present threat to send him to a conversion center. As Shagun's past begins to engulf him once again, he must decide if he is strong enough to face what he fears most, and to boldly claim his own happiness.

Utterly immersive and spellbinding, The Sea Elephants is both dark and beautiful, harrowing and triumphant. An ode to the redemptive joys of art, Shastri Akella's debut novel is a celebration of hard-won love—of others and for ourselves.
About the Author
---
Shastri Akella holds an MFA in Creative Writing and a PhD in Comparative Literature from the University of Massachusetts Amherst. His writing has appeared in Guernica, The Master's Review, Electric Literature, the Los Angeles Review of Books, The Rumpus, PANK, The Common, and World Literature Review, among others. The Sea Elephants is his debut novel.
Praise For…
---
A Most Anticipated Book (GMA, Poets & Writers, BookRiot, Lambda Literary, Electric Literature, LGBTQ Reads, Debutiful, Virtuoso Magazine, San Antonio Magazine)

"[A] poised, elegant debut…A story about queer desire, the comfortable lies families tell themselves to survive, and art's power…While there is a rich, stories tradition of queerness in South Asian art, culture, and mythology, queer literature is still a relatively sparse canon. This makes Akella's novel, and his voice, all the more important."
—Poets & Writers

"Momentous…The most moving, frustrating and alluring part of The Sea Elephants is Shagun himself…Akella uses myth as the framework for The Sea Elephants, which allows Shagun's story to feel ancient and sacred."
—BookPage

"The Sea Elephants portrays the affirming power of queer found-families…The magic of theater is a visceral experience that sparkles on the page. The anguish of a family who doesn't accept their child's identity is soothed by the balm of friends who do. The horrors of homophobia are displayed alongside resplendent queer joy. The acceptance of individual identity without needing to divorce cultural identity is a drumbeat that begs to be heard. The Sea Elephants takes the reader on a journey from coast to coast and hits every note of the human emotional spectrum along the way."
—WBUR

"Vibrant...Radical...Through­out the book, Sha­gun con­tin­ues to find empa­thet­ic friends who pro­tect him and help him grow. This is one of Akella's great achieve­ments: he depicts the vital, life-giv­ing force of gen­uine allies."
—Jewish Book Council

"Ravishingly written…There's a Dickensian quality to Shastri Akella's saga…It is the combination of the Western novel and Eastern fable that allows the reader to become totally enthralled… The descriptions of beautiful Indian locations like Cochi are vivid as are the descriptions of characters. The Sea Elephants is a lavish first novel. It is a must for lovers of queer fiction and lovers of India."
—New York Journal of Books

"Powerful…Patriarchy-piercing…[Akella] focuses the sharp-eyed force of his prose on people as they navigate what it means to be seen and touched and cared for…At the book's core is a full-bodied and unwavering call for freedom."
—Massachusetts Review

"Queer resistance meets the theater and Indian history in this powerful debut novel."
—GMA

"A captivating coming-of-age tale."
—Electric Literature

"Timeless… Immersive finds new meaning in The Sea Elephants… We might find ourselves reading this novel…as much for the joy Shagun takes in sheer existence."
—The Rumpus

"For fans of Shuggie Bain and A Burning, a queer coming-of-age novel set in 1990s India, about a young man who joins a traveling theater troupe. Dark, beautiful, harrowing and haunting historical fiction."
—Jenny Lawson, San Antonio Magazine

"This queer coming-of-age novel is tender and thought-provoking. Set in India during the 1990s, Akella shines in his ability to craft characters filled with heart that come to life with gorgeous prose."
—Debutiful

"Tantalizing…Akella's relaxed pacing and deep dives into his characters' inner lives allow for nuance and surprises. This is one to savor."
—Publishers Weekly

"By turns tender and brutal, The Sea Elephants navigates the tumultuous waters of grief, guilt, and love with grace and precision. Akella has written an exquisite novel destined to be a classic."
—Eric Nguyen, author of Things We Lost to the Water

"Akella's debut novel is a compelling, beautifully assured and intense coming-of-age story about the wounding ferocity and terrible innocence of desire, and the resilience and hard-won wisdom by which love comes to know itself."
—Colin Barrett, author of Young Skins

"Akella's powerful debut novel crackles with a magical force. This redemptive tale tracks Shagun Mathur through seaside villages, boarding schools, traveling drama troops, and prison-like re-education centers, as if Dickens had trained his eye on 1990s India and chosen a young, guilt-ridden, love-seeking gay young man as his protagonist. Both harrowing and heartwarming, Akella's novel is a powerful narrative forged at the intersection of art and being."
—Sabina Murray, author of Valiant Gentlemen and The Human Zoo

"Akella's depictions of boarding school life (think Lord of the Flies) are unforgettable, and the haunting episodes in conversion therapy are rivaled in their effect only by the striking beauty of the descriptions of life on the Indian street theater circuit. Marking the arrival of a major new talent, The Sea Elephants enthralled and mesmerized me, broke my heart and lifted me up."
—Jeff Parker, author of Where Bears Roam the Streets: A Russian Journal

"The Sea Elephants is an achingly alive, haunting novel written in redolent prose. Akella's novel is an important addition to the rich but underrepresented tradition of queer literature from India. This book will begin new conversations about love, romance, trauma and desire and leave readers wanting for more."
—Aruni Kashyap, author of The House with a Thousand Stories

"Akella's debut is a powerful exploration of what it means to seek love in uncertain times, against the demands of family, tradition, and state. Read this novel not only for its vibrant forbidden romance but also for its summoning of ancient mythology through street theater, where old myths find new ways to be reshaped."
—Jai Chakrabarti, author of A Play for the End of the World

"The Sea Elephants is intricate, surprising, tender, painful and lyrical. In this novel, written with nuance and grace, various forces are both juxtaposed and interwoven: cruelty and solidarity, love and trauma, bereavement and hope, loneliness and togetherness, torment and refuge, fear and bravery. This is a gorgeous, powerful, deeply moving novel that will stay with me — and, I think, many other readers — for a long time."
—Moriel Rothman-Zecher, author of Before All the World and Sadness Is a White Bird

"A strikingly elegant and remarkably poised debut. Shagun's voice rings true and clear through these chapters like the tides of a pristine, sparkling sea. I wanted to stay immersed in this gorgeous, dark, poignant bildungsroman filled with unaccountable desire, a deep aching to belong, hidden shame, love, and familial secrets from its first page to its very last."
—Naheed Phiroze Patel, author of Mirror Made of Rain

"The Sea Elephants is a gorgeously-written novel, both meditative and poignant. An enchanting tale through mythology, desire and grief as one young man tries to carve a home for himself. Shastri Akella writes with a rare assuredness that is breathtaking."
—Akil Kumarasamy, author of Meet Us By the Roaring Sea