We Don't Know Ourselves: A Personal History of Modern Ireland (Paperback)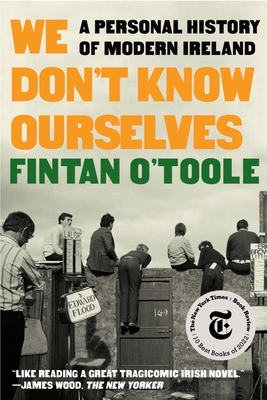 $20.00

Coming Soon - Available for Pre-Order Now
Staff Reviews
---
I loved this marvelous history of modern Ireland told from O'Toole's personal perspective. O'Toole examines the mythology of Ireland and how it both hindered and helped Ireland in its transformation over the last 60 years.
— Mike
Description
---
Winner • 2021 An Post Irish Book Award — Nonfiction Book of the Year • from the judges: "The most remarkable Irish nonfiction book I've read in the last 10 years"; "[A] book for the ages."



"We Don't Know Ourselves is a feast: a deeply absorbing chronicle of the 'known and unknowable,' and of the profound transformation of a place."

—Patrick Radden Keefe, New York Times best-selling author of Say Nothing: A True Story of Murder and Memory in Northern Ireland



A celebrated Irish writer's magisterial, brilliantly insightful chronicle of the wrenching transformations that dragged his homeland into the modern world.
Fintan O'Toole was born in the year the revolution began. It was 1958, and the Irish government—in despair, because all the young people were leaving—opened the country to foreign investment and popular culture. So began a decades-long, ongoing experiment with Irish national identity. In We Don't Know Ourselves, O'Toole, one of the Anglophone world's most consummate stylists, weaves his own experiences into Irish social, cultural, and economic change, showing how Ireland, in just one lifetime, has gone from a reactionary "backwater" to an almost totally open society—perhaps the most astonishing national transformation in modern history.
Born to a working-class family in the Dublin suburbs, O'Toole served as an altar boy and attended a Christian Brothers school, much as his forebears did. He was enthralled by American Westerns suddenly appearing on Irish television, which were not that far from his own experience, given that Ireland's main export was beef and it was still not unknown for herds of cattle to clatter down Dublin's streets. Yet the Westerns were a sign of what was to come. O'Toole narrates the once unthinkable collapse of the all-powerful Catholic Church, brought down by scandal and by the activism of ordinary Irish, women in particular. He relates the horrific violence of the Troubles in Northern Ireland, which led most Irish to reject violent nationalism. In O'Toole's telling, America became a lodestar, from John F. Kennedy's 1963 visit, when the soon-to-be martyred American president was welcomed as a native son, to the emergence of the Irish technology sector in the late 1990s, driven by American corporations, which set Ireland on the path toward particular disaster during the 2008 financial crisis.
A remarkably compassionate yet exacting observer, O'Toole in coruscating prose captures the peculiar Irish habit of "deliberate unknowing," which allowed myths of national greatness to persist even as the foundations were crumbling. Forty years in the making, We Don't Know Ourselves is a landmark work, a memoir and a national history that ultimately reveals how the two modes are entwined for all of us.
About the Author
---
Fintan O'Toole is a columnist for the Irish Times and a professor at Princeton University. A regular contributor to the New York Review of Books and the Guardian and the author of several books, he lives in Princeton, New Jersey, and Dublin, Ireland.
Praise For…
---
A landmark history.... Leavened by the brilliance of O'Toole's insights and wit, and by the story of his own life, which he expertly intertwines into a larger historical narrative... [He] sees the country's shift with an eye that is simultaneously critical and compassionate... O'Toole's is a wildly ambitious project, one that accounts for inevitable partiality precisely through this invocation of the personal. It is a winning gambit.
— Claire Messud - Harper's

[M]asterly, fascinating . . . O'Toole, a journalist, historian and academic, is Ireland's pre-eminent public intellectual . . . We Don't Know Ourselves is surely his masterpiece, a long detailed and beautifully executed study . . . O'Toole has a marvelously sharp eye for the illuminating fact, the telling anecdote, the overlooked or forgotten piece of history; but he also has a poet's gift for figurative language.

— John Banville - Times Literary Supplement

[S]parkling . . . we encounter O'Toole as a Zelig-like figure with an amusingly personal chain of connections to the great events and characters . . . the quiet heroes of We Don't Know Ourselves are the Irish people, who O'Toole shows to have been ahead of their political and spiritual leaders in being ready to face the contradictions that underpinned national life . . . an uplifting, almost playful read, with suggestive analysis lying beneath skillful vignettes.

— Caoimhe Nic Dháibhéid - Financial Times