Maybe You Should Talk to Someone: A Therapist, HER Therapist, and Our Lives Revealed (Hardcover)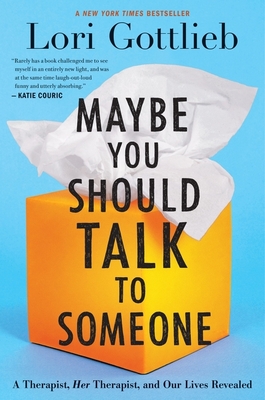 $28.00
Usually Ships in 1-5 Days
Staff Reviews
---
This poignant, insightful look at the patient/therapist relationship reads a little like a novel as Gottlieb reveals human struggles (her own, her therapist's, and her patients) with humor and honesty, from both sides of the couch.
— Sarah
April 2019 Indie Next List
---
"I was thinking maybe I should talk to someone, and then there was this book. Gottlieb has written a compassionate and entertaining memoir from both sides of the couch, so to speak. She tells the stories of four patients whose lives the reader comes to care deeply about while she herself goes into therapy. Physician, heal thyself? No. Human being, be honest with thyself and do something really difficult. Gottlieb is as fine a writer as she is a storyteller. I was sad our sessions had to end."
— Stan Hynds, Northshire Saratoga, Saratoga Springs, NY
Description
---
INSTANT NEW YORK TIMES BESTSELLER!

Now being developed as a television series with Eva Longoria and ABC!

Rarely have I read a book that challenged me to see myself in an entirely new light, and was at the same time laugh-out-loud funny and utterly absorbing.Katie Couric

This is a daring, delightful, and transformative book.Arianna Huffington,Founder,Huffington Postand Founder & CEO, Thrive Global

Wise, warm, smart, and funny. You must read this book.Susan Cain, New York Times best-selling author ofQuiet

From a New York Times best-selling author, psychotherapist, and national advice columnist, a hilarious, thought-provoking, and surprising new book that takes us behind the scenes of a therapists worldwhere her patients are looking for answers (and so is she).

One day, Lori Gottlieb is a therapist who helps patients in her Los Angeles practice. The next, a crisis causes her world to come crashing down. Enter Wendell, the quirky but seasoned therapist in whose office she suddenly lands. With his balding head, cardigan, and khakis, he seems to have come straight from Therapist Central Casting. Yet he will turn out to be anything but.

As Gottlieb explores the inner chambers of her patients lives a self-absorbed Hollywood producer, a young newlywed diagnosed with a terminal illness, a senior citizen threatening to end her life on her birthday if nothing gets better, and a twenty-something who cant stop hooking up with the wrong guys she finds that the questions they are struggling with are the very ones she is now bringing to Wendell.

With startling wisdom and humor, Gottlieb invites us into her world as both clinician and patient, examining the truths and fictions we tell ourselves and others as we teeter on the tightrope between love and desire, meaning and mortality, guilt and redemption, terror and courage, hope and change.

Maybe You Should Talk to Someone is revolutionary in its candor, offering a deeply personal yet universal tour of our hearts and minds and providing the rarest of gifts: a boldly revealing portrait of what it means to be human, and a disarmingly funny and illuminating account of our own mysterious lives and our power to transform them.
About the Author
---
Lori Gottlieb is a psychotherapist and author of theNew York TimesbestsellerMaybe You Should Talk to Someone, which is being adapted as a television series. In addition to her clinical practice, she writesThe Atlanticsweekly Dear Therapistadvice column andcontributes regularly toThe New York Timesand many other publications. Her recentTEDTalk is one of the top 10 most watched of the year. Amember of the Advisory Council for Bring Change to Mind, she is a sought-after expert in media such asThe Today Show, Good Morning America, The CBS This Morning, CNN, and NPRs Fresh Air. She is also the co-host of thenew iHeart Radio podcast, Dear Therapists,produced by Katie Couric. Learn more atLoriGottlieb.comor by following her on Twitter@LoriGottlieb1and Instagram@lorigottlieb_author.
Praise For…
---
*INSTANT NEW YORK TIMES BESTSELLER!*
*An O, The Oprah Magazines Best Nonfiction Book of the Year*
*A TIME magazine Must-Read Book of the Year*
*An NPR Favorite Book of the Year*
*An Amazon 10 Best Books of the Year*
*A People Magazine Book of the Week*
*A New York Times Editors' Choice*
*A Real Simple Book of the Year*
*A Chicago Tribune Best Book of the Year*
*A Variety Best Book of the Year*
*A Kirkus, ShelfAwareness, and Bookpage Best Book of the Year**An IndieNext Pick*
*A Book of the Month Club Extra*
*An Amazon Best Book of the Month and Books with Buzz Pick*
*A Publishers Marketplace Buzz Book*
*A Newsday, iBooks, Washington Post, Real Simple, Thrive Global, Refinery29, and Book Riot Most Anticipated Book of the Year*
"An addictive book that's part Oliver Sacks and part Nora Ephron. Prepare to be riveted."
People Magazine, Book of the Week
"Entirely reframes the way we think about psychotherapy [. . .] Movingly depicts our collective longing for lasting connection."
Entertainment Weekly
Gottliebs book is perhaps the first Ive read that explains the therapeutic process in no-nonsense terms while simultaneously giving hope to therapy skeptics like me who think real change through talk is elusive.
Judith Newman, New York Times
"A psychotherapist and advice columnist at
The Atlantic
shows us what its like to be on both sides of the couch with doses of heartwarming humor and invaluable, tell-it-like-it-is wisdom."
O, The Oprah Magazine
Authentic . . . raw . . . an irresistibly candid and addicting memoir about psychotherapeutic practice as experienced by both the clinician and the patient.
New York Times
"Provocative and entertaining . . . Gottlieb gives us more than a voyeuristic look at other people's problems (including her own). She shows us the value of therapy."
Washington Post
"A delightful, fascinating dive into human behavior and idiosyncrasies, habits and defenses, fears and blind spots: hers, her patients, yours and mine."
Chicago Tribune
"This relatable memoir reminds us that many of our struggles are universal and just plain human."
Real Simple
"[In the end, Gottlieb and her patients] are more awareof themselves as people, of the choices theyve made, and of the choices they could go on to make . . . Its explorationgenuinely wanting to learn answers to the question Why am I like this?, so that maybe, through better understanding of what youre doing, you figure out how to be who you want to become."
Slate
A no-holds-barred look at how therapy works.
Parade
"Who could resist watching a therapist grapple with the same questions her patients have been asking her for years? Gottlieb, who writes the
Atlantic
s Dear Therapist column, brings searing honesty to her search for answers."
Washington Post
Reading it is like one long therapy sessionand may be the gentle nudge you need to start seeing a therapist again IRL.
Hello Giggles
In her memoir, bestselling author, columnist, and therapist Lori Gottlieb explores her own issues and discovers just how similar they are to the problems of her clients.
Bustle
"In prose that's conversational and funny yet deeply insightful, psychologist Lori Gottlieb is here to remind us that our therapists are people, too.
"
Refinery29
"Provocative and entertaining . . . Gottlieb gives us more than a voyeuristic look at other people's problems (including her own). She shows us the value of therapy."
Washington Post
The Atlantic
's Dear Therapist columnist offers a startlingly revealing tour of the therapists life, examining her relationships with her patients, her own therapist, and various figures in her personal life.
Entertainment Weekly,
20 New Books to Read in April
"Reads like a novel and reveals what really happens on both sides of the couch."
Men's Health
A most satisfying and illuminating read for psychotherapy patients, their therapists, and all the rest of us.
New York Journal of Books
A fascinating, funny behind-the-scenes look at what happens when people even shrinks themselves break open, with the help of a therapist.
Shondaland
"[
Maybe You Should Talk to Someone
] explores the ups and downs of life with humor and grace."
BookBub.com
A delightful, fascinating dive into human behavior and idiosyncrasies, habits and defenses, fears and blind spots: hers, her patients, yours and mine.
Chicago Tribune
"Both poignant and laugh-out-loud funny, [Gottlieb] reveals how our stories form the core of our lives."
Orange County Register
"In her compassionate and emotionally generous new book, Gottlieb . . . pulls back the curtain of a therapists world. [. . . ] The result is a humane and empathetic exploration of six disparate characters struggling to take control of their lives as they journey back to happiness."
ALAs Public Libraries Online
"[A] smart, hilarious, insightful book. Lori Gottlieb will have you laughing and crying as she breaks down the problems of her patients, her therapist and herself."
Patch.com
"Saturated with self-awareness and compassion, this is an irresistibly addictive tour of the human condition."
Kirkus Review, Starred Review
"Written with grace, humor, wisdom, and compassion, this [is a] heartwarming journey of self-discovery."
Library Journal
"The coup de grace is Gottliebs vulnerability with her own therapist. Some readers will know Gottliebfrom her many TV appearances or her 'Dear Therapist'column, but even for the uninitiated-to-Gottlieb,it wont take long tosettle in with this compelling read."
Booklist
"Sparkling . . . Gottlieb portrays her patients, as well as herself as a patient, with compassion, humor, and grace."
Publishers Weekly
"An entertaining, relatable, and moving homage to therapyand being human. Were all in this together, folkssomething this book hits home."
The Amazon Book Review

"Warm, approachable and funnya pleasure to read."
Bookpage

"Heartwarming and upbeat, this memoir demystifies therapy and celebrates the human spirit."
Shelf Awareness

"Therapists play a special and invaluable role in the lives of the 30 million Americans who attend sessions, but have you ever wondered where they go whentheyneed to talk to someone? Veteran psychotherapist andNew York Timesbest-selling authorLori Gottlieb shares a candid and remarkably relatable account of what it means to be a therapist who also goes to therapy, and what this can teach us about the universality of our questions and anxieties."
Thrive Global, "10 Books We Cant Wait to Read in 2019"

Some people are great writers, and other people are great therapists. Lori Gottlieb is, astoundingly, both. Maybe You Should Talk to Someone is about the wonder of being human: how none of us is immune from struggle, and how we can grow into ourselves and escape our emotional prisons. Rarely have I read a book that challenged me to see myself in an entirely new light, and was at the same time laugh-out-loud funny and utterly absorbing.
Katie Couric

If you have even an ounce of interest in the therapeutic process, or in the conundrum of being human, you must read this book. It is wise, warm, smart and funny, and Lori Gottlieb is exceedingly good company.
Susan Cain, New York Times best-selling author ofQuiet: The Power of Introverts in a World that Cant Stop Talking

Shrinks, they're just like usat least inMaybe You Should Talk to Someone, the heartfelt memoir by therapist Lori Gottlieb. Warm, funny, andengaging (no poker-faced clinician here),Gottlieb not only gives us an unvarnished look at her patients' lives, but also her own.The result is the most relatable portrait of a therapist I've yet encountered.
Susannah Cahalan,New York Timesbest-selling author ofBrain on Fire: My Month of Madness

Gottlieb is an utterly compelling narrator: funny, probing, savvy, vulnerable. She pays attention to the small stuff the box of tissues and the Legos in the carpet as she honors the more expansive mysteries of our wild, aching hearts.
Leslie Jamison, author of The Recovering: Intoxication and its Aftermath

This is a daring, delightful, and transformative book. Lori Gottlieb takes us inside the most intimate of encounters as both clinician and patient and leaves us with a surprisingly fresh understanding of ourselves, one another, and the human condition. Her willingness to expose her own blind spots along with her patients shows us firsthand that we arent alone in our struggles and that maybe we should talk more about them!Maybe You Should Talk to Someone is funny, hopeful, wise, and engrossingall at the same time.
Arianna Huffington, Founder, Huffington Post and founder & CEO, Thrive Global

Maybe You Should Talk to Someone is ingenious, inspiring, tender, and funny. Lori Gottlieb bravely takes her readers on a guided tour into the self, showing us the therapeutic process from both sides of the couchas both therapist and patient. I cheered for her breakthroughs, as if they were my own! This is the best book I've ever read about the life-changing possibilities of talk therapy.
Amy Dickinson, Ask Amy advice columnist and New York Times best-selling author of Strangers Tend to Tell Me Things

I was sucked right in to these vivid, funny, illuminating stories of humans trying to climb their way out of hiding, overcome self-defeating habits, and wake up to their own strength. Lori Gottlieb has captured something profound about the struggle, and the miracle, of human connection.
Sarah Hepola, New York Times best-selling author of Blackout: Remembering the Things I Drank to Forget

With wisdom and humanity,Lori Gottlieb invites us into her consulting room, and her therapist's. There, readers will share in one of the best-kept secrets of being a clinician: when we bear witness to change, we also change, and when we are present as others find meaning in their lives, we also discover more in our own.
Lisa Damour, New York Times best-selling author of Untangled: Guiding Teenage Girls Through the Seven Transitions into Adulthood

Ive been reading books about psychotherapy for over a half century, but never have I encountered a book like Maybe You Should Talk to Someone: so bold and brassy, so packed with good stories, so honest, deep and riveting. I intended to read a chapter or two but ended up reading and relishing every word.
Irvin Yalom MD, author of Loves Executioner, and other Tales of Psychotherapy, and professor emeritus of psychiatry at Stanford University.

Here are some people who might benefit from Lori Gottliebs illuminating new book: Therapists, people who have been in therapy, people who have been in relationships, people who have experienced emotions. In other words, everyone. Loris story is funny, enlightening, and radically honest. It merits far more than 50 minutes of your time.
A.J. Jacobs, New York Times best-selling author of The Year of Living Biblically
Coverage from NPR