Mac Undercover (Mac B., Kid Spy #1) (Hardcover)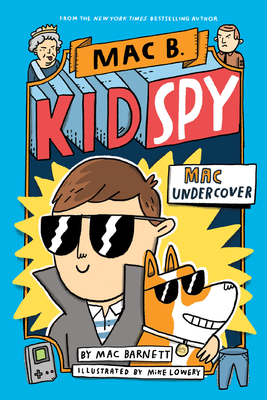 $12.99

Usually Ships in 1-5 Days
Other Books in Series
This is book number 1 in the Mac B., Kid Spy series.
Description
---
A thrilling, hilarious fully-illustrated spy adventure series, from the esteemed New York Times bestselling and multi-award-winning author Mac Barnett!A New York Times bestsellerAn Amazon Best Book of 2018Before Mac Barnett was an author, he was a kid.And while he was a kid, he was a spy.Not just any spy.But a spy...for the Queen of England.James Bond meets Diary of a Wimpy Kid with this groundbreaking fully-illustrated chapter book series Mac B., Kid Spy. The precious Crown Jewels have been stolen, and there's only one person who can help the Queen of England: her newest secret agent, Mac B. Mac travels around the globe in search of the stolen treasure...but will he find it in time?From secret identities to Karate hijinks, this fast-paced, witty and historically inspired chapter book will keep readers guessing until the very last page. With full-color illustrations and fascinating historical facts masterfully sprinkled throughout, this series offers adventure, intrigue, absurdity, history and humor. Discover this totally smart and side-splittingly funny series, and experience what it's really like to be a kid spy.
About the Author
---
MAC BARNETT is the New York Times bestselling author of many picture books, including the New York Times bestseller The Wolf, the Duck, and the Mouse; the Caldecott Honor Book and E.B. White Read Aloud Award-winner Sam and Dave Dig a Hole; and the Caldecott Honor Book and Boston Globe-Horn Book Award-winner Extra Yarn. He is also the coauthor of the bestselling Terrible Two series with Jory John. Mac lives in Oakland, California.
Mike Lowery is a New York Times bestselling illustrator who has worked on dozens of award-winning books for kids, including The Gingerbread Man Loose in the School, Mac B., Kid Spy series by Mac Barnett, How to Be a T. Rex, and many others. He's also written several books, including the Graphix Chapters Bug Scout series, Everything Awesome About series, Doodle Adventures series of graphic novels, and Random Illustrated Facts: A Collection of Curious, Weird, and Totally Not Boring Things to Know. Visit him online at mikelowery.com.
Praise For…
---
Praise for Mac Undercover (Mac B., Kid Spy #1):A New York Times bestseller!An Amazon Best Book of 2018* "Barnett and Lowery bring the funny to the serious art of espionage in a perfect interplay of text and illustration...Barnett interweaves tidbits of global history fit for trivia lovers, while Lowery's comic-style images play a key role in the humor...Told with a sense of nostalgia for 1980s history and pop culture, the silliness and originality of this book will hook young readers." -- School Library Journal, starred review"Barnett takes his readers on a fun-filled ride...Barnett's tone throughout the story is humorous, lighthearted, and a little glib, and the over-the-top story is sure to appeal to many readers...an enjoyable romp that will leave readers salivating for the sequel." -- Kirkus Reviews"[Barnett's] riotous series debut as an adult recalling a 1980s childhood caper...goofy, two-color pictures by Lowery (the Doodle Adventure series) ramp up the silliness of this adventure...which should snare even the most hesitant readers." --Publishers Weekly"Barnett's knack for both quirky situational humor and heartfelt sentiment work in tandem to create a balanced-while still outrageous-early-chapter-book caper. Lowery's frequent cartoony black, yellow, and blue spot illustrations are integral to the narrative, providing clues to eagle-eyed readers and enhancing the humor." --The Horn Book"Barnett's series falls squarely in line with works from Jon Scieszka's and Dav Pilkey's oeuvres, offering kids another solid choice for what to read next." -- The Bulletin of the Center for Children's Books"Funny as a crumpet. (But truly, secretly a hundred times smarter.)"--Jon Scieszka, author of Caldecott Honor The Stinky Cheese Man and Other Fairly Stupid Tales and the New York Timesbestselling series Frank Einstein."With a perfectly absurd premise, dialogue that demands outlandish accents, and a plot that interweaves global history and complete silliness, Barnett royally nails it." --Abby Hanlon, author of the Dory Fantasmagory series.Praise for The Impossible Crime (Mac B., Kid Spy #2): :An instant New York Times bestseller!"Barnett opens his casebook again-this time to solve a classic locked-room mystery...Almost every page contains Lowery's illustrations, loosely drawn and garishly colored in green and orange, which give the whole affair a zany feel that is much enhanced by the narrative with its running gags. Kudos to a pint-size Poirot, pre-Mustache!" - Booklist"Barnett's signature dry wit and snappy back-and-forths, particularly between the ingenuously sincere Mac and the standoffish Queen, keep the story steadily moving forward; a convoluted historical account of Colonel Blood's attempted robbery...Lowery's cartoony spot art, in black, green, and orange, provides additional historical and cultural information and frequently supports the narrative." - Horn Book"Barnett and Lowery team up again in this second outing of international espionage mystery with royal overtones... this is a nifty mystery for young readers and a worthy sequel to the first." - Kirkus ReviewsPraise for Top Secret Smackdown (Mac B., Kid Spy #3):"Exciting action sneakily infused with points about the relationship between reality and story, delivered by a narrator who can claim with literal truth that he saved the day "on porpoise." -- Kirkus ReviewsPraise for Mac Barnett:[Mac Barnett is] a great young writer of books for young people. If you haven't read his work, run somewhere and do that. Books for young people have a rich and I daresay limitless future--knock anyone who says otherwise into a ditch--and Mac has a central place within that limitless future. Don't bet against him or anyone like him." --Dave Eggers"[In Barnett's books] there is no magic solution to any problem: The characters stumble through their dilemmas just as every one of us does. The world is a difficult yet good place, and there is no need for the typical rose-colored lenses that other children's books put on situations in order to fend off the bad stuff." --Yiyun Li"He is a believer that picture books can have Swiftian absurdity and untidy endings, and that 'life is absurd, and kids know that.'"-- The San Francisco Chronicle

Praise for Mac Undercover (Mac B., Kid Spy #1):A New York Times bestseller!An Amazon Best Book of 2018* "Barnett and Lowery bring the funny to the serious art of espionage in a perfect interplay of text and illustration...Barnett interweaves tidbits of global history fit for trivia lovers, while Lowery's comic-style images play a key role in the humor...Told with a sense of nostalgia for 1980s history and pop culture, the silliness and originality of this book will hook young readers." -- School Library Journal, starred review"Barnett takes his readers on a fun-filled ride...Barnett's tone throughout the story is humorous, lighthearted, and a little glib, and the over-the-top story is sure to appeal to many readers...an enjoyable romp that will leave readers salivating for the sequel." -- Kirkus Reviews"[Barnett's] riotous series debut as an adult recalling a 1980s childhood caper...goofy, two-color pictures by Lowery (the Doodle Adventure series) ramp up the silliness of this adventure...which should snare even the most hesitant readers." --Publishers Weekly"Barnett's knack for both quirky situational humor and heartfelt sentiment work in tandem to create a balanced-while still outrageous-early-chapter-book caper. Lowery's frequent cartoony black, yellow, and blue spot illustrations are integral to the narrative, providing clues to eagle-eyed readers and enhancing the humor." --The Horn Book"Barnett's series falls squarely in line with works from Jon Scieszka's and Dav Pilkey's oeuvres, offering kids another solid choice for what to read next." -- The Bulletin of the Center for Children's Books"Funny as a crumpet. (But truly, secretly a hundred times smarter.)"--Jon Scieszka, author of Caldecott Honor The Stinky Cheese Man and Other Fairly Stupid Tales and the New York Timesbestselling series Frank Einstein."With a perfectly absurd premise, dialogue that demands outlandish accents, and a plot that interweaves global history and complete silliness, Barnett royally nails it." --Abby Hanlon, author of the Dory Fantasmagory series.Praise for The Impossible Crime (Mac B., Kid Spy #2): :An instant New York Times bestseller!"Barnett opens his casebook again-this time to solve a classic locked-room mystery...Almost every page contains Lowery's illustrations, loosely drawn and garishly colored in green and orange, which give the whole affair a zany feel that is much enhanced by the narrative with its running gags. Kudos to a pint-size Poirot, pre-Mustache!" - Booklist"Barnett's signature dry wit and snappy back-and-forths, particularly between the ingenuously sincere Mac and the standoffish Queen, keep the story steadily moving forward; a convoluted historical account of Colonel Blood's attempted robbery...Lowery's cartoony spot art, in black, green, and orange, provides additional historical and cultural information and frequently supports the narrative." - Horn Book"Barnett and Lowery team up again in this second outing of international espionage mystery with royal overtones... this is a nifty mystery for young readers and a worthy sequel to the first." - Kirkus ReviewsPraise for Top Secret Smackdown (Mac B., Kid Spy #3):"Exciting action sneakily infused with points about the relationship between reality and story, delivered by a narrator who can claim with literal truth that he saved the day "on porpoise." -- Kirkus ReviewsPraise for Mac Barnett:[Mac Barnett is] a great young writer of books for young people. If you haven't read his work, run somewhere and do that. Books for young people have a rich and I daresay limitless future--knock anyone who says otherwise into a ditch--and Mac has a central place within that limitless future. Don't bet against him or anyone like him." --Dave Eggers"[In Barnett's books] there is no magic solution to any problem: The characters stumble through their dilemmas just as every one of us does. The world is a difficult yet good place, and there is no need for the typical rose-colored lenses that other children's books put on situations in order to fend off the bad stuff." --Yiyun Li"He is a believer that picture books can have Swiftian absurdity and untidy endings, and that 'life is absurd, and kids know that.'"-- The San Francisco Chronicle