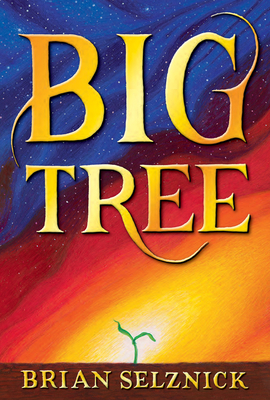 May/June 2023 Kids Indie Next List
---
"Through exquisite art and spacious language, Big Tree is told by sibling sycamore seeds making their way in the world. It is captivating, empowering, and impactful; written for a young audience and to be enjoyed by all."
— Meghan Bousquet, Titcomb's Bookshop, East Sandwich, MA
Description
---
The fate of all life on Earth may depend on the bravery of two little seeds in this epic adventure from the #1 New York Times bestselling creator and Caldecott Medalist of The Invention of Hugo Cabret.
"The tale of the natural world is the greatest story we have to tell, and Brian delivers a brilliant chapter of that tale throughout the pages of Big Tree." — STEVEN SPIELBERG
"We need brave, big stories like [Big Tree]." —The New York Times Book Review
"Has the power to intrigue...affecting." — The Wall Street Journal
* "An enthralling and expansive meditation on what it means to be alive on this planet." — Booklist, starred review
* "A balanced and rich book. . . . Powerful."—The Bulletin of the Center for Children's Books, starred and recommended review
* "In evocative prose and peppery dialogue . . . the cinematic story journeys across time and space, contemplating the power of life to heal." —Publishers Weekly, starred review
* "A special, one-of-a-kind book for the whole family that readers won't soon forget." — School Library Journal, starred review
* "Masterful." — The Horn Book, starred review
"Inspirational, important, and beautiful. A fable for our times." — Alan Gratz, bestselling author of Refugee and Ground Zero
"Hello, stars. I thought I heard you calling me."
A mysterious voice has been speaking to Louise in her dreams. She and her brother Merwin are Sycamore seeds, who hope to one day set down roots and become big trees. But when a fire forces them to leave their mama tree prematurely, they find themselves catapulted into the unknown, far from home. Alone and unprepared, they must use their wits and imagination to navigate a dangerous world—filled with dinosaurs, meteors, and volcanoes!—and the fear of never finding a safe place to grow up. As the mysterious voice gets louder, Louise comes to realize their mission in life may be much bigger than either of them ever could have imagined!
Brimming with humor, wonder, mystery, and a profound sense of hope, Big Tree is a trailblazing adventure, illustrated with nearly 300 pages of breathtaking pictures. It is Selznick's most imaginative and far-reaching work to date and a singular reading experience for the whole family.
The audiobook edition of BIG TREE is brought magnificently to life by Meryl Streep and features music composed by Ernest Troost.
About the Author
---
Brian Selznick's books have sold millions of copies, garnered countless awards worldwide, and been translated into more than 35 languages. He broke open the novel form with his innovative and genre-defying thematic trilogy, beginning with the Caldecott Medal-winning #1 New York Times bestseller The Invention of Hugo Cabret, adapted into Martin Scorsese's Oscar-winning movie Hugo. He followed that with the #1 New York Times bestseller, Wonderstruck, adapted into the eponymous movie by celebrated filmmaker Todd Haynes, with a screenplay by Selznick, and the New York Times bestseller, The Marvels. Selznick's two most recent books for young people, Baby Monkey, Private Eye, an ALA Notable Book co-written with his husband David Serlin, and Kaleidoscope, a New York Times Notable Children's Book of 2021, were both New York Times bestsellers as well. He also illustrated the 20th anniversary edition covers of J.K. Rowling's Harry Potter series. Selznick and Serlin divide their time between Brooklyn, New York and La Jolla, California. Learn more at thebrianselznick.com and mediaroom.scholastic.com/brianselznick.
Praise For…
---
Praise for Big Tree:
"The tale of the natural world is the greatest story we have to tell, and Brian delivers a brilliant chapter of that tale throughout the pages of Big Tree." — STEVEN SPIELBERG
"Brian Selznick is a singular talent. Big Tree grips you from start to finish and resonates emotionally long after you have finished reading." — CHRIS MELEDANDRI, founder, Illumination
* "Sure to elicit gasps of surprise and delight…The astonishing story is at once vast and intimate, succeeding as both a small-scale adventure story and a broader exploration of the natural world. Glorious pencil drawings, moving swiftly from macro to micro lenses, turn wispy seeds into spritely, darling protagonists, and wordless sketched reveals that follow text interludes are sure to elicit gasps of surprise and delight. . . . An enthralling and expansive meditation on what it means to be alive on this planet." — Booklist, starred review
* "Selznick's dedication to dual storytelling through text and hundreds of finely detailed pencil drawings allows for each to progress the plot in succession, creating a balanced and rich book that invites careful reading and poring over illustrations to find all of the connective threads. . . . His expressive art that highlights the heart of the story, paired with his keen eye for creating sympathetic and memorable lost children . . . are a powerful combination to bring to this epic quest. Selznick fans will be delighted, and dinosaur fans and nature buffs will likely be just as enthralled." — The Bulletin of the Center for Children's Books, starred and recommended review
* "Silvery, deeply textural drawings move elegantly between planet-scale drama, microscopic life, and Louise and Merwin's shifting surroundings as the pace bounds inexorably onward, ending in a contemporary city. . . . In evocative prose and peppery dialogue . . . the cinematic story journeys across time and space, contemplating the power of life to heal and the importance of developing 'roots and wings.'" — Publishers Weekly, starred review
* "Selznick elegantly intertwines pictures and words to tell the macro story of the natural world through the micro perspective of two sycamore seeds. . . . [His} control of narrative, pacing, and book design is idiosyncratic and masterful. Fluid shifts between prose and double-page spreads of accomplished pencil illustrations are clear and effective. . . . Ambitious…poignant…hopeful." — The Horn Book, starred review
* "Selznick returns with a majestically illustrated, modern-day parable…this tale, with its combination of a childlike narrative and profound illustrations, presents a big, universal story of taking care of the miraculous Earth on which we live. Selznick's signature art was created with pencil on hot pressed watercolor paper, and the texture and nuance of these nearly 300 pages will strike wonder in every reader….Weighty themes of connectedness, conservation, and the impact that one small voice can have on the fate of the universe might feel unfathomable and too big for children, but in Selznick's hands, this poignant fable will resonate with all readers, young and old. A special, one-of-a-kind book for the whole family that readers won't soon forget." — School Library Journal, starred review
"A labor of love—no, of passion—for the world and all the life it supports, Brian Selznick's Big Tree spreads its storytelling canopy to cover all of us. We're implicated, we're honored. We're family." — Gregory Maguire, author of Wicked
"Inspirational, important, and beautiful. A fable for our times." — Alan Gratz, bestselling author of Refugee and Ground Zero
"Grand in scope, yet intimate and tender. Quintessential Selznick. A triumph!" — Pam Muñoz Ryan, bestselling author of Esperanza Rising and the Newbery Honor Book Echo
"Big Tree is exactly the kind of book the world needs most right now." — C.C. Harrington, author of the bestselling Indie's Introduce Pick and Schneider Family Book Award winner Wildoak
Praise for The Invention of Hugo Cabret: 2008 Caldecott Medal winner National Book Award Finalist #1 New York Times Bestseller New York Times Best Illustrated Book Los Angeles Times Favorite Children's Book of the Year TIME Magazine's 100 Best Children's and Young Adult Books of All Time "Evokes wonder… like a silent film on paper." -- The New York Times "A fast-paced treat." -- People Magazine "Distinctive." -- The Wall Street Journal "Cinematic." -- Parenting Magazine "Captivating." -- Los Angeles Times Book Review * "A true masterpiece."-- Publishers Weekly, starred review * "Fade to black and cue the applause!" -- Kirkus Reviews, starred review * "Complete genius." -- The Horn Book, starred review * "Breathtaking… shatters conventions." -- School Library Journal, starred review * "An original and creative integration of art and text." -- The Bulletin of the Center for Children's Books, starred review "Visually stunning… raises the bar." -- San Antonio Express-News
Praise for Wonderstruck: #1 New York Times Bestseller New York Times Notable Children's Book ALA Notable Children's Book Parents' Choice Gold Winner Publishers Weekly Best Book "Engrossing, intelligent, beautifully engineered and expertly told in word and image." -- The New York Times Book Review "Moving and ingenious… " -- The Wall Street Journal "Brian Selznick proves to be that rare creator capable of following one masterpiece -- The Invention of Hugo Cabret -- with another even more brilliantly executed." -- The Washington Post "Another entrancing, exquisitely illustrated novel… Older kids and adults alike will be mesmerized by the interlocking stories. A verbal and visual marvel." -- Family Circle * "A gift for the eye, mind, and heart." -- Booklist, starred review * "Visually stunning, completely compelling." -- Kirkus Reviews, starred review * "Innovative… has the makings of a classic." -- Publishers Weekly, starred review * "A thing of wonder to behold… an emotional experience that neither the words nor the illustrations could achieve on their own." -- School Library Journal, starred review
Praise for The Marvels: New York Times Bestseller New York Times Notable Children's Book An Indie Bound #1 National Bestseller Guardian Children' s Book Prize Finalist Publishers Weekly Best Book * "Selznick continues his quest to shake up notions of illustrated novels, wordless storytelling, and the intersection of text and pictures in this newest volume… The novel as a whole is exactly the sort of theater that is so lovingly described within." -- The Bulletin of the Center for Children's Books, starred review * "Caldecott Medalist Selznick has been creating acclaimed illustrated novels for years now, and his latest takes his groundbreaking narrative format to new heights… [this] warm, affecting family tale is bittersweet, astonishing, and truly marvelous." -- Booklist, starred review * "… epic theater celebrating mysteries of the heart and spirit." -- Kirkus Reviews, starred review * "[A] powerful story about creating lasting art and finding family in unexpected places." -- Publishers Weekly, starred review * "Memorable, momentous." -- School Library Journal, starred review