Loki: Where Mischief Lies (Marvel Rebels & Renegades) (Hardcover)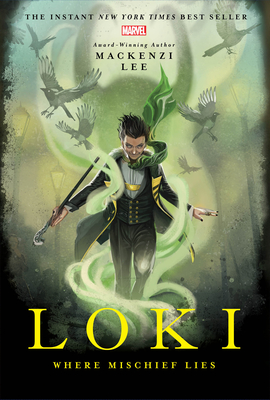 $17.99

Usually Ships in 1-5 Days
Other Books in Series
Description
---
An instant New York Times best seller!
*This deft, nuanced examination of identity, destiny, and agency is a surprisingly tender addition to the Marvel canon." —Kirkus Reviews, starred review
*"This mischievous origin story is sure to satisfy fans of the popular character." —Booklist, starred review
Selected for the ILA-CBC 2020 Young Adults' Choices reading list.

This is the first of three young adult novels from New York Times best-selling author Mackenzi Lee that explores the untapped potential and duality of heroism of popular characters in the Marvel Universe.
Before the days of going toe-to-toe with the Avengers, a younger Loki is desperate to prove himself heroic and capable, while it seems everyone around him suspects him of inevitable villainy and depravity . . . except for Amora. Asgard's resident sorceress-in-training feels like a kindred spirit—someone who values magic and knowledge, who might even see the best in him.
But when Loki and Amora cause the destruction of one of Asgard's most prized possessions, Amora is banished to Earth, where her powers will slowly and excruciatingly fade to nothing. Without the only person who has ever looked at his magic as a gift instead of a threat, Loki slips further into anguish and the shadow of his universally adored brother, Thor.
When Asgardian magic is detected in relation to a string of mysterious murders on Earth, Odin sends Loki to investigate.
As he descends upon nineteenth-century London, Loki embarks on a journey that leads him to more than just a murder suspect, putting him on a path to discover the source of his power—and who he's meant to be.

Complete your Marvel YA collection with these best-selling fan-favorite novels:
Gamora and Nebula: Sisters in Arms by Mackenzi Lee
Miles Morales: Spider-Man by Jason Reynolds
Unstoppable Wasp by Sam Maggs
Black Widow: Red Vengeance by Margaret Stohl
Black Widow: Forever Red by Margaret Stohl
Captain Marvel: Higher, Further, Faster by Liza Palmer
About the Author
---
Mackenzi Lee holds a BA in history and an MFA in writing for children and young adults from Simmons College. She is the New York Times best-selling author of the historical fantasy novels Loki: Where Mischief Lies; The Gentleman's Guide to Vice and Virtue, which won a 2018 Stonewall Honor Award and the New England Book Award; and its sequel, The Lady's Guide to Petticoats and Piracy. She is also the author of the nonfiction books Bygone Badass Broads, a collection of short biographies of forgotten women from history. In 2020, she was named one of Forbes's 30 Under 30 for her work in bringing minority narratives to historical fiction. When not writing, she works as an independent bookseller, drinks too much Diet Coke, and romps with her Saint Bernard, Queenie.
Praise For…
---
"One does not have to be a Marvel film franchise fan to enjoy this action-packed, emotionally resonant origin story of trickster deity and sorcerer Loki. . . . Lee's Loki is a complicated young man trying to define who he is as distinct from his family, something that many young people can relate to, and while Lee does not skimp on the fun—a fabulous party, flirty and witty dialogue—she also clarifies that it is not individual acts that determine whether someone is good or bad."—Publishers Weekly

"The dry, conversational humor ("I think you're trying to inflate the charges against me with synonyms") works in tandem with the story's unflinching plot. Lee deftly reveals the depths of Loki's struggle to grapple with his need for approval as well as his desire to make his own destiny and find an authentic identity."—Booklist (starred review)

"With his penchant for disruption—for good or ill—fully established, the Loki presented here will delight fans of the legends and the comics."—Bulletin of the Center for Children's Books (BCCB)

*"This deft, nuanced examination of identity, destiny, and agency is a surprisingly tender addition to the Marvel canon."—Kirkus Reviews (starred review)