On Purpose: The Busy Woman's Guide to an Extraordinary Life of Meaning and Success (Hardcover)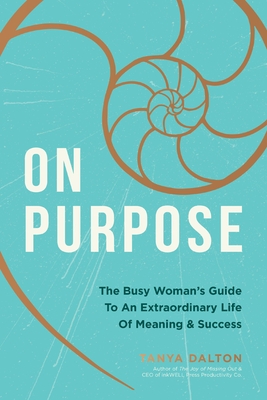 $26.99

Usually Ships in 1-5 Days
Description
---
Are you caught up in the chaotic rush of your calendar? Have you found the time to check in with yourself lately? In On Purpose, bestselling author and productivity expert Tanya Dalton helps you carve out time to pause, take a step back from your busy schedule, ask yourself the hard questions, and reflect on how you really feel.
Tanya teaches us that by getting to know ourselves better, we can finally start living our lives on purpose. This shift isn't about changing who you are--it's about rising up and becoming the best version of you, adjusting your mindset so you can discover what drives your daily choices, and finding the unhurried purpose that's hidden in each day when you stay true to yourself.
On Purpose gives you the tools and the encouragement you need to ask and answer your own deepest questions. Combining cutting-edge research and thought-provoking infographics with candid stories from her own journey, Tanya leads you through innovative exercises designed to help you better understand how to:
Create a map to your ideal future
Move through life with confidence
Discover the simple shifts that turn unexpected obstacles into opportunities
Unpack the common lies we tell ourselves
Live a more fulfilling life
Joy and happiness deserve to have a seat at the table and it's time to pull up a chair for them. If you're ready to start running your life instead of feeling like your life is running you, it's time to live your life On Purpose.
Praise for On Purpose:
"On Purpose is a must-read for anyone seeking to find success on their own terms. Tanya Dalton gives you the easy-to-follow actionable guide you've been searching for to take ownership of your life, make intentional choices, and fill your soul with what matters most to you."
--Lisa Hufford, author of Work Your Way and CEO of Simplicity Consulting