Midnighter Vol. 1: Out (Paperback)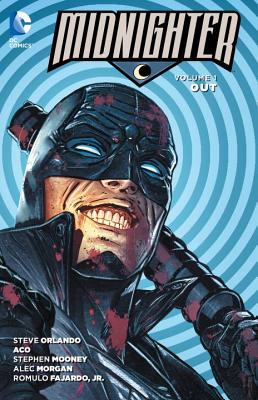 $14.99
Email or call for price.
Description
---
The first chapter in the all-new adventures of MIDNIGHTER joins renowned writer Steve Orlando and acclaimed artists Aco, Stephen Mooney and Alec Morgan.
 
Between the supercomputer wired into his brain and the enhancements saturating his body, the living weapon known as Midnighter doesn't face a lot of real challenges to his uncanny combat skills. Lucky for him, he enjoys beating the tar out of low-level bad guys as much as the high-end ones—and since his recent breakup with his first love (and fellow superhuman) Apollo, he's had plenty of chances to engage in his unique brand of physical therapy.
 
Now, insanely dangerous weapons are beginning to pop up all over the globe, wreaking havoc on society and complicating Midnighter's professional and personal life. As the outbreaks pile up, tracking them back to the original thief becomes an overriding imperative .
 
Collects issues #1-7 of the ongoing MIDNIGHTER series.
About the Author
---
Steve Orlando is a comic book writer who has worked for both DC Comics and Image Comics. He has created Undertow, an underwater epic for Image and is the writer for the new MIDNIGHTER series.
Praise For…
---
"There aren't many books out there that I'd call perfect, but when you can see 10 steps ahead, it's perhaps not surprising that MIDNIGHTER earns that praise." – Newsarama
 
"He's like Batman with a sense of humor and a willingness to engage in healthy relationships...Seriously, check out this comic."—io9
 
"Manages to be both bold and down-to-earth at the same time."— IGN
  
"The sort of comic that's as smart and fun as you wish all superhero comics would be."—Comic Book Resources