Midnighter Vol. 2: Hard (Paperback)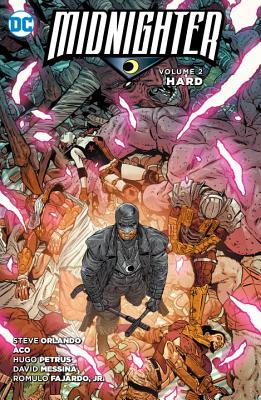 $14.99
Email or call for price.
Description
---
SUICIDE RUN

They call it the Perdition Pistol, but it's far beyond anything as simple as a gun—the power contained in this mysterious artifact could put the entire world at the mercy of whoever controls it. That's why the espionage organization known as Spyral hid it beneath as much high-tech security as it could muster—and why someone else just stole it from them. Now only one man can get it back: the human wrecking ball known as the Midnighter.

There's only one problem: to regain this deadly device, Midnighter must go through the Suicide Squad, that infamously unstable assembly of the world's most dangerous criminals. Normally that wouldn't be a problem, but the Squad has deployed some surprising new upgrades to counteract Midnighter's cybernetic enhancements. Even more surprising is the source of those upgrades: a resurrected Henry Bendix.

Luckily, Midnighter has an ace up his black leather sleeve: his super ex-boyfriend, the almighty Apollo. Separately, the two are formidable; together, they're almost unstoppable. But will almost be enough to foil the twisted plans of the genius responsible for both Stormwatch and the God Garden?

Acclaimed creators Steve Orlando, ACO, Hugo Petrus and David Messina put the world's greatest fighter through his greatest challenge yet in MIDNIGHTER VOL. 2: HARD, collecting issues #8-12 of the ongoing series.
 
About the Author
---
Steve Orlando is a comic book writer who has worked for both DC Comics and Image Comics. He has created Undertow, an underwater epic for Image and is the writer for the MIDNIGHTER series.
Praise For…
---
PRAISE FOR MIDNIGHTER VOL. 1: 

"Midnighter has proven to be one of the laugh-out-loud funniest books, as well as one of the more emotionally weighty ones."  --A.V. Club ("Favorite Ongoing and Serial Comics of 2015, 12/10/15)

"Orlando stages this comic like a Bond movie, brash and fast-paced." --Newsarama

"He's like Batman with a sense of humor and a willingness to engage in healthy relationships...Seriously, check out this comic." --io9

"The sort of comic that's as smart and fun as you wish all superhero comics would be." --Comic Book Resources