The Physick Book of Deliverance Dane (Paperback)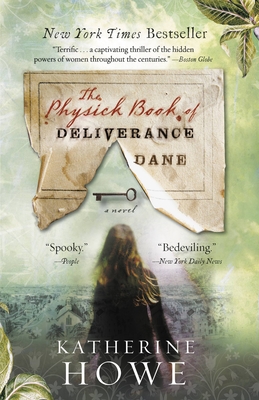 $15.99

Usually Ships in 1-5 Days
Staff Reviews
---
Who doesn't like a little witch craft with their literature? Bouncing back-and-forth between modern day Salem and Salem during the witch hunts, Howe takes her readers on a wild ride!
— Kathleen
June 2009 Indie Next List
---
"Connie Goodwin should be writing her Ph.D. dissertation. Instead, her mother has asked her to handle the sale of Connie's grandmother's abandoned home near Salem, Massachusetts. While cleaning up the years of dust and cobwebs, Connie makes discoveries that lead her back to the world of the Salem witch trials. Howe does a superb job at combining modern day language with the 17th century voices, pulling you even deeper into a story of mystery and witches. Marvelous and terrifying at the same time. I loved it!"
— Annie Philbrick, Bank Square Books, Mystic, CT
Description
---
A spellbinding, beautifully written novel that moves between contemporary times and one of the most fascinating and disturbing periods in American history - the Salem witch trials.
Harvard graduate student Connie Goodwin needs to spend her summer doing research for her doctoral dissertation. But when her mother asks her to handle the sale of Connie's grandmother's abandoned home near Salem, she can't refuse. As she is drawn deeper into the mysteries of the family house, Connie discovers an ancient key within a seventeenth-century Bible. The key contains a yellowing fragment of parchment with a name written upon it: Deliverance Dane. This discovery launches Connie on a quest-to find out who this woman was and to unearth a rare artifact of singular power: a physick book, its pages a secret repository for lost knowledge.
As the pieces of Deliverance's harrowing story begin to fall into place, Connie is haunted by visions of the long-ago witch trials, and she begins to fear that she is more tied to Salem's dark past then she could have ever imagined.
Written with astonishing conviction and grace, The Physick Book of Deliverance Dane travels seamlessly between the witch trials of the 1690s and a modern woman's story of mystery, intrigue, and revelation.
About the Author
---
Katherine Howe's ancestors settled Essex County, Mass. in the 1620s, and stayed there through the twentieth century. Family members included Elizabeth Proctor, who survived the Salem witch trials, and Elizabeth Howe, who did not. Katherine Howe got a Ph.D. in American and New England Studies at Boston University, which included a research seminar on New England witchcraft. The idea for this novel developed while she was studying for her Ph.D. exams, walking her dog through the woods between Marblehead and Salem. She lives in Marblehead, MA with her husband and assorted animals.
Praise For…
---
"A sensational debut novel . . . carries on every page Howe's unique passion, wit, intelligence, and spirit."—Matthew Pearl, bestselling author of The Dante Club and The Poe Shadow

"A terrific debut novel . . . a captivating thriller of the hidden powers of women throughout the centuries."—Boston Globe

"Literary alchemy . . . powerful enough to deliver a charming summer read."—Christian Science Monitor

"Howe pairs a scholarly search for a missing book with the thrill of spine-tingling witchery."—Dallas Morning News

"If you need some magic in your life . . . lose yourself in The Physick Book of Deliverance Dane."—Real Simple

"A devilishly delightful read."—San Francisco Chronicle

"A witch story that will leave you spellbound . . . Once in a while, a new writer offers up a hypnotic tale of the supernatural that has the publishing world quivering with excitement. In 2005 it was Elizabeth Kostova's The Historian; in 2006 it was Diane Setterfield's The Thirteenth Tale. This summer, The Physick Book is magic."—USA Today

"This isn't the same old hang-the-sorceror tale. It has a bedeviling twist."—New York Daily News