Incredible You!: 10 Ways to Let Your Greatness Shine Through (Hardcover)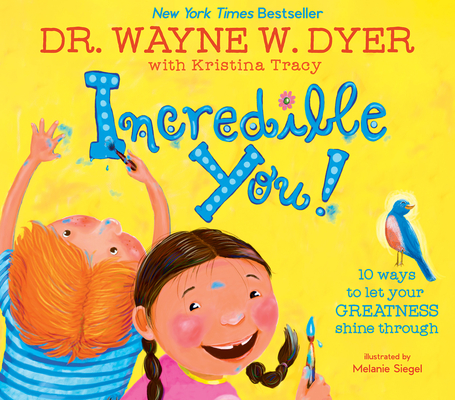 $16.99
Email or call for price.
Description
---
Now available in a new format and a fresh package: the New York Times best-selling children's book by beloved spiritual teacher Dr. Wayne W. Dyer that teaches children 10 concepts for successful, passionate, self-actualized living.

Newly repackaged with a fresh format and cover is Dr. Wayne W. Dyer's New York Times best-selling children's book, based on the 10 concepts from his New York Times bestseller for adults 10 Secrets for Success and Inner Peace. Wayne always said that it's never too early for children to know that they're unique and powerful beings, and that they have everything they need within themselves to create happy, successful lives.

With this book, parents can introduce these important ideas to their children. The 10 concepts are numbered, titled, and set in rhyming verse, with vibrant illustrations by Melanie Siegel to bring each point to life. A reader's guide at end, offers 10 questions that kids can answer to connect these ideas to their own lives and make them realize how incredible they truly are!
About the Author
---
Dr. Wayne W. Dyer was an internationally renowned author and speaker in the field of self-development. He wrote more than 40 books (21 of which became New York Times bestsellers), created numerous audio programs and videos, and appeared on thousands of television and radio shows. Wayne held a doctorate in educational counseling from Wayne State University and had been an associate professor at St. John's University in New York. His career spanned four decades, and he maintained a busy schedule hosting lectures around the world right until his passing in August 2015.

Kristina Tracy is co-author (with Dr. Wayne W. Dyer) of the New York Times best-selling children's book Incredible You! She's also co-authored children's books with Dr. Christiane Northrup, Louise Hay, Deepak Chopra, and Len Lucero. Besides writing, her favorite things to do include riding her horse, remodeling, gardening, reading, and spending time with her two kids, Ava and Dane.