Path of the Assassin: A Thriller (Mass Market)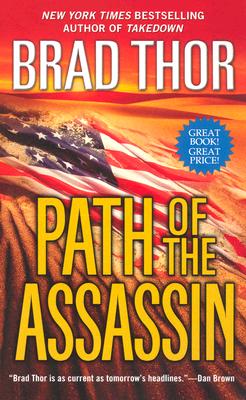 $4.99
Email or call for price.
Description
---
Brad Thor's national best-selling debut, The Lions of Lucerne, was hailed as "high-voltage entertainment reminiscent of Robert Ludlum" (Literary Journal). Now, he again delivers a non-stop action as one man's quest for revenge thrusts him into a battle to save his country....

After rescuing the President from kidnappers, Navy SEAL turned Secret Service agent Scot Harvath shifts his attentions to rooting out, capturing, or killing all those responsible for the plot. As he prepares to close out his list, a bloody and twisted trail of clues points toward one man -- the world's most feared, most ruthless terrorist, Hashim Nidal. Having assembled an international league of Islamic terrorist networks in an ingenious plot to topple both Israel and America, Harvath and his CIA-led team must reach Nidal before it's too late. One problem remains -- they have no idea what the man looks like. With no alternative, Harvath is forced to recruit a civilian -- a woman who has survived a brutal hijacking and is now the only person who can positively identify their quarry.

From the burning deserts of North Africa to the winding streets of Rome, Harvath must brave a maelstrom of bloodshed and deception -- before a madman's twisted vision engulfs the world in the fires of all-out war....
About the Author
---
Brad Thor is the #1 New York Times bestselling author of nineteen thrillers, including Spymaster, Use of Force, The Last Patriot (nominated best thriller of the year by the International Thriller Writers Association), Blowback (recognized as one of the "Top 100 Killer Thrillers of All Time" by NPR), The Athena Project, and Foreign Influence (one of Suspense Magazine's best political thrillers of the year). Visit his website at BradThor.com and follow Brad on Facebook at Facebook.com/BradThorOfficial and on Twitter @BradThor.
Praise For…
---
"Brad Thor is as current as tomorrow's headlines."
-- Dan Brown



"One of the best emerging thriller writers on the continent."
-- Ottawa Citizen



"...a blood-soaked sequel to the presidential-kidnapping debut that so arrested critics....Thor leaves little to the imagination when it comes to the cut and thrust of terrorist-busting; the action is relentless and gory, the pacing sublime, as is the authenticity of everything from weaponry to locales."
-- Ottawa Citizen



"Clancy fans will love this. Brad Thor has packed this riveting and timely thriller with enough military technology, CIA intrigue, and exotic settings to kidnap even the most demanding readers, deprive them of sleep, and convert them into instant devotees."
-- Dan Brown, New York Times bestselling author of The Da Vinci Code



"If Thor's second international thriller had any more testosterone, it would grow hair....the well-choreographed action and thrills will keep readers engrossed."
-- Publishers Weekly