Cleopatra Confesses (Hardcover)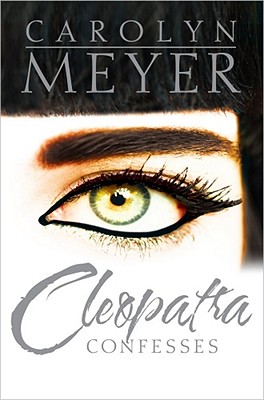 $16.99
Email or call for price.
Description
---
It is the first century B.C. Cleopatra, the third of the pharaoh's six children, is the one that her father has chosen to be the next queen of Egypt. But when King Ptolemy is forced into exile, Cleopatra is left alone to fend for herself in a palace rife with intrigue and murder. Smart, courageous, ambitious and sensuously beautiful, she possesses the charm to cause two of history's most famous leaders to fall in love with her. But as her cruel sisters plot to steal the throne, Cleopatra realizes there is only one person on whom she can rely--herself.
About the Author
---
Carolyn Meyer is the acclaimed author of more than fifty books for young people. Her many award-winning novels include Mary, Bloody Mary—an ABA's Pick of the Lists, an NCSS-CBC Notable Children's Trade Book in the Field of Social Studies, and an ALA Best Book for Young Adults—and Marie, Dancing, a Book Sense Pick. She is also the author of Cleopatra Confesses and Victoria Rebels. She lives in Albuquerque, New Mexico, and you can visit her at ReadCarolyn.com.
Praise For…
---
Cleopatra Confesses
Carolyn Meyer. S&S/Wiseman, $16.99 (304p) ISBN 978-1-4169-8727-7

Before she was a queen, Cleopatra was a girl, and Meyer's incarnation of the future monarch longs to be treated as normal--wandering the marketplace, learning to dance--even as she secretly hopes to someday rule Egypt. Meyer's short chapters can occasionally make the narrative feel choppy, but her lush, detail-rich prose ably evokes Cleopatra's life as a young princess, beginning at age 10 and continuing on until she turns 22. During this time, readers are treated to royal intrigue and the cutthroat politics of Cleopatra's two older sisters, Tryphaena and Berenike, who are desperate to prevent Cleopatra's rule, since she is the favorite daughter of their father, King Ptolemy XII. This is sibling rivalry at its most vicious: crossing her sisters could cost Cleopatra her life, let alone her throne. The arrival of Marcus Antonius midway through the novel (and later of Julius Caesar) provides only the briefest hint of romance--Meyer (The Bad Queen) roots her heroine squarely in the realm of politics. Narrating with the poise and confidence of a born leader, this Cleopatra should win readers over. Ages 12–up.

--Publishers Weekly, May 9, 2011

4Q 3P M J S A/YA

Meyer, Carolyn. Cleopatra Confesses. Simon & Schuster, 2011. 304p. $16.99. 978-1-4169-8727-7. Biblio, Source Notes, Chronology.

With this latest title, Meyer continues her trend in writing engaging, historical fiction. As with her previous books on historical figures, this story is told in first person, providing readers with an intimate feel to Cleopatra's life from age ten to her death by suicide. As Meyer relates in the author's notes at the end of the book, Cleopatra remains a largely mysterious figure as there is little information about her life. Despite this scarcity of information, Meyer weaves a plausible plot integrating historical facts and her own creative narrative, complete with secondary characters that may or may not have existed. Cleopatra is portrayed as a beautiful, resourceful leader whose quest for power and royalty appear to be based on an altruistic belief that she truly can make a positive difference for Egypt and its people. Value-added resources at the end of the book include the author's notes, a bibliography, websites, a time line, a list of Egyptian gods and goddesses, and an explanation of the Egyptian calendar.

This well-crafted tale will definitely appeal to fans of historical fiction dealing with ancient Egypt and those who have a particular interest in one of the world's most fascinating female leaders. In addition, the book will serve nicely as an introduction to historical fiction for book clubs focusing on this genre, or as a read-aloud to introduce students in social studies classes to the time period.—Donna Miller.

VOYA June 2011

Gr 7-10–This fictional memoir of Egypt's alluring, mysterious queen resonates with historical authenticity, plausible emotional dilemmas, and passion for power and survival. Living among a cast of both historical and fictional characters, Cleopatra narrates her story from age 10 in 59 BC to her death at age 39. A Greek descendant of Alexander the Great, she is portrayed as a keen observer of her father's oppressive rule and unpopular submission to Rome; as an intellectual who studies the papyrus scrolls in the Library at Alexandria and learns the language of the Egyptian people; as a patient, shrewd competitor among her siblings for Ptolemy XII's throne; and as an adolescent who seeks friendship on her own terms with Charmion, a loyal court dancer who later reveals their shared lineage. Key events in history are captured in this riveting, personal tale that seeks to fill gaps in documentation with realistic dialogue, descriptions of daily routines, daring marketplace adventures, royal excursions up the Nile, and poignant reflections on the fear and anxiety of living among a ruthless, ambitious family. Readers will savor the angst and "confessions" of an adolescent Cleopatra who secures a place in history as a charismatic, determined royal who raises an army against her brother after being banished from Egypt and who forges political and romantic liaisons with Julius Caesar and later Mark Antony to save Egypt and herself. A rich assortment of characters, places, and events is woven into this appealing, well-paced, informative examination of Cleopatra's dramatic life and times.–Gerry Larson, Durham School of the Arts, NC

- SLJ July 2011

Cleopatra Confesses.
Meyer, Carolyn (Author)
Jun 2011. 304 p. Simon & Schuster/Paula Wiseman, hardcover, $16.99. (9781416987277).

Moving beyond popular, archetypal images of Cleopatra, this historical novel focuses on the Egyptian
queen's childhood and coming-of-age, especially the bitter struggle for power in her own family. Narrated
in an immediate, first-person, present-tense voice, Cleopatra begins her story when she is 10 years old and is close with both her tutor and her father, who wants her to succeed him, and she is hated by her two older sisters. Then her father returns with a handsome Roman, Marcus Antonius, and at 18, Cleopatra becomes queen. Meyer has conducted extensive research into her subject, including travel to Egypt, and the
thorough details about traditional rites, luxurious lifestyles, and social and political history occasionally
threaten to overwhelm the story. What will hold readers most is the young queen's personal viewpoint,
especially the extreme sibling rivalry. Could her sisters kill her? Could her little brother? And who are the
spies?

--BOOKLIST, July 1, 2011

Cleopatra Confesses

2011. 304pp. $16.99 hc. Paula Wiseman Books (Simon & Schuster). 978-1-4169-8727-7. Grades 6-8
Told from Cleopatra's point of view, Meyer's novel provides insight about Egypt's enigmatic queen. Divided into ten parts, the novel focuses on significant events in Cleopatra's life. After her sisters' treacheries and the death of her father, it is decreed that Cleopatra must marry her younger brother and they would rule Egypt together. Determined to be the sole ruler, Cleopatra plots her next move which involves Julius Caesar. The story ends years later with Cleopatra's enemies at the gate and her suicide. The author also includes additional historical notes at the end of the novel that enhance the reader's understanding of the time period.
- Library Media Connection RECOMMENDED (October 2011)