Avatar, The Last Airbender: The Rise of Kyoshi (Chronicles of the Avatar Book 1) (Paperback)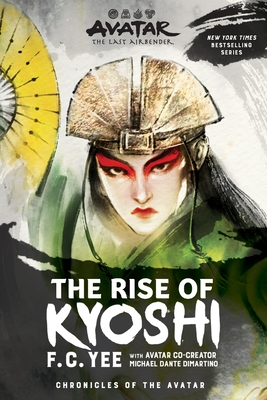 $12.99

Coming Soon - Available for Pre-Order Now
Description
---
From the world of Avatar: The Last Airbender comes the instant USA Today and New York Times bestselling novel starring Avatar Kyoshi—now in paperback!
Justice begins with one woman.

After nine years of desperate searching for the next Avatar, the discovery of young, charming Avatar Yun has brought stability to the four nations—that is, until Earth Kingdom-born Kyoshi, Yun's unassuming friend and servant, demonstrates remarkable bending during a mission to the South Pole. With the identity of the true Avatar at stake and the growing unrest among her allies turning into violence, Kyoshi is forced to flee the Avatar mansion with her fiery friend Rangi, taking little more than the metal war fans and headdress her parents left behind.

It isn't easy finding Avatar training on the run, but Kyoshi and Rangi find unlikely supporters in the daofei: ragtag criminals and outlaws living in the shadows of the Earth Kingdom. Torn between following the traditional path of an Avatar and seeking vengeance for those she has lost, Kyoshi struggles to accept her newfound power as she trains in secret. But while Kyoshi, Rangi, and her daofei friends face off against brutal underworld rivals, those who seek to control the Avatar draw ever closer to her, leaving trails of the dead in their wake.

The story behind the longest-living Avatar in the history of this beloved world, The Rise of Kyoshi maps Kyoshi's journey from a girl of humble origins to the merciless pursuer of justice still feared and admired centuries after becoming the Avatar.
About the Author
---
Outside of writing, F.C. Yee practices capoeira, a Brazilian form of martial arts, and has a day job mostly involving spreadsheets. In addition to the New York Times bestselling Chronicles of the Avatar series, he is the author of the critically acclaimed Genie Lo novels.

Praise For…
---
"Yee (The Epic Crush of Genie Lo, 2017) artfully weaves in political entanglements as well as complex cultural identities to fully immerse readers in Kyoshi's world . . . An action-packed tale that answers some long-awaited questions; fans will look forward to the promised sequel."


— Kirkus Reviews