100 Drives, 5,000 Ideas: Where to Go, When to Go, What to Do, What to See (Paperback)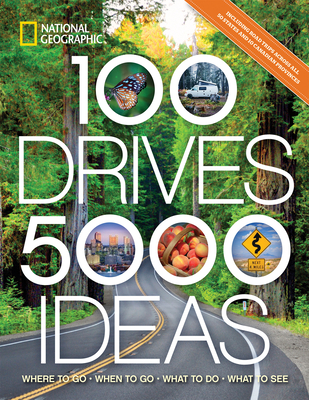 $24.99

Usually Ships in 1-5 Days
Description
---
Buckle up for the road trip of a lifetime: 100 epic journeys through all 50 states and 10 Canadian provinces offering thousands of sites and roadside attractions along the way. A sequel to the best-selling 50 States, 5,000 Ideas.

From a vineyard route through Northwest wine country to a winter wonderland on Alberta's Icefields Parkway, this informative travel guide offers epic sights, good bites, and pure fun. Pack your car and hit the road to experience 100 drives--both classic and off the beaten track--across the United States and Canada. You'll find innovative itineraries outlining your route, along with when to go and what to see and do along the way. And there's something here to satisfy every passenger. Take in the magnificent turns along Alaska's Route One through Anchorage to Kenai. Or wind your way through retro spots from Chicago to Los Angeles on Route 66. On nearly 600 miles of New Mexico's Trail of the Ancients, stop off to encounter sites dating back to A.D. 850. Or discover fossils along Dinosaur Drive, a route that winds its way from Calgary to Denver. Beach lovers will delight in Hawaii's Oahu Circle Island Drive, while history lovers can follow Canada's War of 1812 trail: a cruise between Montreal and Windsor with stops at major battlefields along the way.
Filled with expert tips, tons of activities, and plenty to see and do as you drive--the ultimate road trip playlist anyone?--here is an inspirational and practical keepsake for any road warrior.
About the Author
---
During three decades as an editor, writer, and photographer, JOE YOGERST has lived and worked in Asia, Africa, Europe, and North America. His writing has appeared in Condé Nast Traveler, CNN Travel, Islands magazine, the International New York Times (Paris), Washington Post, Los Angeles Times, and National Geographic Traveler. He has also written for 34 National Geographic books, including the best-selling 50 States, 5,000 Ideas. His first U.S. novel, a murder-mystery titled Nemesis, was published in 2018. Yogerst is currently writing and hosting a National Geographic/Great Courses video series on America's state parks, debuting fall 2019.
Praise For…
---
"National Geographic's 100 Drives, 5000 Ideas is the perfect road trip companion. And, if you're feeling adventurous, it outlines pitstops and detours that you can take along the way." –Tabi Thoughts

"The photographs themselves make you want to hop into the car and start driving…The book also has great tips for those who like to do more than to drive, but bike, camp, hike, etc…In this book, the author gives some very cool facts about the locations, which will be great for anyone wanting to be on Jeopardy, or better yet, annoy the kids with your immense, and seemingly endless, fountain of impractical knowledge." –Man of la Book
"Each drive gives the reader ideas of where to go and what to do and see along the way. I love that they've added in the distance, drive time, the best season to visit, and some highlights so you can plan accordingly. There are also some facts included for each place, like historical knowledge or types of wildlife in the area." –PNW Pixie
 
"This book has so much information packed in - the distance to and fro, when you should visit, activities available, and expert travel tips. It truly is the perfect road trip book to dive into…You will LOVE this one to bits!! And, I'm pretty sure you'll be inspired to start planning out a road trip or three of your own." –A Bookish Way of Life
 
"With beautiful pictures, clear outlines for road trip planning, and convincing details about each stop on the trip, you truly can't go wrong with this book as an outline for your upcoming travels." –Halle's Wandering Soul
 
"So many amazing trips packed into one book!... The pictures are amazing and the places to stop are endless." –Instagram: @books_with_bethany
 
"…we get epic journeys…We get classic road trips and also drives off the beaten path!!... You'll find innovative itineraries outlining your route, along with when to go and what to see and do along the way. And there's something here to satisfy every passenger." –Instagram: @nature.books.coffee 
 
"The photographs are beautiful and each one makes me want to plan a road trip!" –Not in Jersey
 
"I have already dog eared so many pages and can't wait to hit the road. So, satisfy your wanderlust while you're cooped up in the house by reading 100 Drives, 5000 Ideas and exploring what could be your next great road trip." –Amy's Book-et List
 
"Right now, travel might be limited but we can all live vicariously through this book…A perfect travel guide for an adventure." –Living My Best Book Life
 
"I found several places that I would love to visit and I have begun to make a bucket list…Let's all hope this passes quickly so people can get back to the business of exploring this amazing country." –From the TBR Pile
 
"National Geographic's 100 Drives, 5000 Ideas is the perfect road trip companion. And, if you're feeling adventurous, it outlines pitstops and detours that you can take along the way." –Tabi Thoughts
 
"So thankful for this National Geographic book on a day like today when I'm stuck at home. The pictures are gorgeous and I feel like I'm getting a little reprieve for my mind. I love to travel and these photos are giving me some great ideas for this summer!" –Instagram: @wellreadtraveler
 
"This is another beautiful and inspiring book from National Geographic. I would easily take every trip in this book if I could, and I love that the focus is road trips because I definitely can someday. As ever, the full color photos are stunning." –Jennifer – Tar Heel Reader 
 
"I know right now the world seems to be on lockdown and everyone is saying "Stay At Home" but we believe that this is temporary and when the cities and towns reopen, we'll probably all be ready for some travel adventures…The photographs are stunning and the information about each site seems to be well researched and extraordinarily inviting, and I promise, that's not just cabin fever talking…The book provides historical information with cultural sensitivity and also shares tips to ease the transition from paper to actual travel." –Run Wright
 
"There will always be times when we simply can't travel. We may just be in between trips or there may be a more significant reason that travel has been placed on hold. At times like these, I turn to books to fuel my wanderlust and find ideas for when I am able to hit the road again. National Geographic's recently published 100 Drives, 5000 Ideas by Joe Yogerst is just the book you need right now to satisfy your wanderlust and provide plenty of ideas for future road trips…If you browse through the book and sticky tab all the trips that look interesting then you'll have enough road trip ideas to last a lifetime!!" –Gone With the Family
 
"Nowadays, a road trip sounds pretty perfect…I couldn't think of a better book to inspire my wanderlust at this moment in time…Flipping through the pages, it almost felt like I was in the locations highlighted–exactly the escapism I needed during a time where I can't leave and travel…One of the things I love most about National Geographic is how it continually inspires a sense of wonder…I feel as though when we're ready to start traversing the United States, we'll be ready to hit the road like pros." –Alex on the Map