How to Raise an Adult: Break Free of the Overparenting Trap and Prepare Your Kid for Success (Compact Disc)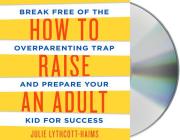 $50.99
Usually Ships in 1-5 Days
Description
---
"Julie Lythcott-Haims is a national treasure. . . . A must-read for every parent who senses that there is a healthier and saner way to raise our children." -Madeline Levine, author of the New York Times bestsellersThe Price of Privilege and Teach Your Children Well
"For parents who want to foster hearty self-reliance instead of hollow self-esteem, How to Raise an Adult is the right book at the right time." -Daniel H. Pink, author of the New York Times bestsellers Drive andA Whole New Mind

A provocative manifesto that exposes the harms of helicopter parenting and sets forth an alternate philosophy for raising preteens and teens to self-sufficient young adulthood
In How to Raise an Adult, Julie Lythcott-Haims draws on research, on conversations with admissions officers, educators, and employers, and on her own insights as a mother and as a student dean to highlight the ways in which overparenting harms children, their stressed-out parents, and society at large. While empathizing with the parental hopes and, especially, fears that lead to overhelping, Lythcott-Haims offers practical alternative strategies that underline the importance of allowing children to make their own mistakes and develop the resilience, resourcefulness, and inner determination necessary for success.
Relevant to parents of toddlers as well as of twentysomethings-and of special value to parents of teens-this book is a rallying cry for those who wish to ensure that the next generation can take charge of their own lives with competence and confidence.
About the Author
---
Julie Lythcott-Haims served as Dean of Freshmen and Undergraduate Advising at Stanford University, where she received the Dinkelspiel Award for her contributions to the undergraduate experience. A mother of two teenagers, she has spoken and written widely on the phenomenon of helicopter parenting, and her work has appeared on TEDx talks and in Forbes and the Chicago Tribune. She is pursuing an MFA in Creative Writing at California College of the Arts in San Francisco.