All That She Carried: The Journey of Ashley's Sack, a Black Family Keepsake (Large Print / Library Binding)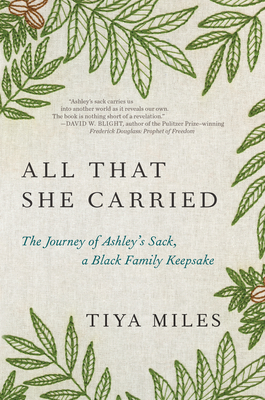 $33.99

Usually Ships in 1-5 Days
Staff Reviews
---
On a cotton sack from 1850 is the following embroidery: 
My great grandmother Rose
mother of Ashley gave her this sack when
she was sold at age 9 in South Carolina
it held a tattered dress 3 handfulls of
pecans a braid of Roses hair. Told her
It be filled with my Love always
she never saw her again
Ashley is my grandmother
Ruth Middleton
1921
The story of this extraordinary sack and its contents is meticulously researched, along the way revealing much about the lives of slaves in South Carolina.  Rose and Ashley are found--as well as the man who owned them--and while details of their lives are sparse, the author is able to fill in the gaps with contemporaneous accounts from other survivors. Totally engrossing and  informative... I haven't been able to stop thinking about Rose and her love for her daughter, and how amazing it is that we are witness to this love a hundred and seventy years later, thanks to some stitching on an old cotton sack.
— Donna
Description
---
NATIONAL BOOK AWARD WINNER - A renowned historian traces the life of a single object handed down through three generations of Black women to craft an extraordinary testament to people who are left out of the archives.
In 1850s South Carolina, an enslaved woman named Rose faced a crisis, the imminent sale of her daughter Ashley. Thinking quickly, she packed a cotton bag with a few precious items as a token of love and to try to ensure Ashley's survival. Soon after, the nine-year-old girl was separated from her mother and sold.
Decades later, Ashley's granddaughter Ruth embroidered this family history on the bag in spare yet haunting language--including Rose's wish that "It be filled with my Love always." Ruth's sewn words, the reason we remember Ashley's sack today, evoke a sweeping family story of loss and of love passed down through generations. Now, in this illuminating, deeply moving book inspired by Rose's gift to Ashley, historian Tiya Miles carefully unearths these women's faint presence in archival records to follow the paths of their lives--and the lives of so many women like them--to write a singular and revelatory history of the experience of slavery, and the uncertain freedom afterward, in the United States.
The search to uncover this history is part of the story itself. For where the historical record falls short of capturing Rose's, Ashley's, and Ruth's full lives, Miles turns to objects and to art as equally important sources, assembling a chorus of women's and families' stories and critiquing the scant archives that for decades have overlooked so many. The contents of Ashley's sack--a tattered dress, handfuls of pecans, a braid of hair, "my Love always"--are eloquent evidence of the lives these women lived. As she follows Ashley's journey, Miles metaphorically unpacks the bag, deepening its emotional resonance and exploring the meanings and significance of everything it contained.
All That She Carried is a poignant story of resilience and of love passed down through generations of women against steep odds. It honors the creativity and fierce resourcefulness of people who preserved family ties even when official systems refused to do so, and it serves as a visionary illustration of how to reconstruct and recount their stories today.