The Case of the Mystery Meat Loaf (Club CSI #1) (Paperback)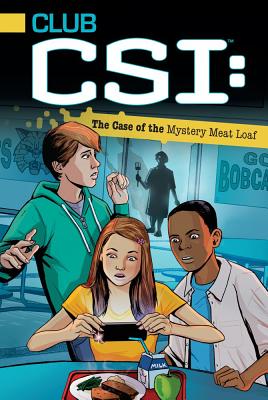 $7.99

Usually Ships in 1-5 Days
Other Books in Series
This is book number 1 in the Club CSI series.
Description
---
How do you dust for fingerprints on a meat loaf? Club CSI: is on the case in this middle grade series about forensic science!

Calling all kid crime-solvers: Forensic science isn't just for grown-ups anymore! Thanks to the popularity of shows like CSI: Crime Scene Investigation, forensic science has made its way into the classroom. This middle grade series stars a group of students whose forensic science class inspires them to form a Club CSI to investigate crimes and capers at school. As Club CSI: collects clues, readers will love trying to put the pieces together to find out what really happened in this series that is part mystery, part detective story, and just plain fun!

In The Case of the Mystery Meat Loaf, Ben, Corey, and Hannah's first case as Club CSI begins when a bunch of students and the principal get food poisoning from the cafeteria's hot lunch. Everyone blames the new science teacher because she pushed the lunch lady to add her healthy "meatless meat loaf" recipe to the menu, but Club CSI: isn't pointing fingers until they evaluate the evidence. Can they find out who messed with the meat loaf before the science teacher gets in trouble or more people get sick? Club CSI: is on the case!
About the Author
---
David Lewman has written more than sixty-five books starring SpongeBob SquarePants, Jimmy Neutron, the Fairly OddParents, G.I. Joe, the Wild Thornberrys, and other popular characters. He has also written scripts for many acclaimed television shows. David lives in Los Angeles with his wife, Donna, and their dog, Pirkle.