Nouvelle Partie: N° 6 - La Super Mission (Paperback)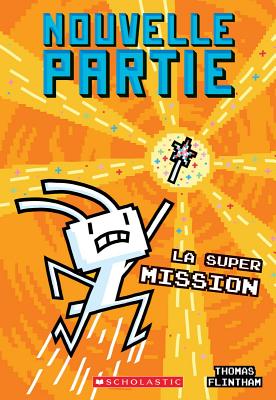 $9.99
Email or call for price.
Description
---
See below for English description.
Vilain Viking a un nouveau robot sa disposition pour l'aider conqu rir Animaville. Super Lapin doit les arr ter tous les deux, mais il a besoin d'un objet secret. Et pour obtenir cet objet, il doit non seulement vaincre un dragon, mais aussi s' chapper d'un donjon et viter beaucoup, beaucoup de robots Super Lapin sera-t-il en mesure de compl ter sa super mission afin de sauver Animaville? Une chose est's re: ce nouveau tome de la's rie Nouvelle partie, cr e et illustr e par Thomas Flintham, mettra notre h ros pr f r rude preuve
King Viking has a new giant robot to help him take over the Animal Town. Super Rabbit Boy must stop him, but he needs a secret item. And to get the item, he has to defeat a dragon, escape a dungeon, and avoid lots and lots of robots.
Can Super Rabbit Boy finish all these quests in time to save Animal Town? Or will this latest Nouvelle partie adventure put our hero to the test?
Original title: Super Side-Quest Test
About the Author
---
Thomas Flintham aime dessiner et raconter des histoires. Il s'estime chanceux de pouvoir dessiner et faire des illustrations ? temps plein. Il habite au Royaume-Uni. Thomas Flintham loves to draw and tell stories, so he's lucky to be a full-time doodler and illustrator. He lives in the UK.