Follow the Moon Home: A Tale of One Idea, Twenty Kids, and a Hundred Sea Turtles (Children's Story Books, Sea Turtle Gifts, Moon Books for Kids, Children's Environment Books, Kid's Turtle Books) (Hardcover)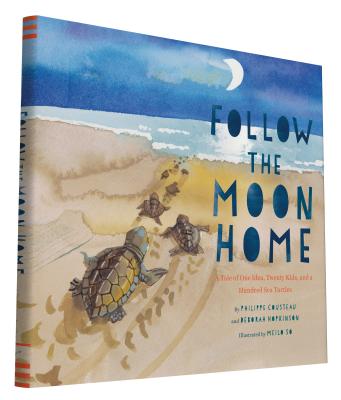 $16.99

Usually Ships in 1-5 Days
Description
---
"Delivers an eloquent environmental message while demonstrating how kids can change the world through teamwork and perseverance." — School Library Journal

A triumphant story of environmental activism, community, and friendship: Acclaimed activist Philippe Cousteau and renowned author Deborah Hopkinson team up to offer a story of the powerful difference young people can make in the world. Meet Viv, who has a new home and a new school by the sea and follow her as she finds her way in a new place and helps bring together a whole community to save the sea turtles of the South Carolina coast.

• Explores various important themes like activism, philanthropy, volunteerism, and more
• Features gorgeous watercolor illustrations that are colorful and engaging
• Includes a "Letter to Young Activists" from the author as well as resources to learn more about sea turtles.
• Meilo So is the esteemed illustrator of many books, including Water Sings Blue. Philippe Cousteau is an award-winning television host, producer, author, speaker, philanthropist, and social entrepreneur. Deborah Hopkinson is the author of many award-winning nonfiction books for young readers

Fans of Manfish and Water Sings Blue will also enjoy the inspiring storyline and stunning illustrations in Follow the Moon Home.

• Great family and classroom read-aloud book
• Books for kids ages 4-6
• Children's picture books for kindergarten through third grade
About the Author
---
Philippe Cousteau is an award-winning television host, producer, author, speaker, philanthropist, and social entrepreneur. He lives in Los Angeles, California.

Deborah Hopkinson is the author of many award-winning nonfiction books for young readers. She lives with her family near Portland, Oregon.

Meilo So is the esteemed illustrator of many books, including Water Sings Blue. She lives in the Shetland Islands.
Praise For…
---
"An empowering look at what kids can accomplish."-Booklist

"An empowering look at what kids can accomplish."-Booklist

"Gorgeously illustrated. an appealing model of preteen activism."-Kirkus Reviews

"Gorgeously illustrated. an appealing model of preteen activism."-Kirkus Reviews





"Delivers an eloquent environmental message while demonstrating how kids can change the world through teamwork and perseverance."-School Library Journal

"Delivers an eloquent environmental message while demonstrating how kids can change the world through teamwork and perseverance."-School Library Journal

"Urges readers to be activists and advocates when they see a problem that needs to be solved."--Geek Dad

"Urges readers to be activists and advocates when they see a problem that needs to be solved."--Geek Dad

"Empowering story about grassroots activism and facing problems head-on."-Publishers Weekly

"Empowering story about grassroots activism and facing problems head-on."-Publishers Weekly