A Billion Suns: Interstellar Fleet Battles (Osprey Wargames) (Paperback)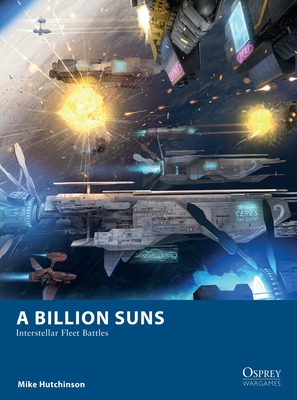 $20.00

Usually Ships in 1-5 Days
Description
---
A tabletop miniatures game of intense starship combat between fleets of powerful cruisers, sleek destroyers, and agile fighters.

A Billion Suns is a wargame of interstellar combat that puts you in command of fleets of powerful starships, from squadrons of agile, but fragile, fighters, to hulking and powerful capital ships. Choose your vessels from pre-existing classes then customize them to create your own sub-classes, each with their own strengths, weaknesses, and armament, from accurate torpedoes to devastating macro-cannon. Using simple dice pool mechanics, you must carefully manage your resources and seize the opportunities that come your way in order to lead your fleet to victory and assert your dominance over the stars.
About the Author
---
Mike Hutchinson is a passionate gamer and model-maker who wrote his first wargame at the age of 15. He lives in the inexplicably named village of Old Wives Lees in Kent with his wife, a library of games, and a menagerie of beasts.